Pros and cons of national service
Think tank says reintroduction of national service would 'improve mental wellbeing'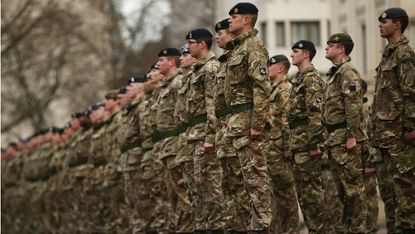 (Image credit: Dan Kitwood/AFP/Getty Images)
The UK should reintroduce national service to tackle the country's growing youth crisis, a think tank has argued.
Young people are "unhappy, unskilled and unmoored", argued Onward, but national service could "develop skills, improve mental wellbeing" and "increase a sense of belonging among Britain's youth".
Its call for a new "Great British National Service" for everybody aged 16 was supported by former Tory minister Rory Stewart, who called it a "clear, bold essential idea" that could be a "wonderful gift to young people and for the country".
Subscribe to The Week
Escape your echo chamber. Get the facts behind the news, plus analysis from multiple perspectives.
SUBSCRIBE & SAVE
Sign up for The Week's Free Newsletters
From our morning news briefing to a weekly Good News Newsletter, get the best of The Week delivered directly to your inbox.
From our morning news briefing to a weekly Good News Newsletter, get the best of The Week delivered directly to your inbox.
The leader of the House of Commons, Penny Mordaunt, also backed the plan, telling The Telegraph it could "harness young people's goodwill and community spirit, tap into the energy and imagination of the next generation, and promote good mental health and resilience".
However, some ridiculed it, with social media users describing it as an "utter pile of nonsense" and "claptrap", noted The London Economic.
So what are the arguments for and against national service?
Pro: better public understanding
A 2020 report commissioned by the Ministry of Defence highlighted a lack of understanding among the general public about the role of the armed forces, and said reintroducing national service could help to close this "communication gap", said the Daily Mail.
"For some immigrant communities in Britain, armed forces are agents of oppression, not defenders of democratic values," wrote the report's author, military historian Professor Hew Strachan. The report added that "not to discuss national service [in the UK] is to limit the debate artificially".
Con: damage to existing schemes
Critics of national service point to the success of existing schemes such as the National Citizen Service in the UK, in which young people spend a month learning skills by working on projects with their peers and volunteering in their communities.
"The problems arise when we move from the voluntary nature of the current programme to a mandatory one," Yiannis Baboulias argued in a 2019 article in The New Statesman.
"A voluntary scheme ensures that by and large only the most eager students will participate. This eliminates from the existing sample of schemes the negative attitudes of teenagers who will not want to be there, therefore biasing the results."
Pro: boosts national unity
When President Emmanuel Macron announced in 2018 that he was bringing back national service in France, he argued that doing so would inspire patriotism and social cohesion, as The Independent reported at the time.
"The goal of this new-style national service, the government says, is to encourage young French citizens to take part in the life of the nation, and promote social cohesion," the BBC added.
By the time the scheme came into effect in 2019, it had evolved from a national military service into a compulsory civic service, "with input from the military but without any dealings with weapons", according to The Guardian. Participants instead learn about first aid, self-defence and republican values as a way of bringing "social cohesion" to a fractured nation.
Con: 'the making of young people'
National service can bring discipline, direction and purpose to young people, supporters argue.
In 2015, Prince Harry claimed that his time in the Army had "saved" him, said The Telegraph. "I dread to think where I'd be without the Army," he said.
"Bring back National Service – I've said that before. But I put my hand up, as I said to the kids today, you can make bad choices, some severe, some not so severe.
"Without a doubt, it does keep you out of trouble. You can make bad choices in life, but it's how you recover from those and which path you end up taking.
"The Army has done amazing things for me. And more importantly to me, what I've seen the Army do to other young guys."
Pro: teaches skills
In a 2019 article for Sky News, security and defence editor Deborah Haynes argued that bringing back national service would give young people "new skills to help in whatever career path they ultimately pursue".
She cited a report by Elisabeth Braw, a senior research fellow at the Royal United Services Institute think tank, calling for the UK to introduce a Scandinavian-style form of national service.
"Braw looks at how Denmark, Norway, Sweden and Finland benefit from national service and says the UK could adopt its own model, learning from the Scandinavian experience," noted Haynes.
Con: promotes nationalism
When Macron's compulsory national service kicked off in France in 2019, many commentators were disturbed by images showing French teenagers lined up in uniform – albeit baseball caps and polo shirts.
Celine Malaise, a communist regional councillor, tweeted: "This old nationalist nightmare repulses me." She likened it to "denying the free will of young people, their engagement, their critical spirit" and called the programme a hypocritical "masquerade" given the underfunding of schools.
Meanwhile, the Union Nationale Lyceenne (National Union of Secondary Students) said: "Is it in keeping with the times to constrain young people to go and sing under a flag at 8am in the morning? This universal national service must not be made compulsory."

Continue reading for free
We hope you're enjoying The Week's refreshingly open-minded journalism.
Subscribed to The Week? Register your account with the same email as your subscription.