Kill Santa
Or at least stop lying to your kids about him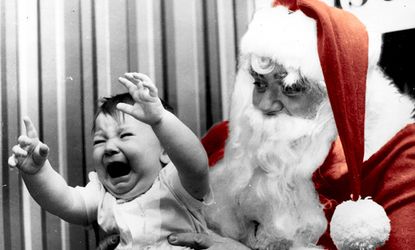 (Image credit: (Keystone/Getty Images))
Christmas is a time of joy, peace, and love.
It's also a time when my arch-enemy reigns supreme. Yes, I'm talking about Santa.
I'm going to kill the fat old bastard.
Subscribe to The Week
Escape your echo chamber. Get the facts behind the news, plus analysis from multiple perspectives.
SUBSCRIBE & SAVE
Sign up for The Week's Free Newsletters
From our morning news briefing to a weekly Good News Newsletter, get the best of The Week delivered directly to your inbox.
From our morning news briefing to a weekly Good News Newsletter, get the best of The Week delivered directly to your inbox.
Okay, okay. Maybe I'm not going to literally kill him (he doesn't even exist, after all). But we parents must stop lying to our kids about Santa.
Most parents perpetuate the Santa lie simply because their parents did it to them, without reflection. But if you think about it for a few seconds, you realize that it makes no sense.
Let's go over the reasons.
The first is simple: Lying is wrong. And that should really be the end of it, no? Lying is wrong. It just is. Especially lying to people who you love. Especially lying to people who put their trust in you. Especially people who are young and impressionable and don't know any better. You can make a case for white lies to protect kids, but just making up an entire story out of whole cloth is unjustifiable. (And lying to manipulate is even worse, which is how many parents use the Santa lie: "Clean your room or Santa won't come!")
And indeed, for many children, learning the truth about Santa damages their trust in their parents.
Of course, the reasons to eradicate Santa go well beyond the lying argument. If you are a Christian, as I am, you are really shooting yourself in the foot. "No, the thing about the magic flying fat man, that was just a made-up story, but the thing about the magic bearded Jesus, that part, that's totally true!" That sounds silly, doesn't it? Mainstream popular culture works hard enough telling people Christianity is unbelievable; we should not join the chorus ourselves.
Even without Santa, for we Christians, the Christmas story is already the most wondrous, the most joyful, the most profound story we know. What need is there for anything else?
On top of all of this: The reasons usually advanced in support of the Santa lie are ridiculous.
Sometimes, we are told that the Santa lie helps kids' imagination. This makes no sense. How could feeding an impressionable child a pre-packaged lie inspire creativity? Maybe it could work if you presented the Santa story as fiction, the way you might tell your kid that The Lord of the Rings is fiction, so they have the freedom to put themselves in the story, to invent variations on it, to play at being Aragorn or Legolas or Frodo. I've never seen a kid play at being Santa or Santa's sweatshop worker elf.
And really, when you press parents on it, the real, underlying reason for the Santa lie comes out: "My kids are so cute when they wait for Santa!"
This gets at a serious problem: There is something deep within us that enjoys the helplessness of children. An evolutionary psychologist might say that it's because it helped our tundra ancestors care for children. But as powerful an instinct as it is — and as a parent, to my own surprise, I frequently feel it — it is harmful. It should go without saying that the goal of education should not be to foster helplessness, it should be to foster autonomy. Our goal as parents should be for our children to grow up into independent adults who don't need their parents. But very often, we want our kids to need us; we want them to be helpless without us. This is profoundly unhealthy. Ultimately, it's a form of selfishness. We privilege our own pleasure at lording over our own little humans over their interests and autonomy. Instead of treating them as human beings, we treat them as toys for our own entertainment.
There's no way around it. We have to kill Santa.

Continue reading for free
We hope you're enjoying The Week's refreshingly open-minded journalism.
Subscribed to The Week? Register your account with the same email as your subscription.