Is the American right wing influencing Ireland's vote on same-sex marriage?
This spring, the Irish will hold a referendum on whether the state should recognize same-sex marriages — and American conservatives are watching with interest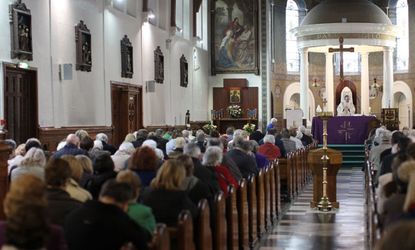 (Image credit: (AP Photo/Peter Morrison))
Sign up to our 10 Things You Need to Know Today newsletter
A free daily digest of the biggest news stories of the day - and the best features from our website
Thank you for signing up to TheWeek. You will receive a verification email shortly.
There was a problem. Please refresh the page and try again.
LISDOONVARNA, Ireland — Willie Daly looked a little tired on a recent Saturday night.
This is the busiest time of year for the fourth-generation matchmaker, who collects lists of love-seekers' preferences and particularities and matches them up like a human OkCupid.
For the last 157 years, his tiny west coast village has hosted the Lisdoonvarna Matchmaking Festival, a month-long mingle session created back when people were too busy toiling in the fields to find partners themselves.
Subscribe to The Week
Escape your echo chamber. Get the facts behind the news, plus analysis from multiple perspectives.
SUBSCRIBE & SAVE
Sign up for The Week's Free Newsletters
From our morning news briefing to a weekly Good News Newsletter, get the best of The Week delivered directly to your inbox.
From our morning news briefing to a weekly Good News Newsletter, get the best of The Week delivered directly to your inbox.
Although the basics of matchmaking haven't changed much since Daly's great-grandfather got into the business, times in Ireland have.
Since the festival opened to gay singles two years ago, the line at Daly's table has included men and women seeking soul mates of the same gender. Depending on the result of a vote next spring, they could join the 3,000 married couples he claims to have already paired.
"All my life has been about finding love for couples," says Daly, a gray-bearded septuagenarian with a fondness for meandering anecdotes. An intoxicated parish priest lost his birth certificate; he doesn't know his exact age.
"I think everyone deserves to find love," he adds. "I just never done it before with gay people and lesbian people."
This spring, the Irish will hold a referendum on whether the state should recognize same-sex marriages.
If they vote yes, Ireland will become the 12th European country to recognize gay marriage and the first to pass it by popular vote.
The polls look good for proponents of marriage equality. Seventy-six percent of likely voters said they supported same-sex marriage when the referendum was announced in November, a number that's remained high since.
All of Ireland's major political parties back the referendum, the exact date of which hasn't been set. Even a majority of farmers — traditionally a socially conservative constituency — say they favor gay marriage.
A greater percentage of people in Ireland support same-sex marriage now than did in Britain last year before equal marriage became law in England and Wales.
(Scotland passed gay marriage laws separately. Northern Ireland lawmakers have rejected several attempts to institute same-sex marriage there.)
"I'd vote for it, yeah," said Jeremiah Murphy, 61, from the doorway of the Ritz pub in Lisdoonvarna's village square as the matchmaking festival continued down the street.
"I'm not gay meself," the retired sugar factory worker said in a Cork accent thick as butter. "But I wouldn't stop them. They're not doin' me no harm, are they?"
That's a sign of enormous social change in Ireland, where being publicly outed as gay could result in jail time as recently as the 1990s.
Since Ireland decriminalized homosexual activity in 1993, it's seen tremendous social upheaval, spurred by the economic prosperity of its Celtic Tiger years and a series of scandals in the Catholic Church that weakened religion's claim to moral authority.
In 2011, Ireland began recognizing civil partnerships between same-gender couples, a designation offering most — but not all — the legal benefits of marriage.
In a perhaps less-consequential sign of the times, this year's winner of the Rose of Tralee, Ireland's 55-year-old signature beauty pageant, came out as a lesbian a few days after her coronation to a generally positive response.
"The fact that we've come this far is kind of breathtaking, really," says Brian Kennedy, a pop singer who came out in 2009.
Nevertheless, it's still not clear whether the change in attitudes will lead to change at the ballot box next year. Gay marriage opponents have the backing of an enthusiastic network of supporters around the world, particularly in the United States.
For many U.S. conservatives, Ireland is a poster child of a Western nation that has enshrined conservative religious values into law.
American pro-life groups have spent hundreds of thousands of dollars supporting Ireland's ban on all abortions except those necessary to save a woman's life.
When Irish lawmakers were considering even the maternal-health exemption last year, the Washington-based Christian Defense Coalition gave out free postcards for Americans to distribute at St. Patrick's Day celebrations calling on Prime Minister Enda Kenny to uphold a total ban.
Supporters of the referendum fear such activism could end up influencing the outcome of this vote as well.
"We are the golden boys of Catholic countries," says Eddie McGuinness, organizer of the Outing, Lisdoonvarna's LGBT weekend. "For a Catholic country to have same-sex marriage on its books allows other countries to know they can have it, too."
Both supporters and critics of the referendum have expressed suspicion that groups on the other side are receiving money from like-minded American supporters, although neither has shown evidence to prove it.
Some U.S. groups admit they're watching the referendum with interest.
"We commend our Irish friends working to affirm marriage as the union of a man and a woman in their laws," says Roger Kiska, senior legal counsel at Alliance Defending Freedom, an Arizona-based coalition of lawyers that advocates socially conservative positions in the US and abroad.
ADF joined the defense against an unsuccessful 2010 challenge to Ireland's abortion ban. In February, it filed a brief in the European Court of Human Rights defending Italy's ban on same-sex marriage.
Although ADF isn't currently working on the Irish vote, Kiska says, it's "prepared to offer legal assistance if necessary."
The Catholic Church says it's also working to ensure a no vote.
"To change the nature of marriage would be to undermine it as the fundamental building block of our society," Bishop Denis Nulty of Kildare and Leighlin said in a statement shortly after the referendum was announced.
While the Church remains a political force to be reckoned with, the power of the pulpit is nothing like what it once was.
Although more than 80 percent of Irish people identify themselves as Catholic, fewer than half consider themselves "religious," according to a 2012 survey. Weekly church attendance dropped in three decades from 90 percent of the population to just 30 percent now.
"One of our biggest fears in Ireland at the moment is complacency," says Andrew Hyland, co-director of Marriage Equality, the main group campaigning in favor of a yes vote. "A lot of people have said, 'It's a shoo-in, why do I need to bother voting at all?'"
Marriage Equality is advising referendum supporters to make personal appeals to friends and family. Research shows that a key factor in people's support for LGBT rights is whether they actually know any gay people themselves.
"This whole referendum is a personal referendum," Hyland says. "It's not a political issue. It's about real people and real families."
This article, by Corinne Purtill, originally appeared at GlobalPost.
More from GlobalPost...
Continue reading for free
We hope you're enjoying The Week's refreshingly open-minded journalism.
Subscribed to The Week? Register your account with the same email as your subscription.
Sign up to our 10 Things You Need to Know Today newsletter
A free daily digest of the biggest news stories of the day - and the best features from our website