The U.S. government is actually trouncing Ebola. When will it get credit?
The fact is, pundits have little incentive to admit this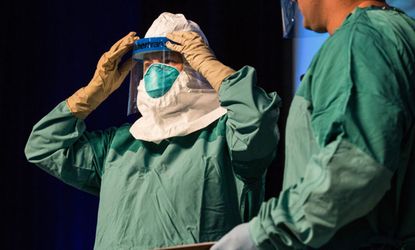 (Image credit: (Andrew Burton/Getty Images))
Sign up to our 10 Things You Need to Know Today newsletter
A free daily digest of the biggest news stories of the day - and the best features from our website
Thank you for signing up to TheWeek. You will receive a verification email shortly.
There was a problem. Please refresh the page and try again.
Here's a story you won't read.
WASHINGTON, D.C. -- The American public health system has largely contained the exceptionally deadly Ebola virus, despite early mistakes and some confusing public statements from official voices.
No person who contracted the disease in the United States has died. A Texas nurse who treated Thomas Eric Duncan, an Ebola patient from Liberia, has been upgraded to "good" condition. A second nurse, Amber Vinson, remains "weak," according to her mother, but is recovering.
Subscribe to The Week
Escape your echo chamber. Get the facts behind the news, plus analysis from multiple perspectives.
SUBSCRIBE & SAVE
Sign up for The Week's Free Newsletters
From our morning news briefing to a weekly Good News Newsletter, get the best of The Week delivered directly to your inbox.
From our morning news briefing to a weekly Good News Newsletter, get the best of The Week delivered directly to your inbox.
Duncan's fiance, Louis Troh, shows no signs of the disease after a three week quarantine. A freelance photographer for NBC News, treated in a hospital in Nebraska, was released today in good health.
Still, health officials issued new guidelines for nurses and the Department of Homeland Security said it would require travelers from five African countries to fly to one of five specially designated airports in the U.S. for enhanced screening.
If an alien came to earth right now and asked about Ebola in the United States, you wouldn't say — you couldn't say — that America is verging on an epidemic. You would say that Ebola killed 19 people in Nigeria, and 4,500 worldwide.
In cataloging some of the early missteps, Ron Fournier writes, "Once again, Americans are reminded of the limits of U.S. social institutions — in this case various state, local, and federal government agencies and private-sector health systems that responded to the Ebola crisis slowly, inefficiently, and with a lack of candor that Americans, unfortunately, have come to expect."
Sorry, no. They responded quickly, and in doing so, overlooked some of the basics. Then, within hours, they corrected their oversights.
The limits of U.S. social institutions? Well, they're reminded by those limits by people who have set exceptionally high expectations for government, expectations which cannot possibly be met by mortals.
Actually, Americans should have faith that the CDC can prevent major epidemics like Ebola. But politicians are willfully or stupidly spreading misinformation. And the "no faith" chorus (which has adherents on the left, in the center, and on the right) has conditioned the public to believe that every problem with government is a crisis; that every human hiccup topples the body politic.
Collectively, the press does a great job at the beginning of any crisis. Press coverage adds urgency to the government's response. It calls attention to stories we overlooked. The press does a good job looking back, from the vantage point of hindsight. It does a bad job of covering the events as they unfold, though. The press is congenitally unable to resist some of the same forces it bemoans in politics: A propensity to see the worst in others. An aggressive bias towards conflict. An attraction to heat, hype, and hoarse voices.
The American public health system is by no means perfect. In fact, there are major holes. If you're poor and can't get insurance coverage, for example, it's a disaster for you. If you live in cities like Los Angeles, your emergency rooms are overcrowded. Your hospitals aren't doing a good enough job of preventing medical mistakes and in-hospital infections. I could also include the gaps in basic science research funding.
In general, if the response to Ebola constitutes a crisis, then everything is a crisis and you can forgive politicians for not focusing on the real problems.
After 9/11, journalist Mickey Kaus predicted that the events of that day would pass through American digestive systems like Splenda and that by Christmas, we'd be roughly back to normal. This was his unfortunate way of bringing to the fore a very sound insight about how Americans process news and events. He calls it Feiler's Faster Thesis. It's based on an observation of James Gleick, who would go on to write a seminal book on how the way we consume curated information defines us more than just about any other activity humans engage in.
Politics is faster. The news cycle is faster. That means that the people who control information bombard the public at a much faster rate. Our ability to process all the information might increase a bit, but we're limited by our brains. So we selectively tune to information that seems to be the most relevant, the most consequential, the most likely to cause us harm or help us deal with something. (If you add partisan sorting to this theory, you've got a pretty good explanation for the rise of Fox News and the liberal blogosphere.). We also get the news out of our system much more quickly. We hunger for information and the media feeds us scraps. It collects and disburses food to survive.
It happens to be true that Americans have little faith in government and other large institutions. It is not true that these institutions have failed us. They're just not working as well as they used to, or the way we think they used to. When they screw up, we ought to know, and the press remains the strongest check on power ever created. When they get it right, the press has got to find a way to get the story right, too.
Continue reading for free
We hope you're enjoying The Week's refreshingly open-minded journalism.
Subscribed to The Week? Register your account with the same email as your subscription.
Sign up to our 10 Things You Need to Know Today newsletter
A free daily digest of the biggest news stories of the day - and the best features from our website
Marc Ambinder is TheWeek.com's editor-at-large. He is the author, with D.B. Grady, of The Command and Deep State: Inside the Government Secrecy Industry. Marc is also a contributing editor for The Atlantic and GQ. Formerly, he served as White House correspondent for National Journal, chief political consultant for CBS News, and politics editor at The Atlantic. Marc is a 2001 graduate of Harvard. He is married to Michael Park, a corporate strategy consultant, and lives in Los Angeles.