What the Romney boomlet says about the establishment GOP's feeble 2016 field
The establishment is weak. The conservative uprising? Very strong.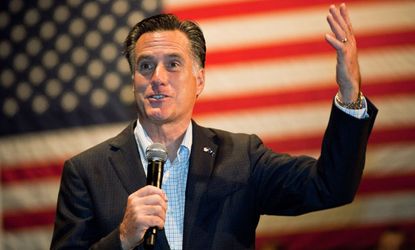 (Image credit: (Richard Ellis/Getty Images))
Two-time presidential loser Mitt Romney's sprawling network of consultants and aides is sitting tight, waiting for the former Massachusetts governor to decide whether he wants to run for president a third time. Romney, who until recently had long denied any true interest in another bid, is reportedly talking the idea over with his family.
Ann Romney isn't exactly denying it. Former running mate Paul Ryan, thought to be a possible presidential contender himself, is almost encouraging it. And Romney himself declined to close the door on the possibility in an interview with Romneyphile Hugh Hewitt.
As I write this, an email signed by Romney sits in my inbox. It's a fundraising appeal for the National Republican Congressional Campaign Committee. This kind of aggressive campaigning follows the path of Richard Nixon in 1966, as Pat Buchanan reminds us in The Greatest Comeback.
Subscribe to The Week
Escape your echo chamber. Get the facts behind the news, plus analysis from multiple perspectives.
SUBSCRIBE & SAVE
Sign up for The Week's Free Newsletters
From our morning news briefing to a weekly Good News Newsletter, get the best of The Week delivered directly to your inbox.
From our morning news briefing to a weekly Good News Newsletter, get the best of The Week delivered directly to your inbox.
But why would Romney run again? The answer is simple: Republican establishment donors fear Chris Christie can't win and Jeb Bush won't run.
Romney is the candidate of last resort for Republican big wigs and rolodex men trying to keep the conservative hordes at bay. The fact that we are talking with a straight face about another Romney campaign is a sign of the GOP establishment's weakness in 2016. That may seem hard to believe given how the establishment dominated the Tea Party in this year's Senate primaries. But then, consider how the Republican establishment regained and maintained its stranglehold on the presidential nomination after Ronald Reagan.
Conservatives have pushed the establishment to the right — Jon Huntsman, the anti-abortion gun control opponent who supported the Ryan budget plan, was considered the liberal in the 2012 GOP primaries. Still, the nominees' surnames since Reagan almost speak for themselves: two Bushes, a Dole, McCain, and Romney.
The high water mark for the establishment was probably 2000, when George W. Bush had too much Christian right support for a viable conservative challenger to even emerge. His main rival, John McCain, was running to Bush's left.
Since 1988, conservatives have not only split their votes. They have usually shunned the conservative with the organization and finances to compete with the establishment on something like even terms in favor of candidates who would struggle to go the distance. Think Pat Robertson over Jack Kemp, Pat Buchanan over Phil Gramm, Mike Huckabee over Fred Thompson (and Mitt Romney!), and Rick Santorum over Rick Perry.
But the establishment's grip has slowly been loosening. Buchanan beat Bob Dole in New Hampshire in 1996 and came within an Alan Keyes of defeating him in Iowa.
After the Dubya interregnum, Rudy Giuliani imploded and McCain's campaign nearly went broke in 2007. The Arizona senator was able to right the ship, but he ended up winning fewer votes than Huckabee, Romney, and Ron Paul combined.
Romney was never in serious danger of losing the 2012 nomination, but he took a painfully long time to clinch it against Santorum, Newt Gingrich, and a revolving door of lesser-known conservatives.
On paper, Christie should be formidable. But Bridgegate allegations have hurt him, and he's so far underwhelmed on the stump. Bush should also be a contender, but he reportedly isn't doing much prep work in early states like New Hampshire. This suggests he isn't going to run or is expecting a coronation.
Romney and Bush are both retreads in a party where the fresh faces — Marco Rubio, Rand Paul, Ted Cruz, Scott Walker, Bobby Jindal — belong to the conservatives.
The Republican establishment has never looked weaker in a presidential race.
Rubio could have both establishment and conservative appeal, if he's not too damaged by immigration. So could Ryan, if he's not tied up with House committee obligations (he also has his own immigration problems).
And it's always possible that someone like Ben Carson will capture the right's imagination in Iowa rather than a sitting Tea Party senator, once again giving the establishment candidate an organizational advantage.
Nevertheless, conservatives keep inching closer to nominating one of their own for the first time since Reagan. The 2016 primaries offer the right their best opportunity to reach the finish line in nearly 40 years.
If they can capitalize, Mitt Romney's third time won't be a charm.

Continue reading for free
We hope you're enjoying The Week's refreshingly open-minded journalism.
Subscribed to The Week? Register your account with the same email as your subscription.