Girls on Film: Lucy is the shot in the arm the superhero genre needs
By questioning the very humanity of its protagonist, Lucy shows the limitations of Hollywood's favorite genre — and points to a new direction going forward.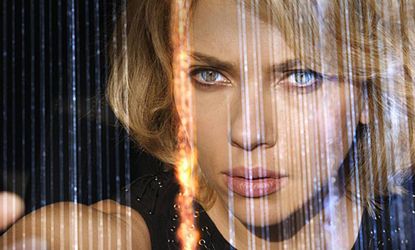 (Image credit: (<a href="https://www.facebook.com/LucyTheMovie/photos_stream">Facebook.com/Lucy</a>))
Lucy is not your everyday action film. You will see a lot of chatter about it this week, as critics and viewers alike hash out whether Luc Besson's latest is the smartest dumb movie or the dumbest smart movie in theaters. It's an apt question for a film that cuts between Philosophy 101 and scenes of Scarlett Johansson kicking ass.
Rather than toeing the line cultivated by the rise of superhuman action at the box office, Luc Besson challenges it to fascinating ends. As entertainment, the film is divisive; you will either enjoy the strange narrative, which barrels to a brisk conclusion in just 90 minutes, or you will hate it. But beyond the basic elements of entertainment, Lucy is a fascinating look at film, habit, and how we relate to superhuman beings.
Scarlett Johansson finally gets her first solo-led action film as Lucy, a careless party girl pulled into a dangerous drug scam by her sketchy new boyfriend. He cuffs a briefcase onto her wrist and sends her to a drug lord who, in turn, makes her one of his drug mules. Bags of the new drug CPH4 have been surgically implanted into her stomach, and she is forced to travel to Europe, where his henchman will retrieve it. But his plan hits an unexpected snag; the CPH4 leaks into her body, and Lucy becomes an increasingly powerful superhuman who goes from using 10 percent of her brain to 100 percent.
Subscribe to The Week
Escape your echo chamber. Get the facts behind the news, plus analysis from multiple perspectives.
SUBSCRIBE & SAVE
Sign up for The Week's Free Newsletters
From our morning news briefing to a weekly Good News Newsletter, get the best of The Week delivered directly to your inbox.
From our morning news briefing to a weekly Good News Newsletter, get the best of The Week delivered directly to your inbox.
As Lucy gradually unlocks more and more of her brain, she gains more control over her body and world. At first, she can simply move in the blink of an eye and shoot with perfect aim. Soon she can change her hair with a toss of her head, create invisible walls that prevent escape, levitate thugs, and manipulate technology.
The drugs increase her skills, but they also bring her face to face with her mortality. She knows her human body won't be able to keep up with the changes but deduces that ingesting all of the drugs and reaching 100 percent capacity will solve her problem. She sets out to find the other mules and chats with brain scientist extraordinaire Morgan Freeman in an effort to save herself — whatever her "self" might be.
It's a fascinating story that recalls another story featuring a god-like figure: Watchmen, whose once-human Doctor Manhattan became so powerful that he literally couldn't relate to humankind anymore. Describing Watchmen's plot, writer Alan Moore once said: "As the mystery unraveled, we would be led deeper and deeper into the real heart of this superhero's world, and show a reality that was very different to the general public image of the superhero." In Lucy, Besson also strives to acknowledge that the superhero isn't beholden to human norms — but instead of digging into the depths, he moves past them to address the very basic question that starts the film: "Life was given to us a billion years ago. What have we done with it?" In the film, it's a question for humanity. For us, it's a question of cinema.
Lucy doesn't feel like your usual action film — the type where superheroes save the world, or a hero somehow manages to bring the forces of evil down with sheer determination. Besson resists the recent trend to overwrite his blockbuster's story and refuses to fall into an orgiastic explosion of action that destroys cities in the name of superhero entertainment. Lucy faces danger when the story warrants it, but in modest bursts that aren't too menacing. She is now a superhuman, after all, and has no trouble keeping 10-percenters in check. The real danger is the drug in her body and her quest to control it.
Over and over, Besson deliberately reminds us of the actors playing the characters, blending the real world into his new creation. As Freeman's professor talks about the nature of the mind, Besson intermingles his scenes with stock footage of the world and animal behavior, evoking Freeman's work on March of the Penguins. Johansson, meanwhile, is the American in an Asian country, sprawling on a bed in her underwear as in Lost in Translation. She manipulates a thug with her sexuality, only to kick his ass like Natasha Romanov in The Avengers. And when her powers become massive, black goo overtakes the surroundings she hopes to absorb, like her seductive alien in Under the Skin.
Those knowing references turn Lucy into a challenge for Hollywood, reminding us of what we've already seen while hinting at future possibilities. We can keep doing what we already know, it says, or we can look at the world through new viewpoints.
It's a shot across the bow for the superhero genre, as Besson dismantles the idea that superheroes are all regular people with the same human impulses we have. As Lucy evolves, each move forward differentiates her because she's no longer a typical human being. She experiences the world differently and ceases to relate to her old self. Her evolution questions Hollywood's tendency to render its superheroes with so many human flaws — a pattern that begins to seem just as trite as thinking old vampires would spend their eternity in high school.
Lucy is named after the 3.2 million year old skeleton that has traveled the world, and Johansson's superhuman is positioned as the start of a new direction for the superhero genre. It's not dependent on muscles and male bodies. It finds superhuman super humans oxymoronic, and has no interest in neat gender norms. The time of leather-class ass kickers, seductive manipulation, and hotness above toughness is over.
In that way, Lucy is Hollywood's CPH4: a jolt to get us thinking differently. "Life was given to us a billion years ago. Now you know what to do with it," it tells us. It's not just nonsensical movie science; it's a call to arms, to stop repeating the same movie battles and origin stories, the same muscled heroes and disappointingly human gods, and to use the rest of our brains instead of letting them atrophy into the norm.
Girls on Film is a weekly column focusing on women and cinema. It can be found at TheWeek.com every Friday morning. And be sure to follow the Girls on Film Twitter feed for additional femme-con.

Continue reading for free
We hope you're enjoying The Week's refreshingly open-minded journalism.
Subscribed to The Week? Register your account with the same email as your subscription.