What Pope John Paul II could have learned from Sinead O'Connor
With John Paul's canonization fast-approaching, it is harder than ever to distinguish saint from sinner, heretic from prophet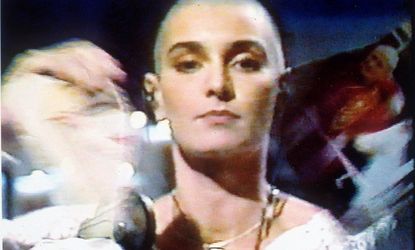 (Image credit: (AP Photo/NBC-TV))
It was Oct. 3, 1992, when Sinead O'Connor sang a haunting a capella cover of Bob Marley's "War" on Saturday Night Live, in which she replaced the word "racism" with "child abuse" and tore up a picture of Pope John Paul II while singing about the victory of good over evil. She finished her performance by shouting, "Fight the real enemy." At the end of the clip you can practically feel the SNL audience lose its breath.
The freak-out was immediate and severe. O'Connor was pilloried tabloid to tabloid in perhaps the last collective utterance by ethnic outer-borough Catholic New York. The reaction was epitomized almost perfectly on the following week's show, when Joe Pesci held up a taped-together picture of the Pope and said he "would have gave her such a smack" to vigorous applause.
As John Paul II's canonization approaches, I can't stop thinking about this event, these two people, and their subsequent history.
Subscribe to The Week
Escape your echo chamber. Get the facts behind the news, plus analysis from multiple perspectives.
SUBSCRIBE & SAVE
Sign up for The Week's Free Newsletters
From our morning news briefing to a weekly Good News Newsletter, get the best of The Week delivered directly to your inbox.
From our morning news briefing to a weekly Good News Newsletter, get the best of The Week delivered directly to your inbox.
For the rest of the 1990s, Pope John Paul II was increasingly considered a holy man, made more saintly by his daring embrace of the suffering brought on by Parkinson's disease. Devotion to him as "John Paul the Great" developed even as he lived.
Meanwhile, O'Connor's career diminished. She was commonly assumed to be a silly weirdo. In a kind of religious left-right mash-up, she was ordained a "priest" in a breakaway Catholic sect founded by Latin Mass devotees. Rather charmingly, she embraced a vow of celibacy only to give that up after three months. "I tried," she said, "No thanks."
It took more than a decade before people came around to the fact that O'Connor may have been on to something. She no longer seems to have anything to do with breakaway Traditionalists, but she still occasionally performs in a Roman collar, still rocks an unbelievably expressive voice for pop music, and has an album due out soon. In a recent formal debate, she took the position that the Scriptural prophets, the Gospels, and the Book of Revelation show that the story of God is one of a divine enemy fighting against organized religion.
Then we have the canonization of John Paul II, which is being treated in media accounts as the Traditionalist half of a political process. On the same Sunday, both John Paul II and the liberal hero Pope John XXIII will be canonized. We are told that Pope Francis is trying to effect the reconciliation of two spheres in the Catholic world, and consolidate the legacy of the Second Vatican Council, which sought to bring the church up to date with the modern world. This narrative leaves me cold.
Like a lot of Catholic Traditionalists, I have extremely mixed feelings about John Paul II. He inspired many of the best men in todays's church to join the priesthood. But I do not consider him a representative of Traditionalist views. He made additions to the Rosary, which have been thankfully ignored by the faithful. His allowance for the Traditional Latin Mass was insultingly ungenerous. He made bold ecumenical gestures that seem impossible to reconcile not only with the texts of Vatican II, but also with the teachings of the pre-conciliar church.
I find that John Paul's writings are alternately inspiring, opaque, and incomprehensible. His governance of the church was lax in the extreme, to the point of negligence. Even before his death, my view was that here was a celebrity pope who traveled while Rome burned in scandal.
John Paul II's record on sexual abuse was abysmal, full stop, even if there may be some room to doubt his personal culpability. I've sometimes wondered if his personal charisma blinded him to the obviously un-Catholic spirit of personal obedience written into the heart of the Legion of Christ, led by the noted abuser, liar, womanizer, and drug-addict Marcial Maciel. Or if his view of priestly abuse allegations were shaped by his experience in Poland, where communist authorities routinely accused priests in order to undermine the church. But for over two decades he was the supreme authority in the church, and he did next to nothing to abate this crisis.
There is still much goodness and grace in the church today, and much growth and heroism among its members in Africa and Asia. But for the Western world, the post-Vatican II era, the one that is supposedly being consolidated and sanctified by these canonizations, has been one of shocking decline in Catholic practice, weakness of faith, and demoralizing immorality. Why the rush to canonize those who initiated and oversaw it?
I have to remind myself that not all Popes who were declared saints had good papacies. But sometimes, thinking about John Paul's inevitable canonization I find my faith in the modern saint-making process, which is catapulting all the modern popes toward universal veneration, unsettled.
Despite her wild anti-religiosity, not to mention how silly this might make me look, I find myself wishing that John Paul just once had spoken or acted with the moral fury expressed in O'Connor's song "Take Off Your Shoes," which takes the voice of Jesus (or the victim of a crime, or Sinead's own voice — it's hard to tell) and aims it at unfaithful priests:
If you believed at all in your breviary
If you believed even in just the ghost of me
You wouldn't now be so surprised to see me
In vanity you took the name of me
You brought me into infamy
And now you're so surprised to see me
I do not see the upcoming canonizations as the celebration of a great era in the Church — almost the opposite. It is another sign of the Church's auto-demolition, in which the shepherds who oversaw the Church in her agony are sainted, and our heretics speak with the holy fury of prophets.

Continue reading for free
We hope you're enjoying The Week's refreshingly open-minded journalism.
Subscribed to The Week? Register your account with the same email as your subscription.