Why Texas Republicans may want to cool the anti-Obama land-grab talk
Greg Abbott is hot and bothered about the BLM's involvement in a land dispute. He better hope his constituents don't look too closely at his government's record.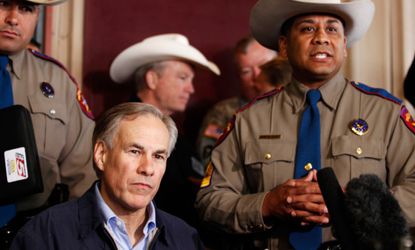 (Image credit: (REUTERS/Mike Stone))
On Tuesday, Texas Attorney General Greg Abbott (R), the GOP candidate for governor, released a letter politely notifying the Bureau of Land Management that he is "deeply concerned" about reports that the BLM plans to "swoop in and take land that has been owned and cultivated by Texas landowners for generations."
At issue is some amount of acreage — Abbott says 90,000 acres, BLM says 140 — along the Texas side of the border with Oklahoma, delineated by the Red River. The BLM is currently updating its resource management plan for Kansas, Oklahoma, and Texas, deciding what will be done with the public lands under its management (it could sell the land, open or close it to public use, or let ranchers graze cattle on it, for example). As part of that process, BLM is looking to clarify who owns certain areas of property along the Red River.
You would think that the Texas-Oklahoma border is pretty well fixed by now, but determining the right line has consumed decades of court battles — all the way to the Supreme Court — and involves concepts like avulsion and accretion (when a river cuts away or adds land as it naturally changes course). Both the BLM and Abbott's office say they have the law and court precedent on their side.
Subscribe to The Week
Escape your echo chamber. Get the facts behind the news, plus analysis from multiple perspectives.
SUBSCRIBE & SAVE
Sign up for The Week's Free Newsletters
From our morning news briefing to a weekly Good News Newsletter, get the best of The Week delivered directly to your inbox.
From our morning news briefing to a weekly Good News Newsletter, get the best of The Week delivered directly to your inbox.
This is a murkier case than the fairly cut-and-dry Cliven Bundy dispute, and a few north Texas landowners do have reason to be concerned that land they have considered theirs for decades could be classified as public. After a series of public meetings the BLM held last year, "frustration has simmered in parts North Texas for months, but state officials have only recently picked up on it," says The Texas Tribune's Jim Malewitz.
Attorney General Abbott in his letter asked the BLM for clarification of its intentions, asserting that "respect for property rights and the rule of law are fundamental principles in the State of Texas and the United States."
But candidate Abbott took a more populist tack, telling Breitbart Texas that he is "about ready...to go to go to the Red River and raise a 'Come and Take It' flag to tell the feds to stay out of Texas." If you're unfamiliar with that flag — the Gonzales Flag (named after the first battle of the Texas Revolution, in the town of Gonzales in 1835) — well, Texans aren't.
"What Barack Obama's BLM is doing," Abbott continued, "is so out of bounds and so offensive that we should have quick and successful legal action if they dare attempt to tread on Texas land and take it from private property owners in this state."
This sounds an awful lot like political grandstanding in an election year. But Abbott shouldn't have to try to work this hard. He's running for governor in a deep red state that hasn't elected a Democrat to statewide office since the mid-1990s. But more to the point, to paraphrase Shakespeare, he's protesting way too much, perhaps in a bid to obscure the fact that the state of Texas — while Abbot served as its top lawyer — has its own spotty record with protecting private property rights.
You don't have to look too far back, either. Last Thursday, Texas seized the 1,700-acre Yearning for Zion Ranch in Eldorado from a branch of the Fundamentalist Church of Jesus Christ of Latter Day Saints, a polygamist Mormon offshoot sect. The group's leader, Warren Jeffs, is serving a life sentence for "celestially marrying" two underage women, and Texas troopers helped vacate the remaining members last week.
Former FLDS member Flora Jessop tells Reuters that Texas deserves the land for having the courage to prosecute Yearning for Zion leaders. But the state claimed its right under a Jan. 6 forfeiture judgment from a state court. "Efforts to seize the property," Reuters' Jim Forsyth notes, "were initiated in 2012 by the attorney general's office."
Then there's the issue of private companies — specifically oil pipeline interests, but also power companies and for-profit toll highway operators — using eminent domain to seize private property, with the state's blessing. In March, the Texas Supreme Court declined to hear a final appeal from northeast Texas landowner Julia Trigg, who refused to sell her land to TransCanada, which used eminent domain to put a leg of the Keystone XL pipeline through her land.
In January, the advocacy group Public Citizen wrote a letter to Abbott that should sound pretty familiar to the attorney general:
Maybe they should have said they were "deeply concerned."
For what it's worth, BLM regional spokesman Paul McGuire responded to Abbott's concerns:
A speculative BLM effort to potentially claim court-sanctioned public lands being used by a handful of private ranchers is worth discussing. But Texas and its gubernatorial front-runner are in a poor position to take the legal or moral high road here.

Continue reading for free
We hope you're enjoying The Week's refreshingly open-minded journalism.
Subscribed to The Week? Register your account with the same email as your subscription.