Girls on Film: Hollywood should stop pretending it's hard to make a female superhero movie
The Golden Age of Cinematic Superheroes has relegated women to underwritten supporting roles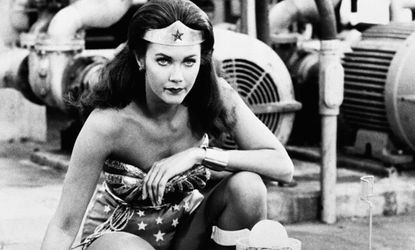 (Image credit: (AP Photo))
Sign up to our 10 Things You Need to Know Today newsletter
A free daily digest of the biggest news stories of the day - and the best features from our website
Thank you for signing up to TheWeek. You will receive a verification email shortly.
There was a problem. Please refresh the page and try again.
In 1938, Superman debuted in Action Comics #1 and sparked the Golden Age of Comic Books. It took just three years for a writer to infuse some potent feminist influence into comic books with the arrival of Wonder Woman in 1941. She wasn't just any female superhero, but one of the elite — an essential part of D.C.'s holy trinity, along with Batman and Superman.
If Superman sparked the Golden Age of Comic Books, X-Men sparked the Golden Age of Superhero Movies when it hit theaters in 2000. But this time around, there has been no subsequent boomlet for a female superhero.
For the last 14 years, superheroines like Jean Gray and the Black Widow have been relegated to supporting roles, and comics' most powerful female hero — Wonder Woman — has been caught in development hell as Batman and Superman have seen multiple reboots. Even now, as she's finally set to appear in Batman vs. Superman, it's as the supporting player to her male counterparts, before the studio will commit to a later solo story.
Subscribe to The Week
Escape your echo chamber. Get the facts behind the news, plus analysis from multiple perspectives.
SUBSCRIBE & SAVE
Sign up for The Week's Free Newsletters
From our morning news briefing to a weekly Good News Newsletter, get the best of The Week delivered directly to your inbox.
From our morning news briefing to a weekly Good News Newsletter, get the best of The Week delivered directly to your inbox.
Hollywood has made plenty of excuses for the sexism of the genre, but the fallback defense seems to be: "We're waiting for the right story." Of course, those are nothing more than empty words used to deflect two very big problems: disinterest and inequitable attitudes toward female superheroes.
"We're waiting for the right story" is a pretty clever turn of phrase. It's a statement that implies interest, but is basically a polite way to express disinterest in long-established female characters. Films like ­X-Men, Spider-Man, Superman Returns, Iron Man, and Captain America aren't the result of execs sitting around hoping inspiration would strike; they are the result of active, concentrated work. Marvel's Louis D'Esposito admitted as much himself: "A lot of R&D goes into it." There are entire departments dedicated to superhero concepts and visuals, but Entertainment Weekly encapsulates the philosophy: "Better not to do it, he reasons, than reach too far, too soon, and do it badly."
The fact is, the terrible movies that have been released have allowed studios to hide behind an all-too-convenient fear of superheroines. Sure, we can try and try again on Wolverine, Superman, and Incredible Hulk movies. But no one dares risk the studio's precarious finances because Supergirl was bad, or because Catwoman was abysmal.
Those films failed not because they starred women, but because they were bad.
Now, executives would surely claim that there have been many, many "attempts" to bring Wonder Woman to both the big and small screens. In recent years, Joss Whedon battled the studio over Wonder Woman, then left to make a billion bucks for Marvel's The Avengers. David E. Kelley's television show followed, only to be quickly killed after immediate and abundant negative fan reaction.
The backlash to the TV series wasn't a surprise; the doomed series wanted to present Wonder Woman, in the words of the casting call, as "a vulnerable woman" who "yearns to live a normal life." So much for the woman who was originally created to defend the "last citadel of democracy, and of equal rights for women." There's no better encapsulation of the skewed thinking about female superheroes than the idea that a fierce Amazonian warrior should be vulnerable and angst-ridden about her calling. Yes, female superheroes are a risk — if the intent is to apply stereotypes to them instead of capturing the power drawn on the page.
There is so much female power in the comics that the push for cinematic superheroines is not only a feminist call but a superhero geek call. Wonder Woman is one of many on the countless lists of female heroes who could topline great films.
Avenger Black Widow is one of the best bets, as a S.H.I.E.L.D. agent who has already proven herself on-screen, and with a spy skill set that can break superhero cinema out of the usual origin-story rut. The X-Men franchise could easily create spinoffs for the superpopular Jean Gray or Mystique, or go in an entirely new direction with the Joss Whedon–created Armor, a Japanese teen who can create a large and impenetrably strong psionic armor around herself. And of course, we can't forget female offshoots from existing superheroes, like She-Hulk and Spider-Woman.
But instead of being seen as powerful and dynamic characters who could lead their own films, a double standard is applied to superheroines. The men lead, and the women support, no matter how powerful their characters are. Marvel head Kevin Feige has actually repeatedly expressed happiness at how his company has handled female superheroes. He is perfectly happy to have the female characters support the men, rather than feel pressure over the company's very recognizable exclusion of female stars: "I'm very proud of the way the Marvel movies handle the female characters […] as opposed to feeling the pressure of 'When are you doing a female movie?'"
Intentional or not, Feige's words express a palpable disinterest in the female superheroes audiences clearly want to see. In the same interview, he blows off the idea of a Black Widow solo movie with that same old standby: "If we had a great idea, we'd do it."
The fact is that if Feige desired it, it would happen — and the Marvel head has a history of making his desires a reality. "It became a secret dream" of his "to have a second bite at the apple" when Hulk crashed and burned in 2003. In five short years, Bruce Banner was back for The Incredible Hulk — another film that missed the mark, before the character finally hit, four years later, when Mark Ruffalo took over in The Avengers. That time, Feige made it happen, and poor returns on Marvel's investments didn't stop him.
Now he has "to prove to the studio that we're more than just these five [Avengers] characters." How do they do that? With the quirky Guardians of the Galaxy and Ant-Man — a male-dominated team that includes a tree-man and a raccoon, and a tiny dude who has been called "useless," "misogynistic," "nasty," and "the worst Avenger ever." Feige, who stressed the importance of "a dialogue" that builds on anticipation, has created a dialogue that builds apprehension and undermines the power of some of comics' most dynamic heroes.
"Waiting for the right story" really means "what do we have that doesn't star a female superhero?"
Put women on the "master plan," however, and they become a reality. Treat them like superheroes — and not some stereotypical vision of womanhood — and they will thrive. Give them great action roles, like Jennifer Lawrence in The Hunger Games or Sandra Bullock in Gravity, and they become box office smashes. There's a reason tough women like Alien heroine Ripley are icons: not because they were "written like men," but because they were written without stereotypes.
When the most powerful women in comic books are seen as co-stars and difficult characters, they lose what made them powerful and special. They become risks not because of who they are, but because of the attitudes of creative minds who are supposed to celebrate them.
Girls on Film is a weekly column focusing on women and cinema. It can be found at TheWeek.com every Friday morning. And be sure to follow the Girls on Film Twitter feed for additional femme-con.
Continue reading for free
We hope you're enjoying The Week's refreshingly open-minded journalism.
Subscribed to The Week? Register your account with the same email as your subscription.
Sign up to our 10 Things You Need to Know Today newsletter
A free daily digest of the biggest news stories of the day - and the best features from our website
Monika Bartyzel is a freelance writer and creator of Girls on Film, a weekly look at femme-centric film news and concerns, now appearing at TheWeek.com. Her work has been published on sites including The Atlantic, Movies.com, Moviefone, Collider, and the now-defunct Cinematical, where she was a lead writer and assignment editor.