Don't feed the climate trolls
Some arguments just aren't worth the effort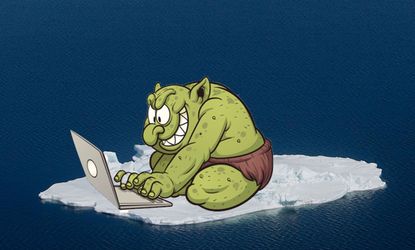 (Image credit: (Illustration by Sarah Eberspacher | Images courtesy Thinkstock, Joe Raedle/Getty Images))
Sign up to our 10 Things You Need to Know Today newsletter
A free daily digest of the biggest news stories of the day - and the best features from our website
Thank you for signing up to TheWeek. You will receive a verification email shortly.
There was a problem. Please refresh the page and try again.
A few people were outraged that I called Roger Pielke, Jr. a "climate troll" in my last post. I meant that in a particular way, and it's worth a bit of explanation.
As I said, I believe both Pielke and the Breakthrough Institute, a think tank which shares his general political strategy towards climate change, are basically worthless. I call them climate trolls not because they are full-blown deniers, but because their strategy, which consists primarily of dogpiling any green or allied scientist who puts a toe out of line (and many who haven't) is politically idiotic, and a lot better at getting them media attention than achieving anything substantive.
What I'm not saying is that Pielke is bad at analysis. On the contrary, though actual climate scientists don't seem to respect his work very much, he's at least good enough to get peer-reviewed papers published, which is no small thing. That's certainly more than I could accomplish.
Subscribe to The Week
Escape your echo chamber. Get the facts behind the news, plus analysis from multiple perspectives.
SUBSCRIBE & SAVE
Sign up for The Week's Free Newsletters
From our morning news briefing to a weekly Good News Newsletter, get the best of The Week delivered directly to your inbox.
From our morning news briefing to a weekly Good News Newsletter, get the best of The Week delivered directly to your inbox.
No, the problem with Pielke is his theory of politics. Pielke evidently believes climate change is a major problem that requires urgent action — but he and the rest of Breakthrough crowd just think that environmentalists are Doing It Wrong. Wrong framing, wrong arguments, wrong politics, wrong strategy, unrealistic expectations, etc, etc. It's all in their 2005 book The Death of Environmentalism. (See this interview with Breakthrough co-founder Ted Nordhaus for a more updated view.) Their trolling then is not a defense of scientific rigor no matter the consequences, but a political maneuver aimed at building consensus.
We see this theory more explicitly in an article he wrote after a familiar round of accusing a scientist, this time White House Science Advisor John Holdren, of misleading Congress:
To rephrase this underlying idea: If only those greens and allied scientists would stick to scrupulously hedged scientistic literalism, we'd have a bipartisan consensus!
This is, to put it lightly, preposterous. The bipartisan consensus ship has sailed: Climate science is already thoroughly politicized. Personally, I blame conservative epistemic closure for this situation, stoked by anti-intellectual pundits and the vast wealth and power of the fossil fuel industry, but even if you do a triple pundit backflip and blame Al Gore, at this point it doesn't matter, the die is cast. The Republican Party is simply riddled with outright climate denialism. A recent poll shows 46 percent of Republicans — and 70 percent of Tea Partiers — say there's "no solid evidence" climate change is happening. As one would expect, the more intensely held beliefs of the party base are reflected in the elected class:
90 percent of the Republican leadership in both House and Senate deny climate change
17 out of 22 Republican members of the House Committee on Science, Space and Technology, or 77 percent, are climate deniers
22 out of 30 Republican members of the House Energy and Commerce Committee, or 73 percent deny the reality of climate change
100 percent of Senate Environment and Public Works Committee Republicans have said climate change is not happening or that humans do not cause it
Pielke's constant attacks on credentialed climate scientists have somehow failed to convince Republicans to stop listening to Rush Limbaugh. In fact, they have probably done a nontrivial amount to increase the confidence of conservatives that there isn't a strong consensus behind basic climate science.
Now, after close examination, I don't think Pielke is actually someone who argues in good faith. The time he accused the IPCC lead author Christopher Field of misleading Congress (noticing a theme here?), for example, is some tendentious strawman pillaging of the kind Stephen Schneider warned about.
But all that doesn't matter. The upshot is that Pielke's work, like the rest of Breakthrough's stuff, is either straight wonkery, which would otherwise be ignored by everyone but specialists (and for my money even there you'd be better served by Headwaters or just the good old IPCC), or green-trolling that is politically blinkered in the extreme.
The point here isn't that Pielke should start trolling conservatives instead of scientists. Conservative change, if it is possible, will have to happen from within. The only thing outsiders can do is inspire an enraged backlash. Instead, the point is that you can safely ignore Pielke (and the rest of the Breakthrough crowd) if he tries to smarm-troll you Lanny Davis-style into a debate. This goes doubly for my scientist comrades out there, who are naturally drawn to factual distortions. He ain't worth the effort, and you'll get nowhere.
Continue reading for free
We hope you're enjoying The Week's refreshingly open-minded journalism.
Subscribed to The Week? Register your account with the same email as your subscription.
Sign up to our 10 Things You Need to Know Today newsletter
A free daily digest of the biggest news stories of the day - and the best features from our website
Ryan Cooper is a national correspondent at TheWeek.com. His work has appeared in the Washington Monthly, The New Republic, and the Washington Post.