Should a married couple ever file taxes separately?
About 95 percent of married people are better off filing jointly. But for the rest of you...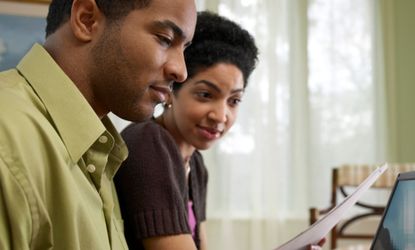 (Image credit: (Thinkstock))
Sign up to our 10 Things You Need to Know Today newsletter
A free daily digest of the biggest news stories of the day - and the best features from our website
Thank you for signing up to TheWeek. You will receive a verification email shortly.
There was a problem. Please refresh the page and try again.
One of the very first things you'll choose this tax season is your filing status, which determines the deductions and credits you can take.
Generally, there are two common filing statuses: married filing jointly and single. But it's a third, less common status that we'll be discussing today: married filing separately.
As with most things tax-related, choosing whether to file jointly or separately as a married couple is a highly individual and complex decision. That's why we consulted two certified public accountants to find out how common it is for a married couple to file separately, what it means for your taxes, and in which situations it may apply.
Subscribe to The Week
Escape your echo chamber. Get the facts behind the news, plus analysis from multiple perspectives.
SUBSCRIBE & SAVE
Sign up for The Week's Free Newsletters
From our morning news briefing to a weekly Good News Newsletter, get the best of The Week delivered directly to your inbox.
From our morning news briefing to a weekly Good News Newsletter, get the best of The Week delivered directly to your inbox.
What does it mean to file separately?
If you were legally married as of December 31, 2013, then you have two choices for your filing status this year: married filing jointly and married filing separately.
Married filing jointly means you file one return as a unit, with your incomes and expenses lumped together for the purpose of calculating and paying taxes.
Married filing separately is not the same as filing as a single person — it means that you're married, but you each file your own return, so you don't take legal responsibility for your spouse's return, and your incomes and expenses are considered separately. The federal government now recognizes same-sex marriages, which gives married same-sex couples this same choice between filing statuses.
When should you consider filing separately?
If you and your spouse have a simple financial situation — two straightforward salaries that are about equal, without any large deductions to take — you can be almost positive you should file together. To put it another way, if you don't plan on itemizing, then don't worry about it and file jointly.
"About 95 percent of married people are better off filing jointly," says Joseph Boyce, a New York–based certified public accountant. "It's a lower tax rate. Married filing separately is actually the highest tax rate." In other words, filing separately isn't for many of us — and filing incorrectly could be expensive.
So how are you supposed to figure out if filing separately is for you? "It's difficult," cautions Boyce, who mentions this is a good time to get a professional opinion tailored to your exact situation. "Especially if you have deductions. I would highly recommend not doing it on your own."
That said, here are seven situations in which you may want to consider filing separately. Note that, as with most things tax-related, they're just general guidelines, not iron-clad rules. If you think one of the following situations applies to you, you may benefit from going to an accountant or running the numbers with your go-to tax preparation software.
1. You have significant deductions
For many deductions, the amount you can take depends on your adjusted gross income (AGI). If you and your spouse have unequal AGIs and you need to itemize significant deductions, it may make sense to file separately.
One common example is medical deductions, which have to total more than 10 percent of adjusted gross income in order to qualify. Let's say that you and your spouse file jointly, and together you have an adjusted gross income of $250,000. In that case, the two of you need to have spent more than $25,000 (10 percent of your combined income) in medical expenses in 2013 in order to deduct them at all. But, if you make $50,000, your spouse makes $200,000, and you file separately, you only need $5,000 in medical expenses to qualify. If you make less than your spouse, and have more potential deductions, it might make sense to file separately.
Other deductions tied to AGI include miscellaneous itemized deductions like unreimbursed employee expenses, tax preparation fees, and gambling losses. But watch out! There are some deductions and credits that you are simply not allowed to take at all if you file separately. (See why you might want to consult a professional?)
2. You don't need to do a Roth conversion
A Roth conversion is when you turn your traditional IRA into a Roth IRA, and pay taxes on it this year. "You cannot do a Roth conversion if you file married filing separately," says Dominique Molina, a certified public accountant and president of the American Institute of Certified Tax Coaches. "Not being allowed to make the conversion, and collect those tax advantages, is a pretty severe penalty for filing separately." If you took the conversion, guess what? You're definitely filing jointly this year.
3. You're getting a divorce
"Until a divorce decree is ultimately signed, you still have the right to file jointly," Boyce says. "Nine times out of ten, it still makes sense, because married filing jointly would give you a lower liability."
However, sometimes divorce proceedings can get pretty acrimonious, and agreeing on how to split the refund, plus convincing your spouse to show up and sign some more paperwork, might prove difficult. "Even if you have a marriage settlement agreement, you still have to actually agree and sign the tax return," Molina adds.
"Some spouses choose to file separately, regardless of any additional price they have to pay," Boyce explains. "They just want to go their own way." Paying a little more in taxes might be worth it to you in order to avoid another showdown — but you might want to run the numbers to find out just how much you are paying for that privilege.
4. Your spouse's tax refund will be taken by the government
If your spouse owes the federal government money, the government might take his or her refund to help pay for the debt. And if you file jointly, they won't leave any behind for you.
Why would the government take your spouse's return? "The reasons I see most often," says Molina, "are that their tax returns are overdue or they owe previous tax payments; they have unpaid student loans; state income tax obligations or they have unpaid government guaranteed loans or unpaid Small Business Administration loans." Also, your spouse may owe the government money in the form of unpaid child support. In that case, you may want to protect your refund from your spouse's financial misfortune by filing separately.
5. You earned a lot in capital gains and dividends
This is another one that relies on unequal income. "Part of the marriage penalty — this is new for 2013 — has to do with how capital gains and qualified dividends are taxed," Molina says. "Capital gains rates kick up from 15 percent to 20 percent once you hit about the $450,000 level of joint income. So if you're the spouse earning less income and also the spouse with the capital gains or dividends, it might make sense to file married filing separately."
For example, let's say you earned $100,000 last year and your spouse earned $350,000. You're also the one with all the capital gains and dividends from your investments. If you file jointly, you'll be taxed at 20 percent, because together you earned $450,000. But if you file separately, your individual income is low enough (below $225,000) that you'll be taxed at a lower rate, potentially 0 percent or 15 percent. (Of course, if you earn more than $400,000 with your spouse, you might want to just go ahead and shell out for a tax preparer.)
6. You have a lot of unearned income
Unearned income is passive income that arrives without your working for it, like investment income, dividends, interest, capital gains or rental income from properties that you own. Part of the Affordable Care Act is a new 3.8 percent tax that kicks in on unearned income when you and your spouse make more than $250,000 combined. The threshold is $125,000 for married filing separate.
"If you are the spouse that has unearned income, and you make less than $125,000 on your own, it might make sense to file separately so you don't pay that additional 3.8 percent tax," Molina says.
7. You want to legally protect yourself
When you file jointly, you sign the tax return indicating that you take legal responsibility for the whole thing, including any tax shenanigans your spouse might have gotten up to. It's not a common scenario that you would be married to a person who you know is cheating on their taxes (in fact, our experts say it's considerably less common than the others on this list), but it's worth mentioning: If you don't feel comfortable signing that tax return, then file separately, and you'll be off the hook when the IRS shows up to audit their return and slap them with fines and penalties.
More from LearnVest...
Continue reading for free
We hope you're enjoying The Week's refreshingly open-minded journalism.
Subscribed to The Week? Register your account with the same email as your subscription.