Raging Bull and recess appointments: The Supreme Court's controversial January
Hold onto your hats, SCOTUS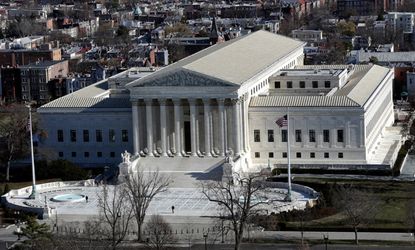 (Image credit: (Win McNamee/Getty Images))
Sign up to our 10 Things You Need to Know Today newsletter
A free daily digest of the biggest news stories of the day - and the best features from our website
Thank you for signing up to TheWeek. You will receive a verification email shortly.
There was a problem. Please refresh the page and try again.
Since the early hours of 2014, the Supreme Court has been wrapped up in a number of high-profile cases that are more than likely to court some controversy — or already have. For starters, there's the continued debate over a challenge to the contraception mandate of ObamaCare, as well as a Utah judge's decision to strike down a state ban on same-sex marriages. For each case, Justice Sonia Sotomayor issued temporary injunctions on New Years Eve — one against enforcing the contraception mandate for a group of nuns and one blocking same-sex marriages in Utah.
Things are not likely to slow down anytime soon. The Court is now preparing to hear oral arguments throughout January on some other controversial and potentially significant cases. Here's what you need to know about five that are especially interesting:
1. Obama's recess appointments: National Labor Relations Board v. Noel Canning
Subscribe to The Week
Escape your echo chamber. Get the facts behind the news, plus analysis from multiple perspectives.
SUBSCRIBE & SAVE
Sign up for The Week's Free Newsletters
From our morning news briefing to a weekly Good News Newsletter, get the best of The Week delivered directly to your inbox.
From our morning news briefing to a weekly Good News Newsletter, get the best of The Week delivered directly to your inbox.
Back in January, 2012, during a 20-day Senate break, President Obama appointed three people to the National Labor Relations Board, bypassing the usual requirement of Senate confirmation for these kinds of appointments. The president, who at that point was facing potential filibusters by Republicans for pretty much every appointment, argued that a clause in the Constitution allows the president to "fill up all vacancies that may happen during the recess of the Senate."
A challenge to the appointments was brought by Noel Canning, a company in Washington state that objected to a ruling by the five-member NLRB (including the three appointees in question). Noel Canning argued — and the D.C. Circuit Court unanimously agreed — that this recess was only a break during an ongoing session, and doesn't qualify as a true "recess" for Constitutional purposes. Noel Canning also argued that the clause doesn't cover vacancies that did not open up during a "recess"— a position that was adopted by two of the three members of the D.C. Circuit panel.
This case is likely to take on a uniquely political spin, with the Court even granting Senate Minority Leader Mitch McConnell and other Senate Republicans 15 minutes to make their case. But as David B. Rivkin Jr. and Lee A. Casey write for The Wall Street Journal, the controversy surrounding the issue could die off somewhat.
While this challenge to presidential power touched off considerable controversy, some political observers say that the recess-appointments issue will fade because Senate Democrats recently did away with the traditional filibuster rule, requiring a 'super-majority' of at least 60 senators to allow a contentious nomination to proceed to a vote. This rules change, however, does not moot Noel Canning v. NLRB or the issues it raises. Indeed, limiting filibusters will only grease the wheels of a nomination when a Senate majority approves of a particular nominee. [The Wall Street Jounal]
Oral arguments began on January 13.
2. Abortion protesters: McCullen v. Coakley
This case challenges a law in Massachusetts that creates a buffer zone for abortion protesters outside of reproductive health clinics. The law makes it illegal for anyone other than "employees or agents...acting within the scope of their employment" to "enter or remain on a public way or sidewalk" within thirty-five feet of a "reproductive health care facility." The purpose of this law is to extend protections already carved out by federal law to women entering abortion clinics, who in the past have faced threats and violence from protesters. But the petitioners argue that this limits their First and Fourteenth Amendment rights by restricting the free speech of "only those who wish to use public areas near abortion clinics to speak about abortion from a different point of view." The law "applies only at abortion clinics; permits speech by clinic agents while excluding speakers who advocate alternatives to abortion; and completely excludes disfavored speakers from otherwise public areas."
The First Circuit Court of Appeals upheld the law, with Judge Bruce Selya reasoning that "[a]s long as a speaker has an opportunity to reach her intended audience, the Constitution does not ensure that she always will be able to employ her preferred method of communication." This decision was appealed to the Supreme Court.
In 2000, the Supreme Court upheld a similar law by a margin of six to three, but since then the ideological breakdown of the Justices has shifted. And, as Stephen Wermiel argues at SCOTUSBlog, since Justice Anthony Kennedy was one of the three who dissented in Hill, it could be an uphill climb for defenders of the buffer.
Justice Kennedy, who would almost certainly have to be the fifth vote if the Court were going to rule for the rights of abortion patients, wrote in his 2000 dissent that when it came to abortion-related speech, the Court was 'no longer' committed to the 'proud tradition of free and open discourse.' [SCOTUSBlog]
Oral arguments are set for January 15.
3. The Raging Bull copyright: Petrella v. Metro-Goldwyn-Mayer, Inc.
A somewhat technical lawsuit about the statute of limitations on copyright claims is getting a publicity boost from its Oscar-winning pedigree. Paula Petrella, the daughter of the late Raging Bull screenwriter Frank Petrella, sued MGM for copyright infringement after the company acquired the rights to the story of boxer Jake LaMotta, nicknamed "The Raging Bull." Petrella claims that she renewed the copyright with the original rights holder, Chartoff-Winkler Productions, in 1991, after it expired for the first time, and that MGM violated her copyright by marketing the movie on DVD and Blu-Ray.
Petrella's claim was rejected by the Ninth Circuit Court of Appeals, on the grounds that she had not sued until 2009. As Adam Liptak of The New York Times writes:
The copyright law itself would have allowed the suit, as its three-year statute of limitation starts to run anew every time there is a fresh infringement. The question for the justices, one that has divided the lower courts, is whether the suit should nonetheless have been dismissed based on a doctrine known as laches, which bars suits brought after unreasonable delays. [The New York Times]
In other words, the question is whether the judge-created doctrine of "laches" should bar the lawsuit even though the statute itself does not.
Los Angeles attorney Jonathan Sokol explained to Reuters that although this case may seem like an arcane bit of copyright litigation, because of Hollywood's zest for remakes, sequels, and adaptations, it could have big implications for how the industry handles claims brought by children or other heirs of copyright owners. "I could see it coming up more now," Sokol said.
Oral arguments are set for January 21.
4. Drunk driving and police stops: Navarette v. California
When a police officer receives an anonymous tip about a drunk driver, must the officer determine whether the driver has been driving dangerously before making a stop? Usually, an officer can stop a car when he or she has a "reasonable suspicion" that a driver is breaking the law. This is the standard that was carved out in a case called Terry vs. Ohio, which is also the legal basis for the New York City Police Department's controversial "stop-and-frisk" policy.
The case here involves a stop made in 2008, when a Highway Patrolman was investigating an anonymous tip about a drunk driver, after the tipster claimed that a pickup truck had run his or her car off the road in Northern California. The Supreme Court had already held in 2000 that in general, when the tip comes from an anonymous source, corroboration of reckless driving is required before a stop. However, the Court also carved out an exception for imminent dangers such as potential bomb threats, and the lower courts have interpreted this to include other dangers like drunk driving. The Supreme Court will now decide if this interpretation is correct.
Orin Kerr, a law professor at George Washington Law School and a blogger for Volokh Conspiracy, argues that this case might also have big implications for police stops in general because of the way the state of California has asked the Supreme Court to consider the case. "Instead of just asking when 'reasonable suspicion' exists, California asks the Court engage in interest balancing on a case-by-case basis" to determine whether something less than "reasonable suspicion" should apply to drunk driving. According to Kerr, this is a "revolutionary" approach to stops under Terry. Typically, he says:
The same standard or reasonable suspicion applies across all crimes, just as it does with probable cause. Switching to a case-by-case approach which factors in the seriousness of the crime would be a dramatic change. It would replace the one-size-fits-all rules of Terry v. Ohio with a totality-of-the-circumstances standard. [Volokh Conspiracy]
Oral arguments are set for January 21.
5. "Straw Man" gun buys: Abramski v. United States
In the wake of the Newtown school shootings and the ensuing debate over gun control, supporters of tougher regulations for firearms purchases advocated for closing background check loopholes to prevent "straw sales," the term for when an individual buys a gun for someone else without disclosing the true customer. This is often how criminals get a hold of guns, but the NRA and other staunch opponents of gun control have argued that laws prohibiting these sales simply restrict lawful gun owners from exercising their Second Amendment rights.
There is already a ban on "straw sales" in place, a 1968 law passed by Congress prohibiting firearms purchasers from making false statements to the dealers "with respect to any fact material to the lawfulness of the sale" or records related to the sale. Bruce Abramski, a Virginia man, was convicted of making a "straw sales" purchase after he bought a gun for his uncle in Pennsylvania, but declared on the forms that it was for himself. Abramski, represented by the NRA, argues that since both he and his uncle were lawfully allowed to purchase guns, the law should not apply to either of them.
The government argues:
The statute prohibits false statements material to the lawfulness of 'the sale,' i.e., the one between the buyer and the dealer, not some other hypothetical sale involving an absent party... Congress regulated firearm transactions not only to keep guns out of the hands of ineligible purchasers but also to trace weapons found at crime scenes. [Legal Information Institute]
This is a case that's attracted the attention of the usual anti-gun control suspects, such as Rep. Steve Stockman, who applauded the Supreme Court's decision to hear the case in a statement:
It is incomprehensible that ATF and the Justice Department wasted federal government resources prosecuting legal gun buyers for nothing more than simple technicalities on government forms while at the same time they helped in sending thousands of firearms to Mexican cartels. This rogue agency must be reined in. [House.gov]
Oral arguments are set for January 22.
Continue reading for free
We hope you're enjoying The Week's refreshingly open-minded journalism.
Subscribed to The Week? Register your account with the same email as your subscription.