The best TV shows we saw in 2013
TheWeek.com's staff and writers pick the best TV shows they saw this year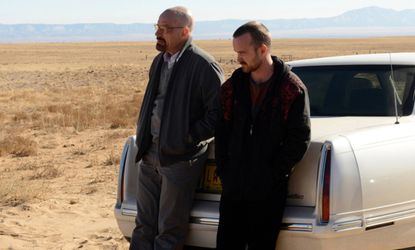 (Image credit: <a href="https://www.facebook.com/photo.php?fbid=10151839643137722&amp;set=pb.6798562721.-2207520000.1386799822.&amp;type=3&amp;theater">(Facebook/Breaking Bad)</a><a></a>)
Sign up to our 10 Things You Need to Know Today newsletter
A free daily digest of the biggest news stories of the day - and the best features from our website
Thank you for signing up to TheWeek. You will receive a verification email shortly.
There was a problem. Please refresh the page and try again.
American Horror Story: Coven
With the possible exception of RuPaul's Drag Race, no television show has more eagerly embraced pure camp than Ryan Murphy's American Horror Story: Coven. The Nip/Tuck and Glee creator drafts up an entirely new, spooky setting for each season, recasting his ensemble of actors in fresh roles. For the third incarnation, the gang shuttled over to New Orleans, where a coven of young witches is presided over by a slightly older witch named Cordelia Foxx (Sarah Paulson) and her wildly evil mother, Fiona Goode (Jessica Lange). Add to this a horrifically racist socialite dug up from the ground after 100 years (Kathy Bates) and a vindictive voodoo queen (Angela Bassett) and it's a veritable cornucopia of divas doing their best glowering and spell-casting.
The actresses themselves are clearly having a damn good time traipsing around in their witchiest garb and delivering lines with the sultriest of Southern drawls. American Horror Story: Coven has brought together some of the best and most exciting female actors in the business, resulting in a true showcase of women at the top of their game. The only heartbreak is what will happen when the season ends, and the witches of Miss Robichaux's Academy For Exceptional Young Ladies are no longer terrorizing New Orleans past and present. —Jessica Jardine, writer
Subscribe to The Week
Escape your echo chamber. Get the facts behind the news, plus analysis from multiple perspectives.
SUBSCRIBE & SAVE
Sign up for The Week's Free Newsletters
From our morning news briefing to a weekly Good News Newsletter, get the best of The Week delivered directly to your inbox.
From our morning news briefing to a weekly Good News Newsletter, get the best of The Week delivered directly to your inbox.
The Americans
Even as it headed for the finish line, Breaking Bad faced stiff competition for the best show on television about a double life. Its rival? FX's The Americans. Centered on two Soviet sleeper agents posing as a suburban married couple during the Cold War, the show had the strongest, most assured debut season for a drama in years. The Americans packs in lots of thrilling, deftly plotted spy action and compelling, emotional family drama; one of the show's great feats is making both sides of the Jennings' lives equally compelling.
But the key to The Americans' success is the absolutely riveting cast, who play a collection of characters with gaping wounds. Keri Russell and Matthew Rhys are stunning as the leads. Russell's Elizabeth Jennings, in particular, is simultaneously a terrifying killing machine and a deeply sympathetic true believer. It doesn't hurt that The Americans mines the 1980s setting for maximum dramatic effect and minimal cheese (Fleetwood Mac's Tusk has never sounded so badass). With a first season this powerful, January can't come soon enough. —Eric Thurm, writer
Arrested Development
The news that Netflix was reviving Arrested Developmentcreated hopes that could never be filled. The show's first three seasons were a marvel of modern satire, with jokes that have become landmarks in the pop-cultural canon. Unfortunately, fans also forgot that Arrested Development was always rough around the edges (especially in its first and third seasons). When Arrested Development finally returned for its long-awaited fourth season on Netflix, few knew how to digest what they were seeing. I attended a themed party in which we watched the first four or five episodes to confusion and disappointment.
But taken as a whole, the 15 episodes of the fourth season were one of the more ambitious projects in television history. Instead of relying on the rich interplay among the varied cast members, each episode offered a focused character study. And what distinguished the fourth season is a new darkness. No longer is Michael Bluth the sane source of gravity for his eccentric family members, while George Michael reveals his own malicious, deceptive streak. The season grows more disturbing as the pieces fall into place, which makes season four the least accessible season of Arrested Development. But the show's main strength lies in its unpredictability. It's an unquestionably brave season of television, one that reflects a grander vision. —John Hendel, writer
Arrow
Marvel's Agents of S.H.I.E.L.D — a sort of big budget A-Team for the 21st century — has dominated the headlines. But while everyone was distracted, the sophomore season of The CW's own superhero series, Arrow, has slowly established itself as the king of comic book programming.
Arrow smartly decided to slowly dribble out protagonist Oliver Queen's origin story — the most interesting aspect of any costume-clad character. It's a decision that transformed what is essentially a cult hit into something akin to appointment viewing. Sure, it still revolves around action, arrow-slinging, and its star's impossibly chiseled torso. But this year, Arrow's thrown some substance in with its style — and it's only getting stronger, with a recent appearance by The Flash. —Daniel Bettridge, writer
Bob's Burgers
Early on in Family Guy's run, Seth McFarlane made the facile argument that writing funny teenagers (like Meg) is hard because the female mind is "difficult to understand." Bob's Burgers swiftly debunks that nonsense on the strength of its two most compelling characters: Tina, who is perhaps the ultimate by-product of the Daria generation, and Louise, a manic tomboy brilliantly voiced by Kristen Schaal, whose Sampson-esque power to impose her will on others comes from her bunny ears.
Maybe that's why whenever my girlfriend and I can't can't decide what to zone out to on Netflix, we default to Bob's Burgers almost every time. And inevitably, we're always sucked in. —Chris Gayomali, science and technology editor
Breaking Bad
What's left to be said about Breaking Bad? The AMC drama had secured its place in the pantheon of all-time great TV dramas even before it began its superlative final run. But the final block of episodes contained some of Breaking Bad's all-time best scenes. Hank and Walt's climactic confrontation in the garage. Jesse's realization that Walt had been the one who poisoned Brock. The deadly standoff in To'hajiilee, when Hank's triumph over Walt was cut short by Uncle Jack. Walt's desperate, pathetic escape to a remote cabin in New Hampshire, where he had nothing to do but sit and reflect on everything he had lost (in between screenings of Mr. Magorium's Wonder Emporium). And Walt's final conversation with Skyler, when he finally confessed the true motive behind all his crimes: "I did it for me. I liked it. I was good at it. And I was really… I was alive."
The story was thrilling and tragic. The episodes were beautifully directed. The performances were uniformly excellent. It was a pleasure to see all the quality pay off, as Breaking Bad took a year-long victory lap that culminated in the series' highest-ever ratings by a staggering margin. The last time any TV series finale was such a highly anticipated cultural event was in 2007, when The Sopranos ended its run. The final episode, "Felina," has its detractors — and I'm among them — but those final missteps didn't take away from what Breaking Bad accomplished in the preceding episodes, and in the rest of its stellar five-season run. This is as powerful as television gets. —Scott Meslow, entertainment editor
Broadchurch
For the most part, today's critically acclaimed television shows are far too violent for me. The Walking Dead? Forget it. Breaking Bad? Please. But every so often I do like to dip a toe into drama, which is when I look to the BBC. Unlike American television, which is filled with whip-fast action and plot twists, British series plod along at deliberate paces. To some viewers, this can feel like listening to a record at the wrong speed. But I love it.
And Broadchurch is the perfect example of how a slower pace can elevate the story. Broadchurch is a small town in a Dorset-like English seaside. The 8-part series opens with the death of 11-year-old Danny Latimer, who's found splayed on the sand by the cliffs. What follows appears to be a conventional whodunnit centered on the mismatched detectives assigned to the case. But the intimacy of Broadchurch cracks these tropes wide open. The characters in this town are so wound up in each other's lives, yet so isolated by their own secrets, that it seems the only way to find out who killed Danny is to dissect and expose each resident. It's an utterly tragic tale, and beyond that, Broadchurch takes a satisfying stance against the media's propensity to twist personal tragedies into national entertainment. —Lauren Hansen, multimedia editor
Brooklyn Nine-Nine
Brooklyn Nine-Nine is a rare treat. On paper, a workplace comedy set at a police station starring Andy Samberg might sound like a wasted effort. Samberg, who cut his teeth on Saturday Night Live, is an affable actor, but too much of his presence can sometimes be grating.
This show, however, lets Samberg succeed without going overboard with his eccentricities. With the dry dialogue of Captain Ray Holt (Andre Braugher), the enthusiastic naivete of Detective Charles Boyle (Joe Lo Truglio), and the cold wit of Detective Rosa Diaz (Stephanie Beatriz), this is a show that has built its strengths on the talents of a great supporting cast. Brooklyn Nine-Nine has been one of the few bright lights of the fall season, and will hopefully remain on the air for years to come. —John Hanlon, writer
Eastbound & Down
While most mourned the end of TV's favorite chemistry-teacher-turned-meth-dealer this year, I found myself more broken up about losing a different kind of anti-hero: The foul-mouthed, narcissistic Kenny Powers. When Eastbound & Down debuted on HBO nearly four years ago, it didn't draw in a ton of viewers, but it quickly gained a cult following. That's due in part to creators Jody Hill, Ben Best, and Danny McBride's crude-but-sharp writing, and McBride's eagerness to tackle a role that lets him do what he does best: Be as offensive as he possibly can.
After a rocky second season, HBO announced that the third would be Eastbound & Down's last. It would have been an appropriate note to end on — Kenny faking his own death so that he can escape stardom and be with the woman he loves. But that wasn't the end of Kenny's story. Eastbound & Down's fourth (and truly final) season found Kenny breaking free of his suburban family trappings to return to fame and fortune. The brief final season barely missed a beat, with Kenny at his most ruthless — and hilarious — as the host and star of a sports talk show. The series wrapped up with a surprisingly affecting postscript documenting how the rest of Kenny's life turned out, after he gave it all up, once again, for love. — Matt Cohen, writer
Enlightened
I, alongside many others, tried to be an agent of change for Mike White's critically acclaimed but criminally under-watched dark comedy Enlightened, which starred the incredible Laura Dern. Unfortunately, HBO canceled the show. Fortunately, TV fans will always have the two near-perfect seasons Enlightened did get.
Season two of Enlightened treated Amy Jellicoe's journey as a corporate whistle-blower with restraint and grace. Amy's pseudo new-wave bullshit, which covered up her own self-destructive tendencies, was always threatening to undermine the hope she felt for the world. But it was impossible not to root for her anyway — truly a testament to White's writing and Dern's performance. Ultimately, Amy is "just a woman who is over it" as she says in what turned out to be the series finale. Even though she can be selfish, dense, overly spiritual, and always on the brink of explosion, she's just a woman who wants a bigger, fuller life for herself. Really, who doesn't want that? —Kerensa Cadenas, writer
Game of Thrones
I watched a lot more television this year than I did movies: Breaking Bad, Orange is the New Black, House of Cards. I also re-watched the entirety of Star Trek: The Next Generation. But from that impressive list, the standout for me was HBO's Game of Thrones. I love the the grandeur and scope, the architecture and costumes, the wit and wisdom of Tyrion Lannister, and the shades-of-gray heroes — not to mention the reactions of casual watchers who haven't read the books by George R.R. Martin. Most of all, I love the uncertainty of how the plot will pan out. I stayed up until an unhealthy hour on more than one occasion reading forums speculating about the two final unwritten books in the series. —John Aziz, economics and business correspondent
The Good Wife
It's been said many a time: The Good Wife is the most brilliantly tech-savvy TV show on the air. The show is often dismissed as another legal/political procedural — or worse, a soapy drama based on scorned wife Alicia Florrick and her Eliot Spitzer-like husband. But The Good Wife has evolved into a morally ambiguous tale of power politics and manipulation, while also exploring thorny and fascinating legal issues that are more forward-thinking than "ripped-from-the-headlines" plots usually entail.
For instance, one of this year's episodes was entirely devoted to the online currency known as Bitcoin. Another very realistically highlighted how a handful of Tweets can impact a political campaign. One arc this season dealt with free speech and a Reddit-like site called "Scabbit," in a case that mirrored how real-life Redditors tried to solve the Boston bombing case and wound up pointing the finger at innocent people. The current Good Wife season is particularly notable for the bold decision to have Alicia start her own firm, which she launched by secretly poaching clients from her old one. The fireworks have been punctuated by tense, high-stakes court confrontations, played out in front of the recurring roster of quirky judges — a reason for the show's equally well-deserved reputation for very clever stunt casting. —Jillian Rayfield, writer
Masters of Sex
Depending on your perspective, the title of Showtime's Masters of Sex — which tells the true story of pioneering sex researchers William Masters and Virginia Johnson — is either a titillating promise or a porny-sounding turnoff. In reality, however, Masters of Sex is neither. While there's plenty of masturbation, sex, and even a few visits to a brothel, part of what makes Masters such a compelling watch is how it manages to handle every sexual situation with raw honesty rather than shock value.
Just like Mad Men is only partially about advertising, the sex research in Masters is only part of the story. Look past the glass dildo dubbed "Ulysses" and you'll find a character-driven historical drama that focuses more on how the issues around sex — from marriage to fertility to sexuality — affected the lives of virtually everyone in the era. Couple that with Michael Sheen's stellar performance as the chillingly repressed Masters, Lizzy Caplan's impressive foray into dramatic work as Virginia Johnson, and a wonderful assist from Allison Janney as the provost's soul-searching wife, and you've got a show worth lusting after. —Samantha Rollins, news editor
Orange is the New Black
When I first noticed the posters for Netflix's original series Orange is the New Black, I rolled my eyes. It seemed like you could sum up the premise of the series in a single cliché: A pretty white girl ends up as a fish out of water in a dangerous environment.
Thankfully, I stopped being an idiot and gave the show a chance when I remembered that creator Jenji Kohan had put together a smart, funny, and gripping series about another privileged white woman with Showtime's Weeds. As with Weeds, OITNB plays with our stereotypes. OITNB offers one of the most innovative and dynamic cast of characters on television, and it only begins with Piper, the protagonist. In the end, it's her fellow inmates — Taystee (Danielle Brooks), Sofia (Laverne Cox), and Yoga Jones (Constance Shulman-aka Doug's Patty Mayonaise!) — that truly steal the show. —Emily Shire, chief researcher and contributor
Orphan Black
Few shows arrive on the small screen as confidently as Orphan Black arrived earlier this year: Fully-formed, kicking and screaming. It dares you to keep up with its labyrinthine plot twists and breakneck pacing. Those who weren't put off by its unapologetically layered storytelling were treated to one of the most engaging, intelligent sci-fi dramas in recent memory.
What starts as a seemingly chance encounter at a train station expands into a woman's (or, more correctly, several women's) quest for identity in the face of a much larger conspiracy, anchored by Tatiana Maslany's astounding portrayal of no less than seven idiosyncratic characters (and counting). At the end of the first season, the audience is left with far more questions than answers — but when a series is as bold and inventive as Orphan Black, you don't mind sticking around for the ride. —Laura Prudom, writer
Person of Interest
CBS' Person of Interest does not get the love it deserves. I realized this as I started watching the series this past summer, enticed by the news that the excellent Amy Acker had earned series-regular status. The setup is simple: A former CIA tough guy teams up with a mysterious billionaire to prevent violent crimes with the help of two cops on opposite ends of the corruption spectrum, as well as a government machine that uses spyware to determine when badness is brewing.
The execution, however, is anything but simple. Over the last two and a half seasons, Person of Interest has stood as a great example of the buried potential within television's obsession with crime procedurals. While most similar shows phone in their storytelling and characterization, offering seasons full of simplistic characters and condescendingly simple storytelling, Person of Interest showcases the power of ongoing complexity. It's not easy to forecast what will happen next and how the characters will evolve. Now, with the addition of Amy Acker and Sarah Shahi, the group has become the real-people Avengers, rendering ABC's Agents of S.H.I.E.L.D. pointless and giving audiences some really infectious heroism. —Monika Bartyzel, "Girls on Film" columnist
Scandal
When I fired up the first season of Scandal on Netflix a couple weeks back, my roommate appeared in the living room within seconds. "Are you watching Scandal? You're going to love it," she promised, adding that I would probably burn through the first two seasons in about a week flat. She was right; I'm now caught up and watching season three in real time.
As for why I love it, though? Well, we could talk at length about the barrier-breaking performance by Kerry Washington, but that's been written about here, here and here. No, the reason I love Scandal is a character named Cyrus Beene. That's right: On a drama that's been lauded for showcasing a strong, black woman, my favorite part is the old, rich white guy. Before you leap to the comments section, allow me to explain: Olivia Pope is a great character, but despite her moral quandaries, she's aspirational. The show's writers rarely get through an episode without reminding us of this, via a recurring (and heavy-handed) "white hat" metaphor.
Beene, on the other hand, is a TV-mirror to our darkest selves. That slippery slope which Pope manages to scale in most episodes sees Beene tumble to the base again and again. That's relatable, if terrifying. Bonus? Cyrus gets all the best speeches. For proof, just watch him eviscerate the first lady in three minutes. —Sarah Eberspacher, assistant photo editor
The Walking Dead
The Walking Dead is not the best-written show on television. Nor is it the best-produced. And the acting typically falls somewhere between Dreaded Elementary School Winter Pageant and Community Theater.
It doesn't matter, though. For all the gore-porn, plot holes, infuriating dialogue, unsympathetic characters, shoehorned social commentary, and sheer impossibilities so egregious they cannot be ignored even in a show about zombies (think infinite ammo), the show does exactly what good television is supposed to do: It entertains. It mindlessly, pointlessly entertains. There is certainly a place for high-minded TV, but there is just as certain a place for low-brow thrills. And on that front, The Walking Dead is — to me, as a devotee of the comic — the best show on television. —Jon Terbush, staff writer
Continue reading for free
We hope you're enjoying The Week's refreshingly open-minded journalism.
Subscribed to The Week? Register your account with the same email as your subscription.
Sign up to our 10 Things You Need to Know Today newsletter
A free daily digest of the biggest news stories of the day - and the best features from our website