Please, stop: Chris Christie is not the 2016 GOP front-runner
Sarah Palin was also once a consensus front-runner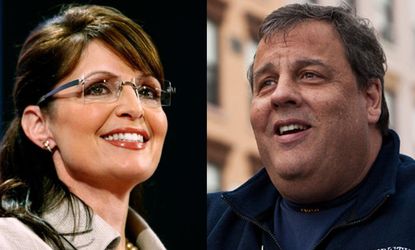 (Image credit: (Chip Somodevilla, Andrew Burton/Getty Images))
New Jersey Gov. Chris Christie (R) sailed to re-election Tuesday by a whopping 22-point margin, further fueling the narrative that he has become the clear front-runner for the 2016 Republican presidential nomination.
By winning so handily in a deep blue state, the story goes, Christie proved to Republicans he's by far their strongest, most electable candidate. And though we're more than two years out from the first primary in the 2016 race, there have already been a torrent of stories gaming out his hypothetical path to the White House.
Lost in all the breathless prognostication, though, is the fact that there is absolutely no front-runner at this point.
Subscribe to The Week
Escape your echo chamber. Get the facts behind the news, plus analysis from multiple perspectives.
SUBSCRIBE & SAVE
Sign up for The Week's Free Newsletters
From our morning news briefing to a weekly Good News Newsletter, get the best of The Week delivered directly to your inbox.
From our morning news briefing to a weekly Good News Newsletter, get the best of The Week delivered directly to your inbox.
Yes, Christie is well-positioned to run for president. He has the financing, name recognition, and national platform — he's about to take over as head of the Republican Governors Association — to run a successful campaign.
Yet as past elections have made clear, dubbing anyone a "front-runner" so far out from the election is a foolishly myopic exercise.
At this same point in the last presidential election cycle, a November 2009 Washington Post poll found Sarah Palin way out in front of the GOP field, with former Arkansas Gov. Mike Huckabee in second, and Mitt Romney in third. Yes, Palin, the half-term Alaska governor and failed vice presidential candidate, was once viewed as the favorite for the 2012 GOP nomination. "As a candidate," John Batchelor wrote for the Daily Beast following Palin's resignation in the summer of 2009, "she begins the nomination hunt with a formula that none of her rivals can match, not even Mitt Romney."
Palin continued to perform well in polls all the way into 2011, sharing time at the top with Romney, Huckabee, and others — including, at various points, laughable candidates like Donald Trump and Herman Cain. Palin, Huckabee, and Trump never even got in the race, while Cain rose and fell faster than you can say "9-9-9."
Going back further, former New York City Mayor Rudy Giuliani was the supposed front-runner at this point in the 2008 race, and he maintained that status until reality intruded and ballots were actually cast. Former Sen. Bill Frist (R-Tenn.) and Condoleezza Rice were also, for a brief time, considered in the top tier of candidates, while Fred Thompson nipped at Giuliani's heels for a few months in late 2007 before retiring with a whimper.
Polls at this juncture are really all about name recognition. It's why Sen. Ted Cruz (R-Texas) emerged at the front of the pack last month after his turn as the leader of the government shutdown.
Could Christie win a national GOP primary? Maybe. He's sparred with unions and slashed sate spending, but he's also gone soft on immigration and gay marriage, which could doom him with the GOP's more conservative primary voters.
Remember, many very smart people were worried that Republicans would pick former Utah Gov. Jon Huntsman or former Minnesota Gov. Tim Pawlenty last time around, opting for general election viability over a pure ideological record. Christie is more well-known and better-liked than either of those candidates, but he could easily be outflanked on the right by someone like Cruz.
Anything can happen in the next two years. A young GOP lawmaker could come out of nowhere to wow Republicans and storm all the way to the White House.
After all, in November 2005, Hillary Clinton led the Democratic field with more than 40 percent of the vote in horse race polls — surveys that did not yet include a certain senator from Illinois.

Continue reading for free
We hope you're enjoying The Week's refreshingly open-minded journalism.
Subscribed to The Week? Register your account with the same email as your subscription.