Is Terry McAuliffe's narrow win in Virginia ominous news for ObamaCare?
Republican Ken Cuccinelli called the Virginia governor's race a referendum on ObamaCare, then came within striking distance of an upset victory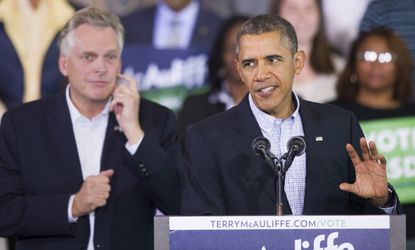 (Image credit: (AP Photo/Cliff Owen))
Democrat Terry McAuliffe won Virginia's gubernatorial race on Tuesday, giving Democrats a big victory and breaking the Old Dominion's 36-year streak of handing the statehouse to the party not residing in the White House. McAuliffe beat state Attorney General Ken Cuccinelli (R) by a narrow 2.6 percentage points, 48 percent to 45.4 percent. Recent polls had McAuliffe up by an average of 6.7 points.
With almost all the votes counted, we've entered the "What does it mean?" phase of the election. Democrats, breathing a sigh of relief, are calling the victory by the relatively unpopular, Clinton-aligned fundraiser a rejection of the conservative Tea Party wing of the GOP, and the federal government shutdown that faction orchestrated. The exit polls bear that out, to some extent.
Running "a longtime culture warrior" like Cuccinelli didn't work out so well for the GOP, says USA Today in an editorial, rubbing salt in the wound. "A Republican candidate could have, and probably should have, won this year's Virginia governor race against a Democrat with shallow roots in the state, no previous experience in elective office, and a host of unanswered questions about his business dealings."
Subscribe to The Week
Escape your echo chamber. Get the facts behind the news, plus analysis from multiple perspectives.
SUBSCRIBE & SAVE
Sign up for The Week's Free Newsletters
From our morning news briefing to a weekly Good News Newsletter, get the best of The Week delivered directly to your inbox.
From our morning news briefing to a weekly Good News Newsletter, get the best of The Week delivered directly to your inbox.
Some Republicans are framing their narrower-than-expected loss as a repudiation of ObamaCare. That was Cuccinelli's silver lining. "Despite being outspent by an unprecedented $15 million, this race came down to the wire because of ObamaCare," he said in his concession speech. The exit polls also provide some evidence for this story line.
Politico's James Hohmann lays out that case, declaring that "ObamaCare almost killed McAuliffe":
"Cuccinelli called the off-year election a referendum on ObamaCare at every stop during the final days," Hohmann notes. The Wall Street Journal, in an editorial largely critical of Cuccinelli, adds that the attorney general "spent the last week campaigning against ObamaCare's Medicaid expansion in Virginia, and it helped him close what was a double-digit deficit."
Noted political prognosticator Stu Rothenberg agrees, sounding a warning note for Democrats:
But as The New Republic's Alec MacGillis points out, the narrowness of the race is probably less important than the final result. And the final result is a net win for ObamaCare:
Cuccinelli's the one who explicitly made this a referendum on ObamaCare, says Josh Barro at Business Insider. Well, "the results are in. Cuccinelli has lost. And ObamaCare, therefore, has won." It may be true that the exit polls show the Affordable Care Act is pretty unpopular in Virginia, with 53 percent opposed, but that "actually makes Republicans' case that ObamaCare is an asset for them more untenable."
The ObamaCare rollout debacle probably did hurt McAuliffe and help Cuccinelli in Virginia, says Jennifer Rubin at The Washington Post. But the Tea Party favorite was foolish to think that "attacking McAuliffe's record, running against ObamaCare, and sticking firm on social issues and guns would be enough in an off-year election" in purple Virginia.
Still, Cuccinelli's loss shouldn't "provide much comfort for Dems around the country who will have to run on ObamaCare in 2014," Rubin adds. In fact, "the connection between Dems and ObamaCare may be more potent in the Senate races when those who actually voted for it will be on the ballot."
So ObamaCare will probably be back as a political cudgel in a few short months, as we start the long slog toward the 2014 midterm elections. How effective a weapon it will be probably depends on what happens to the law before then.

Continue reading for free
We hope you're enjoying The Week's refreshingly open-minded journalism.
Subscribed to The Week? Register your account with the same email as your subscription.