3 reasons Obama should meet Iran's Rouhani
It could be the handshake heard around the world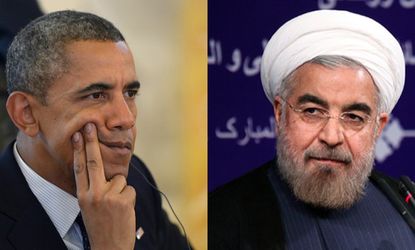 (Image credit: (AP Photo/Ebrahim Noroozi, Sergey Guneev/Host Photo Agency via Getty Images))
President Obama is preparing to deliver a speech to the United Nations General Assembly on Tuesday. And while he is in New York, he might do something no American president has done in decades: Shake hands with the president of Iran.
Hassan Rouhani, who took office in August, has been on an aggressive charm offensive ahead of his first official trip to the U.S. to attend the annual U.N. gathering. His government has released political prisoners; he has vowed that Iran will never build a nuclear weapon; and he has suggested that he is ready to offer concessions on Iran's nuclear program in exchange for an end to crippling economic sanctions.
Indeed, Iran has agreed to participate in new six-nation nuclear talks this week, which should result in a face-to-face meeting between U.S. Secretary of State John Kerry and Iranian Foreign Minister Mohammad Javad Zarif — a significant breakthrough in itself.
Subscribe to The Week
Escape your echo chamber. Get the facts behind the news, plus analysis from multiple perspectives.
SUBSCRIBE & SAVE
Sign up for The Week's Free Newsletters
From our morning news briefing to a weekly Good News Newsletter, get the best of The Week delivered directly to your inbox.
From our morning news briefing to a weekly Good News Newsletter, get the best of The Week delivered directly to your inbox.
Some, like Israel, have cautioned against putting too much faith in Rouhani, arguing that his overtures could be part of an elaborate cover for Iran to develop a nuclear weapon. But here are three reasons it might not be a bad idea for Obama to extend his hand:
1. It will embolden Iranian moderates
An Obama-Rouhani meeting would boost the standing of Iranian moderates, at the expense of hard-liners led by Supreme Leader Ali Khamenei. And spurning Rouhani could have equally profound consequences. "Obama should gamble that Rouhani is what he says — a moderate trying to outflank his country's conservatives," says David Rohde at The Atlantic. "Not rewarding the bold public steps Rouhani has taken will undermine his fleeting authority in Iran."
In the end, it's best to pit the two Iranian factions against each other — without the U.S. playing its traditional role of bogeyman. "Over time, it is far wiser to have Iranian moderates, not Americans, challenge Iran's hardliners," Rohde says. "In the end, it will be Iranians who discredit their nation's theocracy, not foreigners."
2. It will give him a badly needed foreign policy victory
"The days ahead will reveal if President Obama acts boldly and constructively to take steps that could redefine — some might say salvage — his second term," says Katrina vanden Heuvel at The Washington Post. And linking up with Rouhani could do just that, since Iran's support in resolving the situation in Syria could be crucial. "As the Syria crisis demonstrates," says vanden Heuvel, "if the United States is to achieve a lasting resolution to the Middle East's security challenges, it must test and seize all diplomatic and political solutions."
Indeed, reaching out to Rouhani may very well be interpreted as yet another sign of weakness, following Obama's highly public vacillations over whether to punish Syria for its alleged use of chemical weapons. "Obama needs to keep the door open to talks while protecting himself from attacks from conservatives who may regard his willingness to talk as weakness, particularly after his recent decision not to bomb Syria," say Arshad Mohammed and Matt Spetalnick at Reuters.
3. There isn't a whole lot to lose
There is concern that Rouhani is playing Obama for a fool, speculation that is backed by the fact that Rouhani was Iran's chief nuclear negotiator at a time when Iran was developing its nuclear program. But there's only one way to find out.
"If Rouhani is who he claims to be — an Iranian moderate who has the authority to strike a bargain on nuclear programs and economic sanctions (at least until hardliners lose patience with him) — then this is an opportunity no Western leader can pass up," says Fred Kaplan at Slate. "If it's all a ruse, or if the mullahs overrule whatever deal emerges, there's no harm in trying."

Continue reading for free
We hope you're enjoying The Week's refreshingly open-minded journalism.
Subscribed to The Week? Register your account with the same email as your subscription.