Will the Navy Yard shooting reboot the gun-control debate?
If the cold-blooded murder of 20 children at Sandy Hook can't prompt action in Congress, can the senseless killing of 12 adults move the needle?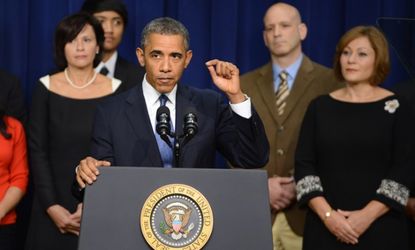 (Image credit: (Christy Bowe/Corbis))
On Monday morning, 34-year-old computer contractor and former Navy reservist Aaron Alexis started shooting inside an office building at the Navy Yard in Washington, D.C. Twelve people were killed. A short while later, Alexis was fatally wounded by law enforcement officers who swarmed the facility.
Soon after, the barely latent debate about gun control was making headlines again.
At 12:30 p.m., President Obama addressed the shooting, mourning the victims, promising to "do everything in our power to make sure whoever carried out this cowardly act is held responsible," and making an oblique reference to gun control: "Obviously, we're going to be investigating thoroughly what happened, as we do so many of these shootings, sadly, that have happened, and do everything that we can to try to prevent them."
Subscribe to The Week
Escape your echo chamber. Get the facts behind the news, plus analysis from multiple perspectives.
SUBSCRIBE & SAVE
Sign up for The Week's Free Newsletters
From our morning news briefing to a weekly Good News Newsletter, get the best of The Week delivered directly to your inbox.
From our morning news briefing to a weekly Good News Newsletter, get the best of The Week delivered directly to your inbox.
Sen. Dianne Feinstein (D-Calif.) was more pointed and direct. She evidently "decided that the elephant in the room wasn't really worth avoiding," says Sam Stein at The Huffington Post:
White House press secretary Jay Carney offered a half-hearted seconding of that sentiment, saying it is "far too early to say anything about... the broader meaning" of the shooting while reiterating Obama's disappointment in the Senate's failure to pass popular, "commonsense legislation" earlier in the year. Carney didn't sound optimistic about that changing, though: "We will continue to work to take action to reduce gun violence in this country through executive action, and hopefully Congress will take action to reduce gun violence as well."
Gun-control advocates didn't sound much more optimistic: Dan Gross at the Brady Campaign to Prevent Gun Violence, the nation's largest gun-control group, lamented that after each recent mass killing, "the corporate gun lobby's friends in Congress obstructed the will of the American people and stood in the way of sensible solutions to gun violence." Instead of calling for a new push, he sighed: "Americans deserve better than this."
As inevitable as the renewal of discussion about gun control was the umbrage of gun-control opponents. "It's shameless that anyone would use tragedies like the Navy Yard shooting to push their own radical gun-control agenda," said Rep. Steve Scalise (R-La.).
David Frum, a conservative supporter of stricter gun regulation, captured this now-regular dance in a series of darkly facetious tweets (helpfully gathered by ThinkProgress' Zack Beauchamp):
RedState's Erick Erickson was so irritated by Frum's "anti-gun nonsense" that he told the former Bush speechwriter to "grow the hell up."
Erickson's scorn was actually for people on both sides of the debate — basically anyone jumping "to drag race, politics, and policy arguments into the fray," including the "several conservatives in my tweet feed [who] were already back in full Trayvon ridicule mode." There's time for talking policy later, Erickson concluded, reasonably and with a dash of admirable self-awareness: "I've been there. I've done that. Even I've learned how inappropriate it is."
But of course, it's a truism in the gun debate that time is the enemy of gun-control supporters: "Both sides know that the more time passes after a tragedy, the more difficult efforts to pass gun-control legislation become," says Abby D. Phillip at ABC News.
Coincidentally, more than 90 gun-control advocates with Newtown Action Alliance, a group that formed after the Sandy Hook Elementary School murders in December, have long-scheduled meetings with lawmakers on Capitol Hill on Tuesday. The gun-control side suffered a defeat last week, when two Colorado lawmakers were recalled for supporting new gun laws in Colorado, and the debate nationally has been buried under Syria and the looming budgetary showdown in Congress.
"This moment is now one that could help reset the narrative" for gun-control advocates, says ABC's Phillip.
Fox News' Brit Hume is skeptical. Monday's tragedy was a "mass shooting of a kind we've become all too familiar with," he said on the cable news channel's Special Report with Bret Baier. Already, the "usual suspects have gone to battle stations as they always do over gun control, or the lack of it or whatever, and that's going to happen, but it doesn't mean very much at this stage," he adds.
Hume makes a good point. At least 8,238 Americans have been shot dead in the U.S. since Newtown, according to Slate's ongoing tally, but if the cold-blooded murder of 20 children can't prompt action in Congress, the senseless killing of 12 adults is unlikely to move the needle far enough to revive the Senate bill, much less convince the GOP-led House to act.
"It's unlikely the Navy Yard shooting will change the political dynamics in Congress," says The Huffington Post's Sam Stein. But that doesn't mean you'll see no attempts to reboot the debate. "Senate Democratic leadership and the White House are on record saying they will revisit the issue of expanded background checks."

Continue reading for free
We hope you're enjoying The Week's refreshingly open-minded journalism.
Subscribed to The Week? Register your account with the same email as your subscription.