Colorado's recall vote: What the results mean for gun control
Two pro-gun-control state senators lost their seats Tuesday in a win for the NRA and a loss for Michael Bloomberg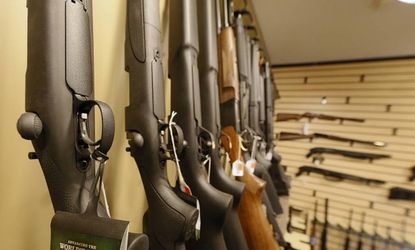 (Image credit: (George Frey/Getty Images))
Two Colorado Democratic state senators, Angela Giron and Senate President John Morse, were voted out of office in a special election Tuesday, in Colorado's first-ever recall vote. Both were replaced by Republicans.
The election was billed as a showdown over gun rights: Giron and Morse were important backers of four gun control laws passed earlier this year, and both the National Rifle Association and Michael Bloomberg, founder of Mayors Against Illegal Guns, wrote fat checks for their respective sides (the NRA contributed at least $362,000 to oust the two lawmakers; Bloomberg spent $350,000 to support them).
Both sides of the bitter gun debate wanted to send a message with this election: Gun control opponents forced the recall vote to warn lawmakers in Colorado and across the country that voting for stricter gun laws has consequences; gun control advocates wanted to show that, after bloody mass shootings in Aurora, Colo., and Newtown, Conn., they now have the resources and muscle to defend lawmakers against the mighty NRA.
Subscribe to The Week
Escape your echo chamber. Get the facts behind the news, plus analysis from multiple perspectives.
SUBSCRIBE & SAVE
Sign up for The Week's Free Newsletters
From our morning news briefing to a weekly Good News Newsletter, get the best of The Week delivered directly to your inbox.
From our morning news briefing to a weekly Good News Newsletter, get the best of The Week delivered directly to your inbox.
In that light, this was a big win for the NRA and a big loss for gun control advocates. Morse, who represented a conservative-leaning district including Colorado Springs, narrowly lost, 51 percent to 49 percent (voter turnout: 21 percent). Giron, whose working-class district around Pueblo tilts Democratic, lost by a larger margin, 56 percent to 44 percent (voter turnout: 36 percent).
"The results tonight will certainly be interpreted through the lens of the national gun debate," Denver political analyst Eric Sondermann tells Politico. "About whether it's safe to pursue this kind of legislation or whether to do it at your political peril." And the results probably will reverberate around the country, he adds. "I have to believe that the state representatives, the state senators in this and that state, would walk a little more hesitantly in this debate."
As a practical matter, the NRA's win is less significant: Democrats will still hold a one-vote majority in the Colorado Senate, as well as control of the state House and governor's veto pen. The gun laws, including background checks for all gun purchases and 15-round limits for ammunition magazines, will still stand. "The sound and the fury, the noise and the money are far larger than the consequences" of this election, Colorado State Univeristy political scientist John Straayer tells The New York Times.
Morse, who was on his way out anyway thanks to term limits, called his opponents' victory "purely symbolic" in his concession speech. "We made Colorado safer from gun violence," he added later. "If it cost me my political career, that's a small price to pay."
That's a decent consolation prize for gun control supporters. But it's still the national fight that matters most, "by far," says Alec MacGillis at The New Republic. "There is only so much impact state laws can have when guns are so easily trafficked from states with lax regulations to ones with stricter ones." That's why gun control advocates are "still quietly working to line up just the handful of additional votes in the U.S. Senate" for nationwide gun control measures, MacGillis says. They hope to hold a vote before the midterm frenzy hits.
Financially, the anti-recall side can "hardly plead the underdog on this one," says MacGillis. Thanks to liberal groups and philanthropists, they had far more money than the recall supporters. And they even had some help from new gun-control groups with canvassing neighborhoods and calling voters to drum up support. But the gun control side will have to do better if it wants to beat the gun lobby in the future, MacGillis notes:
This was "an ugly chapter in Colorado's political history," says The Denver Post in an editorial. It was "an instance when recalls were used against elected officials not for malfeasance or corruption in office but for simply voting their consciences."

Continue reading for free
We hope you're enjoying The Week's refreshingly open-minded journalism.
Subscribed to The Week? Register your account with the same email as your subscription.