Why it's so hard for states to break up
Unhappy with your state government? Good luck making a new one.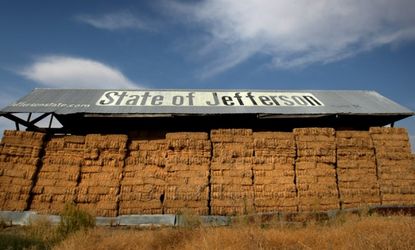 (Image credit: Brant Ward/San Francisco Chronicle/Corbis)
With the increased polarization of American politics in recent years, localities around the nation have sought to break free from their in-state foes and establish their own new states.
Forget the far-fetched secession plans floated in places like Texas, where disgruntled politicians have suggested severing themselves from the United States entirely. Intrastate rifts are different ideas altogether, ones which on the surface appear to be much more logistically feasible.
Yet for all the talk, don't expect to see a 51st state any time soon.
Subscribe to The Week
Escape your echo chamber. Get the facts behind the news, plus analysis from multiple perspectives.
SUBSCRIBE & SAVE
Sign up for The Week's Free Newsletters
From our morning news briefing to a weekly Good News Newsletter, get the best of The Week delivered directly to your inbox.
From our morning news briefing to a weekly Good News Newsletter, get the best of The Week delivered directly to your inbox.
Last week, a northern California county voted to secede from the rest of the state. The country, Siskiyou, asked other northern California and southern Oregon municipalities to join it in creating the new State of Jefferson. Piece of cake, right?
Except people can't go around arbitrarily declaring they've carved new states out of old ones. If they could, we would probably have the state of Austin, as well as Jon Rulesland, an autocratic state encompassing solely my apartment.
As the Washington Post's Michael S. Rosenwald noted in an article on a nascent secession movement in Maryland, statehood via secession is a monumental task:
There have been hundreds of efforts to split states since America's founding, but only a handful have proven successful, none in the past 150 years. Maine, Kentucky, and Tennessee all owe their founding to secession, as does West Virginia, which during the Civil War became the last state to secede its way into existence.
The U.S. Constitution sets a high bar for secession efforts. Article IV, Section 3 mandates that would-be new states must first win approval from the state or states they are trying to abandon. The U.S. Congress must then vote to approve the new state before it can be admitted into the nation.
Given that disagreements with state capitols are the primary spark for secession movements, there is little chance separatists could win that first round. If a secession vote were to somehow make it all the way to the U.S. Congress, it's hard to imagine lawmakers there diluting their power by adding two more senators who would likely represent a tiny sliver of the nation. For example, the Maryland counties considering secession represent only 11 percent of the state's population.
Northern Colorado will, in all likelihood, remain part of Colorado, and Baja Arizona will probably exist only as a pipe dream for Pima County progressives. Other proposed states, too, will almost assuredly join the ranks of former failed suggestions like Delmarva, a splicing of pieces of Delaware, Maryland, and Virginia; Absorka, a combination of several plains states; and Norman Mailer's New New York City State.

Continue reading for free
We hope you're enjoying The Week's refreshingly open-minded journalism.
Subscribed to The Week? Register your account with the same email as your subscription.