Can Lindsey Graham survive the Tea Party's wrath?
The senior senator from South Carolina may be the Bob Bennett of 2014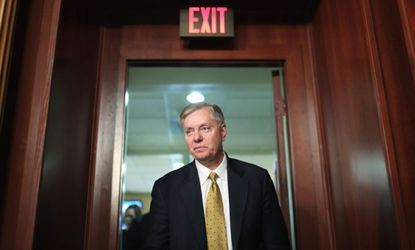 (Image credit: Chip Somodevilla/Getty Images)
The angry rhetoric directed at Sen. Lindsey Graham (R-S.C.) by Tea Party conservatives is cranking up in volume heading into what could be a very contentious Republican primary in 2014.
Graham has long been a staple of South Carolina politics, serving four terms in the House before winning the Senate seat vacated by Strom Thurmond in 2002. But now — just as happened when conservative Sen. Bob Bennett (R-Utah) was mercilessly ousted by the Tea Party in 2010 for not being conservative enough — a number of grassroots groups have grown tired of Graham, and are gunning for him in the June 2014 primary. Here's what you should know:
What do South Carolina conservatives have against Lindsey Graham?
Subscribe to The Week
Escape your echo chamber. Get the facts behind the news, plus analysis from multiple perspectives.
SUBSCRIBE & SAVE
Sign up for The Week's Free Newsletters
From our morning news briefing to a weekly Good News Newsletter, get the best of The Week delivered directly to your inbox.
From our morning news briefing to a weekly Good News Newsletter, get the best of The Week delivered directly to your inbox.
They charge that he's an establishment moderate more interested in the national spotlight than meeting the needs of his very conservative home state. In that vein, a group called Carolina Conservatives United released an ad picturing Graham on the side of a milk carton.
Graham, like Sen. Marco Rubio (R-Fla.), is also catching flak from the right for advocating for immigration reform as part of the Senate's bipartisan Gang of Eight.
Some conservatives also charge that Graham, one of the Senate's most vocal foreign policy hawks, is too cozy with President Obama. In 2010, Graham was was the only Republican on the Senate Judiciary Committee to endorse Elena Kagan, Obama's nominee to the Supreme Court. He was praised by moderates and progressives for his speech defending his decision, in which he said, despite opposing Obama's election in 2008, it was the Senate's "obligation to honor elections, respect elections, and to protect the court."
That message did not go over well in Tea Party circles, and things have not gotten better since. Earlier this month, Graham and Sen. John McCain (R-Ariz.) went to Egypt, prompting one of Graham's GOP challengers to call him a "community organizer for the Muslim Brotherhood."
Graham's office has been quick to defend his conservative bona fides, issuing a statement after the Egypt incident claiming that he "has a proven track record of protecting our conservative values" and touting high rankings by conservative groups over his tax, abortion, and gun control policies.
Who is looking to replace Graham?
Graham has three primary challengers so far. One of his most vocal critics is South Carolina state Sen. Lee Bright, who has already released an attack ad linking Graham and Obama:
The other two candidates are Richard Cash, a socially conservative attorney who narrowly lost a congressional race to Rep. Jeff Duncan (R-S.C.) in 2010, and Nancy Mace, the first woman to graduate from the Citadel, South Carolina's vaunted military college.
What are the chances that Graham will be defeated?
Political races often come down to money and, in that area, Graham has his opponents beat, at least for now. He boasts a war chest of $6.3 million.
His opponents have nowhere near as much. Bright leads the pack with $250,000 — although $200,000 of that came out of his own pocket. Mace has $100,000, while Cash hasn't filed any campaign finance papers, according to The New York Times.
Some conservatives are also concerned that the three challengers might end up splitting the anti-Graham vote, allowing the incumbent to cruise to victory. "It's got to boil down to one. We've got to find out which one of these three … we've got to make a decision which one of these three is going to be the horse," Tony Piscatella, a South Carolina GOP committeeman, told The Daily Beast.
Still, South Carolina boasts more Tea Party politicians than any other state in the country, signifying that, if unified, a Graham challenger could rally significant support. Conservatives point to the election of Sen. Ted Cruz (R-Texas) as evidence that you can ride a wave of Tea Party support all the way to the Senate.
"South Carolina is a funny state," Paul Anderko, president of the GPS Conservatives for Action PAC, told the Times. "Sometimes incumbents do go down in flames."
And while the Bob Bennett example can be instructive — he was widely viewed as one of the Senate's most reliable conservatives until he was ousted by conservatives in 2010 — it is hardly the rule. After all, just two years later in Utah, the supposedly similarly endangered conservative Sen. Orrin Hatch won in a landslide.

Continue reading for free
We hope you're enjoying The Week's refreshingly open-minded journalism.
Subscribed to The Week? Register your account with the same email as your subscription.