WATCH: 7 takeaways from Obama's interview with Jay Leno
The president talks about Edward Snowden, NSA surveillance, Vladimir Putin, and his bromance with John McCain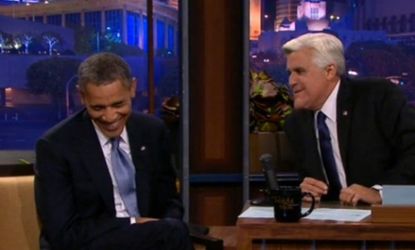 (Image credit: NBC/Hulu)
It's becoming something of a tradition that presidents and presidential candidates go on late-night TV in election years to reach voters who don't obsessively watch cable news or read Politico. But on Tuesday night — a year after his final political campaign — President Obama made his sixth appearance on The Tonight Show with Jay Leno.
For anyone who thought "Obama's weird penchant for discussing ultra-serious topics, ranging from rape to Benghazi, on late-night comedy shows was just an election thing," says Margaret Hartmann at New York, the Leno appearance should put that idea to rest. As soon as Obama started talking about the terrorism threat that led the U.S. to close more than a dozen U.S. embassies, Hartmann adds, "those tuning in to hear some pre-bedtime comedy realized they'd be spending some significant time staring at the ceiling."
Obama made his plug for ObamaCare, talked about the economy and the need for infrastructure spending, revisited his remarks on Trayvon Martin, and insisted that broccoli really is one of his favorite foods. But the interview was also "pretty newsy," as pool reporter Anita Kumar put it. Here, seven highlights from Obama's sit-down with Jay Leno:
Subscribe to The Week
Escape your echo chamber. Get the facts behind the news, plus analysis from multiple perspectives.
SUBSCRIBE & SAVE
Sign up for The Week's Free Newsletters
From our morning news briefing to a weekly Good News Newsletter, get the best of The Week delivered directly to your inbox.
From our morning news briefing to a weekly Good News Newsletter, get the best of The Week delivered directly to your inbox.
1. Obama said the U.S. doesn't have a "domestic spying program"
When Leno brought up the National Security Agency (NSA) surveillance tactics leaked by contractor Edward Snowden, Obama assured us — raising some eyebrows — that "we don't have a domestic spying program." This seems to be a question of semantics, because Obama went on to acknowledge the NSA's data-collection practices: "What we do have are some mechanisms where we can track a phone number or an email address that we know is connected to some sort of terrorist threat."
"That information is useful," Obama added, saying that after domestic attacks like the Boston Marathon bombing, U.S. spy agencies should be able to comb through the call records of the perpetrators to make sure they weren't part of a larger terrorist cell.
2. He declined to call Snowden a traitor
Leno asked the president what he thinks of Snowden: Is he a traitor? A whistle-blower? Obama hedged: "We don't know exactly what he did, except what he said on the internet, and it's important for me not to prejudge something." Hopefully, Obama added, at some point Snowden "will go to trial," since Snowden apparently didn't use whistle-blower protection rules for intelligence officers that Obama issued in October.
Leno wasn't impressed that Snowden fled the U.S. and his "stripper girlfriend," and suggested that U.S. spy agencies shouldn't rely so much on private contractors, or "Hessians." Obama mostly agreed.
3. Obama sketched out his "bromance" with Sen. John McCain
In one of the lighter moments of the interview, Leno asked Obama about his unlikely "bromance" with McCain, the Republican he defeated in the 2008 presidential race. Obama played along: "That's how a classic romantic comedy goes, right? Initially you're not getting along, and then you keep bumping into each other."
4. The president said Hillary Clinton has that "post-administration glow"
After the exchange about McCain, Leno turned to another political frenemy, Hillary Clinton, and Obama's recent lunch date with his former secretary of state. "We had a great time," Obama said. Clinton "had that post-administration glow. You know, when folks leave the White House, like two weeks later they look great."
Obama said that by the end of his first term, Clinton and he "had become genuinely close." But when Leno asked if his lunch guest, touted as a likely 2016 candidate, was "measuring the drapes" during her visit, Obama reminded Leno, "Keep in mind she's been there. She doesn't have to measure them."
5. Obama is "disappointed" with Russia, but will attend the G-20 summit there
Is Obama angry that Russia granted Snowden asylum? Yes, the president said, he's "disappointed" with Russia and Vladimir Putin, arguing that "there are times when they slip back into Cold War thinking and Cold War mentality." He added, "What I continually say to them and to President Putin — that's the past."
Putin seems like "one of those old-school KGB guys," Leno said. Well, Obama responded, "he headed up the KGB."
In fact, Putin was a mid-level KGB agent (he retired as a lieutenant colonel), but did head up the FSB, the domestic successor to the KGB.
6. Leno and Obama both deplore Russia's anti-gay policies
In this exchange, Leno was noticeably less diplomatic than Obama. Why aren't Russia's new laws essentially outlawing homosexuality generating more outrage? Leno asked, comparing the laws to the Nazis rounding up Jews and other people they didn't like.
"I have no patience for countries that try to treat gays or lesbians or transgender persons in ways that intimidate them or are harmful to them," Obama responded, adding that Russia isn't alone. Some African countries have pretty strong anti-gay laws, too, Obama said, which "makes for some pretty uncomfortable press conferences" with those country's leaders.
Obama doesn't think Russia will enforce its anti-gay laws during the 2014 Winter Olympics, however: "If Russia wants to uphold the Olympic spirit, then every judgment should be made on the track or in the swimming pool or on the balance beam, and people's sexual orientation shouldn't have anything to do with it." (That's a pretty "unintentionally amusing" comment, New York's Hartmann says, since "there probably won't be many athletes in the pool when Sochi hosts the Winter Olympics.")
7. He defended the embassy closures, and downplayed the travel advisory
Obama told Leno that his administration's decision to close 19 embassies and consulates in the Middle East and North Africa this week is not an "overreaction." It is just a reminder that "for all the progress we've made, getting bin Laden, putting al Qaeda in between Afghanistan and Pakistan back on its heels, that this radical, you know, violent extremism is still out there."
But the accompanying worldwide travel warning for Americans doesn't mean that everyone should cancel their European vacations, the president said. U.S. tourists should just use "some common sense and some caution," good advice at any time, Obama said. "The odds of dying in a terrorist attack are a lot lower than they are of dying in a car accident, unfortunately."
On a slightly brighter note, Obama noted that Americans aren't being terrorized, they're living their lives and "not reacting in a way that somehow shuts us down." That's the right attitude, he added. "Terrorists depend on the idea that we're going to be terrorized."

Continue reading for free
We hope you're enjoying The Week's refreshingly open-minded journalism.
Subscribed to The Week? Register your account with the same email as your subscription.