Girls on Film: Ginger & Rosa's rare insight into teenage girlhood
British period pieces are teaching us lessons that Hollywood so often ignores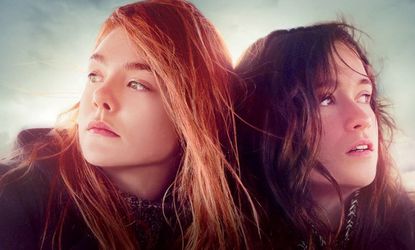 (Image credit: Facebook.com/<a href="Facebook.com/gingerandrosa" target="_blank">gingerandrosa</a>)
Sign up to our 10 Things You Need to Know Today newsletter
A free daily digest of the biggest news stories of the day - and the best features from our website
Thank you for signing up to TheWeek. You will receive a verification email shortly.
There was a problem. Please refresh the page and try again.
When Hollywood tells a story about a teenage girl, it's rarely about what's inside her; instead, it's about her place in the world, defined by the social structures around her rather than her own interior experience. The stories are about reinvention: The uptight girl loosens up, the outcast girl becomes popular, the awkward girl becomes a regal queen, the ugly duckling morphs into a swan. The films focus on wish fulfillment, which leaves little room for capturing the genuine subtlety of female adolescence, or for relaying the myriad awkward moments inextricably linked to growing up.
For Sally Potter, the director of Ginger & Rosa — a drama that follows two teenage girls as they navigate life in 1960s London — girlhood is a "sleeping giant" that's beginning to wake up. (Ginger & Rosa is available on DVD and Blu-Ray this week.) "It's like people are suddenly seeing the power, the interior life that has come out of this great cultural silence," she said. "The stories haven't been told, but it's not as if they weren't there to be told." In 2013 alone, we've had Girls, Spring Breakers, and The Bling Ring tackle modern teenage girlhood in film and television. But for all the strengths of those stories, the genuine, relatable experience of being a teenage girl is being explored by filmmakers like Potter in a far more unexpected place: British period pieces.
When audiences think of British period pieces, they tend to think of Shakespearean drama or Jane Austen romance, but there's a new guard steadily gaining prominence in the 21st century: Female filmmakers who set their films in postwar Britain to focus on the universal experiences of girlhood. Recent history has seen the release of three films emblematic of this trend: Sandra Goldbacher's Me Without You, Lone Scherfig's An Education, and Ginger & Rosa. The girls in these films might fear the atomic bomb and struggle against highly sexist societies, but the past melts away to reveal a modern relevancy as the camera focuses on the heroine and her reactions. Taken together, this thematically linked trilogy rip into female adolescence, and offer some of the most comprehensive and worthwhile female coming-of-age stories in cinema today.
Subscribe to The Week
Escape your echo chamber. Get the facts behind the news, plus analysis from multiple perspectives.
SUBSCRIBE & SAVE
Sign up for The Week's Free Newsletters
From our morning news briefing to a weekly Good News Newsletter, get the best of The Week delivered directly to your inbox.
From our morning news briefing to a weekly Good News Newsletter, get the best of The Week delivered directly to your inbox.
It begins with Holly (Michelle Williams) and Marina (Anna Friel), the girls at the heart of 2001's Me Without You. Born in the sixties, the girls are opposites who are bound by the fact that they're neighbors. "Some people are pretty people and some people are clever people," Holly's mother teaches her, diagnosing her daughter as the pensive mouse, and Marina as the vivacious looker. Nevertheless, their differences blend into one. "We two are one in 'Harina'," the girls proclaim.
Goldbacher follows her heroines through their naïveté as schoolgirls donning trash bags to be punk, as young women competing for the attention of their professor, and finally as adults whose lives fail to match the idealistic dreams of their youth. Their friendship is problematic at best, but not in the usual way that Hollywood tends to pit female friends against one another. Instead, they struggle with a bond that came before they'd fully developed their identities — how friendship can become family, and how it can falter in the face of personal evolution. Holly and Marina yearn to be each other. Holly wants Marina's charisma, excitement, and brother (Oliver Milburn), and Marina wants Holly's depth and reliable family. They're reluctant to talk about their mutual discontent because it could threaten the bond they so deeply rely on.
Me Without You is enmeshed in a very specific time period, characterized by punk music, casual drug taking, and Margaret Thatcher — but Holly and Marina's experiences are universal. The film depicts their struggle with each other and with the world at large. They try on facades to see what fits, as they try to find their own voice outside each other, their families, and the expectations placed upon them.
By contrast, 2009's Best Picture-nominated An Education offers little by way of friendship. Instead, Lone Scherfig's film details one young woman's (Carey Mulligan's Jenny) limbo between adolescence and adulthood in post-war England. Jenny is a deeply intelligent student getting easy A's as her father crafts her extracurricular activities to make her, in his estimation, the ideal Oxford candidate. His ulterior goal, which first goes unsaid: He isn't interested in Jenny crafting her own successful career, but sees Oxford as a dating service where she can find a financially stable man and save herself from the middle-class struggle.
Jenny is a girl with enough intelligence and culture that she appears more mature than she actually is, which leads her into a relationship with Peter Sarsgaard's much older David — but she's also inexperienced, and innocent to the many subtleties of life that would truly make her a mature equal in the relationship. But An Education isn't about Jenny's naiveté as much as it's about how the adults around her fail her. Her parents try to guide her to an ideal future while easily falling for David's act; her school pushes her toward a future with benefits they can't even name; her adult friends embrace her without looking out for her; and her boyfriend is too wrapped up in the idea of her to ever be honest with her about himself.
"Just treat me like a grown-up," Jenny tells David in one pivotal scene. But in the end, Jenny becomes the true adult, persevering the curveballs life has thrown at her while learning because she challenges all of the problematic authority around her. This focus allows Jenny to be more than a black and white character; in Scherfig's frame she becomes a complex person who refuses to neatly fit any category.
With Ginger & Rosa, Sally Potter also settles into post-war London — but for the fiercely political instead of the naively suburban. Ginger and Rosa are friends from birth; a less extreme version of Holly and Marina, whose friendship is nonetheless tested as Ginger looks for meaning in activism, and Rosa searches for the male companionship missing from her single-parent home.
At first, there are only Ginger and Rosa: Holding hands as Rosa's father leaves her, learning to smoke, to explore, and to kiss (through Ginger's nervous giggles). Potter quietly films them, avoiding almost all expository language as she captures them interacting. But in the end, they can't stay in a bubble. Instead, they are increasingly immersed in the outer world of conflicting messages that separate them.
This is not a story of friendship like Me Without You; it is the story of how friendship and questionable influences manifest within one girl, Ginger. Without the intelligence that made An Education's Jenny avoid a destructive fate, Ginger struggles to understand the heaps of contrasting insights constantly lobbed at her by the adults around her. Magazines stress the need to be "fun" and warn them that boys don't like "serious" girls. Ginger's father preaches pacifism to mask his own weaknesses, and her mother — who gave up her art to provide for her daughter — is so scared of Ginger falling into the same fate that she stresses the importance of "domestic science." Feminist Bella, meanwhile, is so inspired by Ginger's naive proclamations about bombs and life that she can't help but push her to activism.
Ginger acts like a mirror, repeating the proclamations of those around her without the maturity to understand them. "We're all going to die. You said it!" Ginger exclaims, until Bella corrects her: "No. I said we could." On Potter's screen, the adolescence seen in Me Without You and An Education finally morphs into a tense battle between mature ideals and youthful impulses. Both Ginger and Rosa are girls who can easily fall into fits of maturity and immaturity. They are girls who use what they're given, sorting through the cacophony of insights, picking and choosing what fits for them, to both positive and negative ends.
Ultimately, Ginger and Rosa are awarded the release that Holly and Marina failed to find in Me Without You — but it strains their connection: the breaking levy of truth challenges them, and lets them come out wiser. Best friends "move with great agility between the biggest of things and the smallest of things," said Potter. "I think for best friends, and I'm sure boys do it as well, is really the first big passionate relationship outside of the family. It's also how a lot of subsequent relationships get figured out, like how you relate or how you love, what your loyalties are and what your definition of betrayal is and how close you can get to a person. They are very, very intense relationships."
There is a certain sense of missed opportunity in Potter's film — more insights into friendship and female interaction could have elevated the film to a whole other level. But when viewed alongside Me Without You and An Education, Ginger & Rosa feels whole. Taken together, all three films offer a rare, compelling, and convincing portrait of the true experience of teenage girlhood, offering a dynamic look into the universal search for identity and truth.
Girls on Film is a weekly column focusing on women and cinema. It can be found at TheWeek.com every Friday morning. And be sure to follow the Girls on Film Twitter feed for additional femme-con.
Continue reading for free
We hope you're enjoying The Week's refreshingly open-minded journalism.
Subscribed to The Week? Register your account with the same email as your subscription.
Sign up to our 10 Things You Need to Know Today newsletter
A free daily digest of the biggest news stories of the day - and the best features from our website
Monika Bartyzel is a freelance writer and creator of Girls on Film, a weekly look at femme-centric film news and concerns, now appearing at TheWeek.com. Her work has been published on sites including The Atlantic, Movies.com, Moviefone, Collider, and the now-defunct Cinematical, where she was a lead writer and assignment editor.