This lawsuit could destroy FOIA
These days, every sunlight mechanism available to the public should be guarded jealously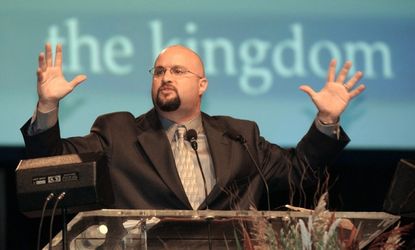 (Image credit: AP Photo/Tom Strickland)
Sign up to our 10 Things You Need to Know Today newsletter
A free daily digest of the biggest news stories of the day - and the best features from our website
Thank you for signing up to TheWeek. You will receive a verification email shortly.
There was a problem. Please refresh the page and try again.
One of my favorite stories about former Louisiana Gov. Huey Long involves one of his early political campaigns in the 1920s. While stumping in the northern part of the state, he would tell a story about waking at 6 o'clock every Sunday morning, hitching his family's old horse to a buggy, and bringing his Baptist grandparents to church. When addressing audiences in south Louisiana, he would tell the same story, only this time his grandparents were Catholic.
It was an effective speech that played well to Louisiana's geographic religious divide. Once, after a rally, a local politician remarked, "Why Huey, you've been holding out on us. I didn't know you had Catholic grandparents," to which Long replied, "Don't be a damn fool. We didn't even have a horse."
That story came to mind when I first learned about Ergun Caner, a Baptist minister and public speaker whose shtick is to describe his early life as a Muslim extremist, and then his discovering Jesus and becoming, well, a Christian extremist. This rhetoric played especially well after the terrorist attacks on Sept. 11, 2001, and earned him a considerable following. Jerry Fallwell was one notable fan, and he hired Caner to teach at Liberty Baptist Theological Seminary.
Subscribe to The Week
Escape your echo chamber. Get the facts behind the news, plus analysis from multiple perspectives.
SUBSCRIBE & SAVE
Sign up for The Week's Free Newsletters
From our morning news briefing to a weekly Good News Newsletter, get the best of The Week delivered directly to your inbox.
From our morning news briefing to a weekly Good News Newsletter, get the best of The Week delivered directly to your inbox.
Caner's work is boilerplate stuff: Muslims are misguided and dangerous, but it's nothing a little Jesus can't fix. Over the years, he has given a lot of speeches, and as happens to a lot of public speakers, at some point he seems to have gotten carried away. People began to notice discrepancies in Caner's story. Was he from Turkey or Sweden? Did he and his family move to Ohio when he was a teenager or a 3-year-old? When, exactly, did he have time to visit "my madrassa in Istanbul, Turkey" and "my madrassa in Cairo, Egypt," where "there's no question of what the doctrine of jihad was."
Just as Huey Long would have been called out in the age of YouTube, so too has Caner. His reputation suffered as a result of fellow Christians picking apart his autobiography, and he was demoted by Liberty. Years later, he seems to have decided to repair his image, and has launched a crusade to remove his videos from the internet. So far, his weapon of choice has been the Digital Millennium Copyright Act.
Earlier this month, he stepped up his game by filing an unusual lawsuit that has serious implications for the Freedom of Information Act. It stems from a gathering on April 15, 2005, when a unit of U.S. Marines invited Caner to provide "cultural training" for its service members preparing for deployment. (That the Marines chose Caner of all people is a scandal unto itself.)
That speech was recorded, and a copy of it was requested under the Freedom of Information Act. The request was granted, and the U.S. government released it into the public domain. In 2010, a Christian blogger named Jason Smathers posted the speech on his website. Last month, Caner filed suit against Smathers claiming copyright infringement.
Suddenly you have a problem that affects us all. Here is how the Freedom of Information Act (FOIA) works. The public is entitled to documents and media generated by the executive branch, and unless the requested information fits within nine narrowly drawn exemptions, the petitioned agency is compelled by law to release said material in a timely manner. Watchdog groups rely on FOIA to uncover fraud, waste, and abuse by the federal government. Journalists and students use it for research purposes. Quite simply, the Freedom of Information Act is a powerful and essential check against the government and an important tool of oversight.
It's unlikely that Caner's copyright lawsuit will be successful, but as the Obama administration continues its unprecedented war on whistle-blowers and its immoral if not illegal domestic surveillance programs, every sunlight mechanism available to the public should be guarded jealously.
What would a win by Caner mean? According to Kel McClanahan, who is the executive director of National Security Counselors and a transparency activist who's taken Smathers's case, "It would mean that requesters can no longer trust the federal government to tell them that something is publicly available. One of the oldest axioms of FOIA law, with very few exceptions, is 'a release to one is a release to all.' It is an underpinning of FOIA. And in order for that to work, requesters should not have to do their own independent research to see if it might be copyrighted. The agency has already done that."
In an interview by telephone, he said, "If the agency releases information to you that is properly copyrighted, I should not be able to sue you because you relied on the federal government's determination that this is releasable. I should and can legally be able to sue the government for copyright infringement. If this [video] was properly copyrighted, the Marine Corps should definitely be on the hook for it. Jason Smathers should not. A victory by Caner would mean that anyone who wants to stop the government from releasing information, or stop people from using information that the government released about them can go after the requesters."
Effective government oversight by American citizens is essential to containing the sprawling and often unchecked secrecy apparatus of the United States. The Freedom of Information Act plays an essential role in "watching the watchers." What happens if requesters are afraid to share anything they've successfully petitioned from the government? To ask the question is to answer it.
Continue reading for free
We hope you're enjoying The Week's refreshingly open-minded journalism.
Subscribed to The Week? Register your account with the same email as your subscription.
Sign up to our 10 Things You Need to Know Today newsletter
A free daily digest of the biggest news stories of the day - and the best features from our website
David W. Brown is coauthor of Deep State (John Wiley & Sons, 2013) and The Command (Wiley, 2012). He is a regular contributor to TheWeek.com, Vox, The Atlantic, and mental_floss. He can be found online here.