Summer movie guide: All the films you should see in July and August
Your week-by-week guide to the most promising movies hitting theaters in the second half of the summer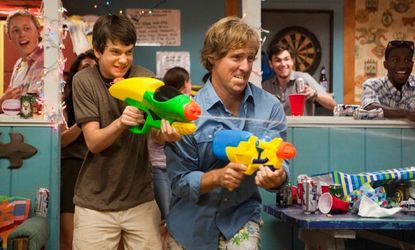 (Image credit: Fox Searchlight)
Sign up to our 10 Things You Need to Know Today newsletter
A free daily digest of the biggest news stories of the day - and the best features from our website
Thank you for signing up to TheWeek. You will receive a verification email shortly.
There was a problem. Please refresh the page and try again.
It's hard to believe we're already halfway through the summer blockbuster season, but here we are, with many of the season's most anticipated films behind us. But don't feel too bad, movie fans; though Iron Man 3, Star Trek Into Darkness, and Man of Steel are already in your rear-view mirror, there are still plenty of promising films on the horizon in July and August.
But which upcoming movies are actually worth seeing? Let The Week be your guide.
July 5:
Subscribe to The Week
Escape your echo chamber. Get the facts behind the news, plus analysis from multiple perspectives.
SUBSCRIBE & SAVE
Sign up for The Week's Free Newsletters
From our morning news briefing to a weekly Good News Newsletter, get the best of The Week delivered directly to your inbox.
From our morning news briefing to a weekly Good News Newsletter, get the best of The Week delivered directly to your inbox.
The Way, Way Back
What it is: When a 14-year-old boy (Liam James) is dragged along for a summer vacation by his mother (Toni Collette) and her new boyfriend (Steve Carell), he forms an unlikely friendship with the owner of a water park (Sam Rockwell).
Why you should care: The Way, Way Back was written and directed by Nat Faxon and Jim Rash, who proved their dramedy chops as the Oscar-winning screenwriting duo behind 2011's terrific The Descendants. Fox Searchlight, the studio behind massive successes like Little Miss Sunshine and Juno, have clearly positioned The Way, Way Back as their next crossover hit. And reviews from critics who have already seen the film (which premiered at the Sundance Film Festival in January) have been extremely positive; it's currently sitting at a rosy 88 percent on Rotten Tomatoes.
What else is coming out: The Lone Ranger, which reunites Pirates of the Caribbean director Gore Verbinski and star Johnny Depp for a bombastic modern take on the Western icon; Despicable Me 2, a sequel to the smash 2010 animated film, which sees Steve Carell return to voice the kind-hearted villain Gru.
July 12:
Pacific Rim
What it is: After giant, vicious monsters rise up from a portal in the ocean, a group of specially trained soldiers don giant robotic suits in an effort to fight them off and save the Earth before it's too late.
Why you should care: In a summer that's been packed with grim, joyless blockbusters like Star Trek Into Darkness, After Earth and Man of Steel, Pacific Rim looks like a refreshingly goofier take on the big-budget sci-fi genre. The cast is stacked with terrific actors, including Sons of Anarchy's Charlie Hunnam, Luther's Idris Elba, and It's Always Sunny in Philidelphia's Charlie Day, and there are few working directors more adept at crafting gorgeous, otherworldly visuals than Guillermo del Toro.
What else is coming out: Grown Ups 2, a sequel to the inexplicably popular Adam Sandler comedy in which he farts around New England with his buddies; Fruitvale Station, a critically acclaimed independent drama starring Michael B. Jordan in the true story of an unarmed man who was shot and killed by a police officer in the San Francisco Bay Area; V/H/S 2, a sequel to last year's low-budget hit, in which seven directors offer a series of short, interlinked entries in the found footage horror genre.
July 19:
Only God Forgives
What it is: An American criminal living in Bangkok (Ryan Gosling) goes on a quest to find and kill the people responsible for his brother's death.
Why you should care: Only God Forgives reunites Gosling with director Nicolas Winding Refn for the first time since 2011's slick, stylish crime thriller Drive. The film received a starkly polarized reception at its Cannes premiere, where it earned both boos and a standing ovation — but love it or hate it, anything that earns such a divisive response is the perfect antidote to summer movie doldrums.
What else is coming out: Girl Most Likely, an ensemble comedy starring Kristen Wiig as a woman who ends up in her mother's protective custody after staging a suicide; R.I.P.D., a Men in Black-esque comedy that sees Ryan Reynolds and Jeff Bridges team up as a pair of undead cops; Turbo, an animated family comedy about a snail who dreams of being the fastest in the world; RED 2, a sequel to the 2010 action-comedy that reunites original stars Bruce Willis, John Malkovich, and Helen Mirren as a team of Retired (but Extremely Dangerous) spies; The Conjuring, in which director James Wan and star Patrick Wilson reunite for yet another take on the overcrowded haunted house horror genre.
July 26:
The To Do List
What it is: A nerdy high school senior (Aubrey Plaza) decides to spend her summer completing a sexual bucket list before she starts her freshman year of college.
Why you should care: Between disappointments both major (The Hangover Part III, The Internship) and minor (Peeples, The Heat), it's been a disappointing summer for comedies aimed at adults, with This is the End providing the sole bright spot. But there's plenty of reason to hold out hope that the raunchy To Do List can save the summer: A clever premise, a sharp trailer, and a stellar cast of talented comedians (including Plaza, Bill Hader, Alia Shawkat, Andy Samberg, and Donald Glover).
What else is coming out: The Wolverine, which aims to give the most popular of the X-Men a proper solo adventure after 2009's misbegotten X-Men Origins: Wolverine; Blue Jasmine, which sees director Woody Allen return to New York City for an ensemble drama starring Cate Blanchett, Alec Baldwin, and Louis C.K.
August 2:
The Spectacular Now
What it is: This coming-of-age story, which is based on the novel of the same name by Tim Tharp, follows a coasting high school senior (Miles Teller) who forms a bond with a forward-thinking classmate (Shailene Woodley) after he's dumped by his girlfriend.
Why you should care: The Spectacular Now earned widespread critical support after its premiere at the Sundance Film Festival, including a Special Jury Award for Acting. It also features the first cinematic performance from enormously talented up-and-comer Shailene Woodley — who broke through with her supporting turn in The Descendants — alongside a bevy of other talents including Brie Larson, Mary Elizabeth Winstead, and Jennifer Jason Leigh.
What else is coming out: 2 Guns, which pairs Denzel Washington and Mark Wahlberg as two cops forced to work together to recover a massive amount of stolen money; The Smurfs 2, a sequel to the awful (but inevitably high-grossing) 2011 film adaptation of the popular Belgian franchise, which will probably make a huge smurfing pile of money.
August 9:
Elysium
What it is: In a future where the Earth is strictly divided between the haves and the have-nots, an impoverished man dying from a disease (Matt Damon) decides he'll do anything to reach the luxurious floating space station Elysium, which boasts the medical technology that could save his life.
Why you should care: Writer/director Neill Blomkamp's previous film, District 9, was a masterful blend of sci-fi action and social commentary, and Elysium looks to be doubling down on its promise with a story that's sure to be controversial. Early glimpses of the film have been absolutely gorgeous, and based on previews, Damon's character will have to fight off two equally compelling adversaries (Jodie Foster and District 9 star Sharlto Copley).
What else is coming out: We're the Millers, a raunchy comedy about a pot dealer who recruits a decoy family to help him move two tons of marijuana from Mexico to Colorado; Planes, a Disney-produced spinoff of Pixar's bland, merchandise-friendly Cars franchise; Percy Jackson: Sea of Monsters, a sequel to one of Hollywood's more forgettable attempts to spawn the next Harry Potter.
August 16:
Ain't Them Bodies Saints
What it is: After being captured during a crime spree in Texas, a convicted felon (Casey Affleck) breaks out of prison to reunite with his wife (Rooney Mara) and the daughter he's never met.
Why you should care: Critics who saw Ain't Them Bodies Saints at its Sundance Film Festival premiere have been absolutely rapturous, with numerous comparisons to director Terrence Malick's legendary 1973 film Badlands. And while Casey Affleck and Rooney Mara are both formidable stars in their own right, the supporting cast is equally strong, including Ben Foster and Keith Carradine.
What else is coming out: The Butler, in which director Lee Daniels kicks off Oscar season with a star-studded, based-on-a-true story tale of a butler who served eight U.S. presidents; Kick-Ass 2, a sequel to 2010's ultra-gory superhero send-up, which adds Jim Carrey to the mix; Jobs, a biopic of the late Apple cofounder starring Ashton Kutcher, in his latest attempt to prove he's a serious actor; Paranoia; a bland-looking corporate espionage thriller starring Liam Hemsworth and Harrison Ford; Prince Avalanche, an offbeat but affecting dramedy starring Paul Rudd and Emile Hirsch as two men repaving a highway after a 1988 Texas forest fire.
August 23:
The World's End
What it is: 20 years after failing to complete a legendary pub crawl, a group of friends reunite in their small town to give it one last try — unaware that an alien invasion is happening all around them.
Why you should care: The World's End is the long-awaited final entry in the so-called "Blood and Ice Cream Trilogy," which began with 2004's zombie comedy Shaun of the Dead and continued with 2007's police comedy Hot Fuzz — two films that represented a wonderful, idiosyncratic spin on a familiar genre. As The World's End reunites director Edgar Wright and cast members Simon Pegg, Nick Frost, and Martin Freeman for one final run, there's every indication that this sci-fi comedy will be as strong as its predecessors.
What else is coming out: The Grandmaster, which sees brilliant director Wong Kar-Wai return to the kung-fu genre for the first time since 1994's Ashes of Time; The Mortal Instruments: City of Bone, the first in a planned series of films based on the Harry Potter meets Twilight young adult series; You're Next, a low-budget horror movie about a gang of mysterious killers that attacks a vacationing family.
August 30:
Getaway
What it is: After his wife is kidnapped, a man (Ethan Hawke) has no choice but to follow the instructions of a mysterious criminal (Jon Voight) in order to save her.
Why you should care: Between the surprise hit The Purge and the stunning Before Midnight, it's been a great summer for Ethan Hawke, and this pulpy thriller sounds like a fine way to transition from summer blockbuster season to the more subdued prestige dramas of the fall. There's also a supporting performance for Selena Gomez, making another stab at transitioning into an adult acting career after her surprisingly confident turn in Spring Breakers.
What else is coming out: Closed Circuit, a thriller about a pair of lawyers who find their lives in jeopardy after agreeing to defend a terrorist; One Direction: This Is Us, a combination biography/concert movie about the British band, which will surely delight their diehard fans as much as it irritates everybody else.
Read The Week's guide to the films released in May and June here.
Continue reading for free
We hope you're enjoying The Week's refreshingly open-minded journalism.
Subscribed to The Week? Register your account with the same email as your subscription.
Sign up to our 10 Things You Need to Know Today newsletter
A free daily digest of the biggest news stories of the day - and the best features from our website
Scott Meslow is the entertainment editor for TheWeek.com. He has written about film and television at publications including The Atlantic, POLITICO Magazine, and Vulture.