RNC chair ties Obama to 'infanticide': Is the GOP rebrand already ruined?
Hinting that Democrats support the murder of children may backfire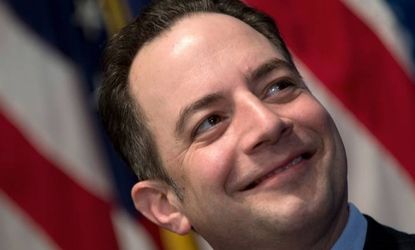 (Image credit: Getty Images/Winn McNamee)
So much for that Republican reboot.
On Wednesday, Republican National Committee Chairman Reince Priebus wrote an op-ed for the right-wing site Red State in which he suggested that Democrats "endorse infanticide" by supporting Planned Parenthood.
Priebus did not explicitly accuse Democrats of supporting the murder of children. Rather, in an article called "Media Covers up Democrat-Backed Planned Parenthood's Support for Infanticide," he accused Planned Parenthood of doing so, and noted that Democrats have vociferously defended the organization's funding, particularly in the run-up to last year's elections.
Subscribe to The Week
Escape your echo chamber. Get the facts behind the news, plus analysis from multiple perspectives.
SUBSCRIBE & SAVE
Sign up for The Week's Free Newsletters
From our morning news briefing to a weekly Good News Newsletter, get the best of The Week delivered directly to your inbox.
From our morning news briefing to a weekly Good News Newsletter, get the best of The Week delivered directly to your inbox.
Priebus arrived at that conclusion by claiming a biased media had spun two recent abortion stories in Democrats' favor. The media used North Dakota's new abortion law to make Republicans seem crazy, he claimed. The media then allegedly refused to cover a Florida legislative hearing at which a Planned Parenthood lobbyist hedged her answers on what should be done with theoretical aborted fetuses that come out of the womb breathing or with a heartbeat.
The "born alive" fetus issue is the real sticking point, since Priebus and other abortion foes believe that such fetuses are alive and should be granted more rights. That a Planned Parenthood lobbyist did not definitively say those fetuses should be kept alive, he argued, was a sign the organization — and perhaps the Democrats who've defended it — condoned infanticide.
The article comes mere weeks after Priebus called for a major GOP overhaul in an attempt to broaden its appeal. Part of that effort meant softening the party's message, which, as Priebus himself said, made voters view the party as "out of touch" and "scary."
So why would Priebus go out of his way to make such a loaded charge?
"Rebranding isn't all about apologizing and asking voters to take another look at you," says Slate's Dave Weigel. "It's about defining the other side as crazy, and working the refs so that they go along."
The "infanticide" claim is one that's been leveled against President Obama for years. Conservatives claim that Obama, while in the Illinois legislature, opposed abortion bills designed to protect "born alive" fetuses, but that the media has never taken him to task for it.
"He voted against different iterations of the law three times, then lied about why he did so," says Town Hall political editor Guy Benson. "The media works overtime to make sure every voter is aware of an ignorant statement from a GOP back-bencher, but they've done precious little to expose the president's abortion extremism."
Obama was asked about those votes back in 2008, though the notion that the media hasn't pressed him hard enough has persisted to this day. Newt Gingrich even brought up the issue during a presidential debate last year as a way to distance himself from Mitt Romney.
Still, even if Priebus wants to redefine Democrats as the real radicals, using abortion to achieve that goal may not be the best idea. When Republicans pursued a number of controversial reproductive rights policies after retaking the House in 2010, Democrats used those efforts as a rallying cry that helped them make up lost ground in 2012.
"He and his party took a beating in 2012 over Republican opposition to Planned Parenthood, so in the midst of a rebranding campaign, Priebus wants to focus anew on condemning Planned Parenthood?" asks MSNBC's Steve Benen.
Maybe a rethink of the reboot is in order.

Continue reading for free
We hope you're enjoying The Week's refreshingly open-minded journalism.
Subscribed to The Week? Register your account with the same email as your subscription.