Will Congress curb Obama's drone strikes?
There's a lot of outrage, on the Left and Right, over President Obama's kill-list memo. Congress can stop this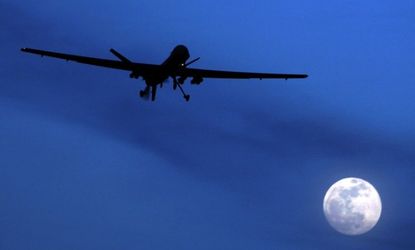 (Image credit: AP Photo/Kirsty Wigglesworth, File)
Sign up to our 10 Things You Need to Know Today newsletter
A free daily digest of the biggest news stories of the day - and the best features from our website
Thank you for signing up to TheWeek. You will receive a verification email shortly.
There was a problem. Please refresh the page and try again.
Since at least the 9/11 attacks, Congress has been less than confrontational with the White House over presidential powers to conduct war and anti-terrorism operations, to the dismay of civil libertarians. So we had President George W. Bush's warrantless domestic wiretaps retroactively green-lighted by Congress, torture only officially nixed by a change in presidents, and a big ramping-up of lethal drones being used to kill terrorism suspects under President Obama. But Obama's decision to kill at least two Americans working for al Qaeda in Yemen in 2011, and the legal justification that emerged in a leaked white paper (read below) this week, has caused a big, unusual outcry from both the Left and Right. When was the last time lefties Glenn Greenwald, Salon's Joan Walsh, and MSNBC host Ed Shultz were on the same page as conservatives Patrick (Patterico) Frey, Joe Scarborough, and Judge Andrew Napolitano of Fox News?
Some members of Congress "uncomfortable with the Obama administration's use of deadly drones," mostly but not all Democrats, are "looking to limit America's authority to kill suspected terrorists, even U.S. citizens," says Lara Jakes of The Associated Press. The Obama team's justification for carrying out drone strikes relies heavily on a law Congress passed three days after the 9/11 attacks that authorizes the military to use "all necessary and appropriate force" — including drone attacks — against al Qaeda and affiliated terrorist groups.
"It has to be in the agenda of this Congress to reconsider the scope of action of drones and use of deadly force by the United States around the world because the original authorization of use of force, I think, is being strained to its limits," Sen. Chris Coons (D-Del.) tells the AP. "We are sort of running on the steam that we acquired right after our country was attacked in the most horrific act of terror in U.S. history," agrees Rep. Keith Ellison (D-Minn.). "We have learned much since 9/11, and now it's time to take a more sober look at where we should be with use of force."
Subscribe to The Week
Escape your echo chamber. Get the facts behind the news, plus analysis from multiple perspectives.
SUBSCRIBE & SAVE
Sign up for The Week's Free Newsletters
From our morning news briefing to a weekly Good News Newsletter, get the best of The Week delivered directly to your inbox.
From our morning news briefing to a weekly Good News Newsletter, get the best of The Week delivered directly to your inbox.
One problem for lawmakers, says The New York Times in an editorial, is that when it comes to drone strikes, the Obama team "utterly rejects the idea that Congress or the courts have any right to review such a decision in advance, or even after the fact." Along with citing the law authorizing broad use of force against al Qaeda, the white paper also "argues that judges and Congress don't have the right to rule on or interfere with decisions made in the heat of combat." And most troublingly, Obama won't give Congress the classified document detailing the legal justification used to kill American al Qaeda operative Anwar al-Awlaki.
It's interesting to watch conservatives show (or at least feign) outrage over a policy that "would have been met with right-wing hosannas under Bush/Cheney," says Steve M. at No More Mister Nice Blog. But even with the grumbling from the Left and Right, "I don't think any of this is going to stop the drone strikes."
"Outrage is being dutifully ginned up" not just by politicians and pundits — straight reporting on the white paper "clearly assumes that we are supposed to be outraged," too, says Eric Posner at Slate. "But the memo is utterly conventional as legal analysis," and the only thing you need to understand about it, really, is that "Obama administration lawyers have enthusiastically endorsed the once-vilified Bush administration decision to classify security operations against al Qaeda as 'war' rather than as 'law enforcement.'" Congress allowed that by authorizing "war" not just with Afghanistan but with al Qaeda and its affiliates in 2001, and if we are at war with the terrorists, they can be killed on sight. "And it doesn't matter if you're an al Qaeda member who happens to be a U.S. citizen, just as it didn't matter if you were a German soldier who happened to be an American citizen during World War II."
"The U.S. is, in effect, waging two different drone wars," one run by the Pentagon, mainly in places like Yemen and Somalia, and the other carried out by the CIA in Afghanistan and, more often, Pakistan, says Bloomberg View in an editorial. The military's drone program is "operated by military professionals, trained in and bound by international and U.S. military law," and thus "much more appropriate." There are lots of things Congress and the Obama team can and should change — making the goal to capture, not kill, terrorists, say, and codifying the rules for drone warfare internationally — but getting the CIA out of the drone game is a key first step.
Justice Department Memo on Legal Case for Drone Strikes on Americans
Continue reading for free
We hope you're enjoying The Week's refreshingly open-minded journalism.
Subscribed to The Week? Register your account with the same email as your subscription.