Is President Obama anti-social?
"I'm a pretty friendly guy," the president insists. "And I like a good party."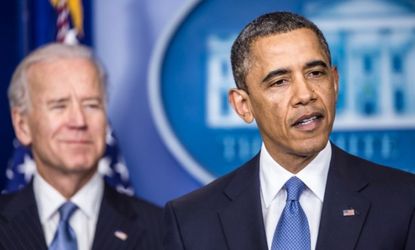 (Image credit: Brendan Hoffman/Getty Images)
A common knock against President Obama is that he's too aloof for the job. While Vice President Joe Biden can put his Republican colleagues at ease with his car salesman's smile and bottomless store of near-nonsensical Joe-isms, Obama reportedly has nothing but disdain for Washington's greasy back-slapping traditions. The thinking goes that if Obama had a little of Bill Clinton's glad-handing magic or Ronald Reagan's sunny disposition, he would have far fewer problems reaching agreements with the GOP on a host of issues.
Asked about his alleged misanthropic streak at a news conference on Monday, Obama got a tad defensive. "Most people who know me know I'm a pretty friendly guy," he insisted. (Watch a video of his remarks below.) He added, somewhat unconvincingly, "And I like a good party."
Obama's remarks come just as Congress prepares to engage in yet another round of budget negotiations that could derail the economic recovery, the fear this time being that Congress will fail to prevent the U.S. from defaulting on its debt. Obama maintained that he has cordial relationships with many members of Congress, but that policy differences are ultimately what leads to disagreement. "I'm over here at the congressional picnic, and folks are coming up and taking pictures with their family. I promise you, Michelle and I are very nice to them," Obama said. "But it doesn't prevent them from going onto the floor of the House and, you know, blasting me for being a big-spending socialist."
Subscribe to The Week
Escape your echo chamber. Get the facts behind the news, plus analysis from multiple perspectives.
SUBSCRIBE & SAVE
Sign up for The Week's Free Newsletters
From our morning news briefing to a weekly Good News Newsletter, get the best of The Week delivered directly to your inbox.
From our morning news briefing to a weekly Good News Newsletter, get the best of The Week delivered directly to your inbox.
Obama also suggested that it was Republicans who were leery of hanging out with him, after they saw fellow GOPers — such as former Florida Gov. Charlie Crist — get hammered in the right-wing media for being too friendly with the socialist-in-chief. "I think there are a lot of Republicans at this point that feel that, given how much energy has been devoted in some of the media that is preferred by Republican constituencies to demonize me, that it doesn't look real good socializing with me," he said.
He even admitted that he was a little lonely. "Personal relationships are important and, obviously, I can always do a better job. And the nice thing is, is that now that my girls are getting older, they don't want to spend that much time with me anyway," he said. "So, I'll be probably calling around, looking for somebody to play cards with or something… because I'm getting kind of lonely in this big house."
Critics, of course, maintain that Obama should grow up and get over his aversion to buttering up his opponents. "For Obama, learning how to schmooze could mean the difference between a good and great presidency," says Ron Fournier at The National Journal.
But Obama is operating in an atmosphere of political polarization that would have been unimaginable to Reagan, and that Clinton got only a taste of. Congress is not the place it once was, and it's hard to see how even a million rounds of golf with Obama would have helped House Speaker John Boehner, for example, convince a majority of his caucus to raise taxes on the wealthiest Americans in the recent deal to avert part of the fiscal cliff. As Obama suggested at his press conference, Republican members of Congress are far more concerned about primary challenges than maintaining relationships with their colleagues in Washington. "The reasons… Congress votes the way they do, or talks the way they talk, or takes positions in negotiations that they take, doesn't have to do with me," Obama said. "They're worried about their district. They're worried about what's going on back home."
Watch More News Videos at ABC | Technology News | Celebrity News

Continue reading for free
We hope you're enjoying The Week's refreshingly open-minded journalism.
Subscribed to The Week? Register your account with the same email as your subscription.