10 things you need to know today: January 12, 2013
The flu spreads, Ford goes on a hiring spree, and more in our roundup of the stories that are making news and driving opinion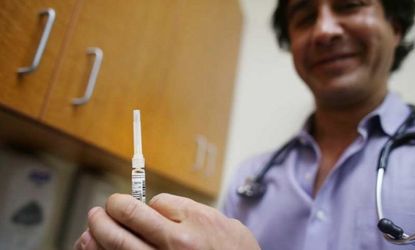 (Image credit: Spencer Platt/Getty Images)
1. OBAMA: U.S. TROOPS WILL MOVE TO SUPPORT ROLE IN AFGHANISTAN
President Obama and Afghan President Hamid Karzai reached an agreement on Friday for the U.S. to slightly speed up its withdrawal from Afghanistan. Speaking during a joint news conference at the White House, Obama said U.S. troops will begin assuming a support role, in which they will focus on training, advising, and supporting Afghan forces, in the war-torn nation starting in the spring. "This war will come to a responsible end," Obama said. Still, Karzai did not say how many troops would be left in the country after the 2014 deadline. [Wall Street Journal]
………………………………………………………………………………
Subscribe to The Week
Escape your echo chamber. Get the facts behind the news, plus analysis from multiple perspectives.
SUBSCRIBE & SAVE
Sign up for The Week's Free Newsletters
From our morning news briefing to a weekly Good News Newsletter, get the best of The Week delivered directly to your inbox.
From our morning news briefing to a weekly Good News Newsletter, get the best of The Week delivered directly to your inbox.
2. WIDESPEAD FLU REPORTED IN 47 STATES
America's 2013 flu season is shaping up to be the worst nationwide outbreak in more than a decade, with a 900 percent increase in flu cases in Boston, the sickness' epicenter, compared to last year. According to the CDC's latest weekly report, 47 states are reporting "widespread flu activity," with cities like Boston and New York City being hit particularly hard. [The Week]
………………………………………………………………………………
3. JUDGE DELAYS ARRAIGNMENT OF SUSPECT IN DARK KNIGHT SHOOTINGS
Judge William B. Sylvester agreed Friday with a request by the defense team in the case against James Holmes, the alleged shooter in the deadly July 20 shootings in an Aurora, Colo., movie theater, to postpone Holmes' arraignment until March 12. The defense made the request to get more time to enter a plea for its client. Judge Sylvester ruled late Thursday that there is enough evidence to try Holmes on 166 counts of murder, attempted murder, and other charges. Prosecutors allege that Holmes opened fire during a midnight showing of The Dark Knight Rises in July, killing 12 people and wounding dozens more. [New York Times]
………………………………………………………………………………
4. SEN. JAY ROCKEFELLER TO RETIRE
Longtime West Virginia Sen. Jay Rockefeller (D) announced Friday that he will not seek re-election in 2014. "I've gotten way out of whack in terms of the time I should spend with my wife and my children and my grandchildren," he told the Associated Press. The news of his planned departure is great news for Republicans, who hope to make a play for his Senate seat in the increasingly red state during the next midterm election. [USA Today]
………………………………………………………………………………
5. APPLE: CHEAP IPHONE WILL 'NEVER BE FUTURE OF APPLE PRODUCTS'
This week The Wall Street Journal and Bloomberg independently confirmed with their sources that Apple was working on a cheaper iPhone built from lower quality parts. But late Thursday, those rumors were shot down by Apple's SVP of worldwide marketing, Phil Schiller, who told the Shanghai Evening News that a potentially cheaper iPhone will "never be in the future of Apple products." The Next Web confirmed with Apple that the interview was official. Still, the new report may need to be taken with a grain of salt, says The Verge: While Schiller's comments appear to contradict reporting by the WSJ and Bloomberg, Apple has demonstrated an obvious willingness to depart from public statements in the past. [The Week]
………………………………………………………………………………
6. FORD GOES ON A HIRING SPREE
Ford announced Friday that it is adding 2,200 salaried jobs this year, the automaker's biggest white-collar hiring binge in more than a decade. Ford says it needs everything from engineers to computer software experts in a push to develop new vehicles to suit shifting driver demands. "As we expand our product lineup of fuel-efficient vehicles, we need more people in critical areas to ensure we deliver the vehicles people want," said Joe Hinrichs, president of Ford operations in North and South America. [CNN]
………………………………………………………………………………
7. TRADE GAP WIDENS UNEXPECTEDLY
In a surprise to economists, the U.S. trade deficit widened in November by 16 percent, hitting $48.7 billion. Analysts had been expecting the deficit to shrink to $41.3 billion, reflecting higher sales of increasingly affordable U.S. exports. That's "not good news" for economic growth at the end of 2012, said economist Peter Cardillo of Rockwell Global Capital in New York. When a country buys more than it sells, money gets siphoned out of its economy. On the bright side, one reason for the change was that Americans snapped up inexpensive foreign goods for the holidays and foreign cars in the wake of Hurricane Sandy, a hopeful sign that consumers are feeling more confident and spending. [Reuters]
………………………………………………………………………………
8. DUCHESS OF CAMBRIDGE GETS OFFICIAL PORTRAIT
A newly commissioned official painting of Catherine, Duchess of Cambridge, the expectant wife of Prince William, was unveiled at Britain's National Portrait Gallery on Friday. The oil on canvas by Glasgow-born artist Paul Emsley was done in only two sittings. That may not be a good thing, considering its reception has been lukewarm at best. The portrait depicts the 31-year-old royal against a dark background with her lips pursed into a wry smile. [The Week]
………………………………………………………………………………
9. FAA LOOKS INTO BOEING'S TROUBLED DREAMLINER
The Federal Aviation Administration announced Friday that it is launching a comprehensive review of Boeing's new 787 Dreamliner after a string of problems. In one case this week, a fire broke out aboard one of the jumbo jets as it sat empty. There were two fresh incidents in Japan — a cracked cockpit in one Dreamliner, and an oil leak in another. The review will focus on the aircraft's electrical components, but will also cover all aspects of its design and production. The Dreamliner is a new aircraft, and many newly introduced models have suffered glitches in the past. Despite the investigation, FAA Administrator Michael Huerta assured travelers his agency believes "this is a safe aircraft." [NBC News]
………………………………………………………………………………
10. DESTINY'S CHILD WILL REUNITE DURING SUPER BOWL HALFTIME SHOW
Maybe it's destiny: As Beyoncé preps for her latest album, reports surfaced Friday that the reigning queen of R&B will reunite with former Destiny's Child band mates Kelly Rowland and Michelle Williams as a part of her headlining slot at the Super Bowl's halftime show. Reports also confirm that Beyoncé will do a solo performance before being reunited with Rowland and Williams for a medley of the group's latest hits that will likely include a new single. [Rolling Stone]

Continue reading for free
We hope you're enjoying The Week's refreshingly open-minded journalism.
Subscribed to The Week? Register your account with the same email as your subscription.