The 10 strangest details of the David Petraeus affair [Updated]
This tangled, tortured story of sex, national security, and jealous emails shows that truth really is stranger than fiction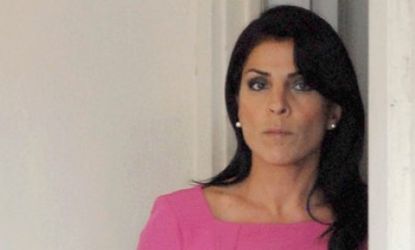 (Image credit: Tim Boyles/Getty Images)
The story of the extramarital affair that brought down previously unimpeachable CIA Director David Petraeus and threatens the career of Afghanistan war commander Gen. John Allen — as well as at least three marriages — is almost literally unbelievable. "My immediate gut is like this is the National Enquirer," Sen. Dianne Feinstein (D-Calif.), the chair of the Senate intelligence committee, tells CNN. "I mean, every day there is something new." And every new thing is stranger than the last. Here are 10 of the oddest twists and subplots — so far:
1. The Broadwells romanced as we learned of Paula's infidelity
"The most amazing detail about the Petraeus affair, which continues to serve up bizarre amazing details by the hour," says Hannah Rosin at Slate, is that as the world was learning of Broadwell's affair with Petraeus, she was having a romantic birthday dinner with husband Scott at Virginia's Inn at Little Washington, a veritable "factory of 'romantic.'" Assuming that Mr. and Mrs. Broadwell didn't have their smartphones on during dinner, "it's possible, and maybe probable... that her husband found out along with the rest of the world." What we do know, says Carol Ross Joynt at the Washingtonian, is that the couple were in "good" and "upbeat" moods on Thursday night and Friday, and suddenly "not in very good moods" late Friday. By the time they checked out, earlier than expected on Saturday morning, Scott was described as "not talkative." The plan was to head to Washington for Paula's 40th birthday party, which was abruptly canceled. "A source close to the intelligence community said General Petraeus was scheduled to attend that party."
Subscribe to The Week
Escape your echo chamber. Get the facts behind the news, plus analysis from multiple perspectives.
SUBSCRIBE & SAVE
Sign up for The Week's Free Newsletters
From our morning news briefing to a weekly Good News Newsletter, get the best of The Week delivered directly to your inbox.
From our morning news briefing to a weekly Good News Newsletter, get the best of The Week delivered directly to your inbox.
2. The Broadwells live near John Edwards' mistress
Lots of people have been to the Broadwells' house, in the upscale Dilworth neighborhood of Charlotte, N.C., since the scandal broke: Reporters, the FBI, gawkers. Everyone, it seems, but the Broadwells. But Paula Broadwell isn't the only notorious "other woman" in Dilworth — just 1.6 miles away lives Rielle Hunter, the "all-too-public mistress" of former Sen. John Edwards (D-N.C.), says Diane Dimond at The Daily Beast. Seriously, "what are the odds that the mistresses of two of America's most disgraced civil servants live in the same state, in the same city, and even in the same neighborhood?"
3. A rogue FBI agent and his shirtless photos
We probably wouldn't know anything about Petraeus and Broadwell's affair if it weren't for a Tampa FBI agent "obsessed" with the case — and probably the woman who got the ball rolling, Tampa socialite Jill Kelley. The unidentified agent was friends with Kelley — he had once sent her shirtless pictures of himself — and at her request, set the FBI looking at harassing, anonymous emails from a sender who turned out to be Broadwell. The agent had no formal role in the case, but continued to "nose around" until his superiors "told him to stay the hell away from it," an official tells The New York Times. When he thought the FBI was sitting on the affair to help President Obama politically, he tried to leak the story to House Majority Leader Eric Cantor (R-Va.). "So basically this entire scandal, both at the outset and in the denouement, was driven by Freakshow FBI Agent X who both wanted to bed the victim of the alleged harassment" and take down Obama, says Josh Marshall at Talking Points Memo. "Please let us meet this awesome example of American law enforcement."
4. The Kelleys bankrupted their sketchy cancer charity
Jill Kelley and her cancer-surgeon husband, Scott, spent their way into Tampa society by throwing lavish parties for military leaders and visiting with dignitaries at their mansion on swanky Bayshore Boulevard. That house was also the listed headquarters for the Doctor Kelley Cancer Foundation, an apparently short-lived charity they founded in 2007 "exclusively to conduct cancer research and to grant wishes to terminally ill adult cancer patients." To put it mildly, "it appears that the charity fell far short of its mission," say Jason Cherkis and Christina Wilkie at The Huffington Post. "By the end of 2007, the charity had gone bankrupt, having conveniently spent exactly the same amount of money, $157,284, as it started with — not a dollar more" — on such things as "meals and entertainment" ($43,317), "travel" ($38,610), legal fees ($25,013), office expenses and supplies ($12,807), "automotive expenses" ($8,822), and utilities and telephones ($7,854). The couple also faces millions in lawsuits from banks for not paying mortgages on property they own and credit card debt.
5. Kelley's twin sister dated a Florida governor
Kelley's financial troubles pale in comparison to those of her twin sister, Natalie Khawam, who filed for bankruptcy in April, with more than $3.6 million in liabilities. But Khawam, too, ran in rarified circles, especially among Florida's military and Republican elite. According to Britain's Daily Telegraph, she once dated Charlie Crist, the state's former governor and later failed Senate candidate. Bonus fact: Jill and Natalie faced off against twin brothers in a Food Network cook-off show, Food Fight, in 2003. Their dish: Alligator.
6. The Times' Ethicist didn't counsel Scott Broadwell... probably
From where I'm standing, "by far the most bizarre turn in the story" involves Chuck Klosterman, who writes the Ethicist column in The New York Times Magazine, says Alex Moore at Death & Taxes. Hours after news of Petraeus' affair went public, Foreign Policy's Blake Hounshell found and tweeted a link to an Ethicist column from July, in which a cuckolded husband sought Klosterman's advice on how to deal with a spouse cheating on him with a high-ranking "government executive" who sounds a lot like Petraeus. The Times says the writer wasn't Scott Broadwell — Klosterman himself isn't sure — "which begs the question: What other top-level government official is having a Petraeus-style affair?"
7. America's top spy used Gmail to conduct his affair
At the bottom of the whole sordid mess is this vaguely troubling fact, says Sam Grobart at Bloomberg: "Petraeus ran the largest, best-funded, most capable intelligence service in the history of the world, but even he failed to learn the lesson learned long ago by small-time mobsters and corner drug dealers: If you want something to remain a secret, stay off the phones and — more important — stay off email." He and Broadwell did employ one trick — "known to terrorists and teenagers alike," The Associated Press notes — to cover their tracks: Instead of sending emails, they saved drafts of their amorous messages in a Gmail account they both could access. But they didn't encrypt their "hot-and-heavy missives," and their whole scheme fell apart because Broadwell — herself with a background in covert operations — sent messages to the secret account. "Whoops," says Grobart. "That established a connection the FBI could follow" to their affair.
8. Broadwell almost ran for the Senate
Hard to believe, but the Petraeus scandal could have been even more complicated if Broadwell had followed through on her political ambitions. "Republican moneymen," says Barton Gellman at TIME, "had approached her about a Senate run in North Carolina. She was tempted." However, Petraeus nixed the idea. "Petraeus, she said in an irritated tone, rejected the idea out of hand. What was her position, he asked, on abortion? Climate change? Gun control? Gay marriage? Tax cuts? Social Security vouchers? Her answers, he told her, would not fit either party, and she should not sell herself out."
9. Jill Kelley tried to land an $80 million lobbying gig
South Korea named Kelley an honorary consul in August 2011, and she did more than just get vanity "Consul General" plates on her Mercedes to celebrate the recognition. She also tried to cash in, according to New York energy executive Adam Victor. Victor tells the New York Daily News that he met with Kelley in August and September to discuss her lobbying Seoul on behalf of his company, TransGas Development System, and its proposed $4 billion coal-to-gas conversion deal. "The only reason we talked to her was Gen. Petraeus — 1,000 percent," Victor says. "The magic name was Petraeus. And it was coming from third parties, as well as from her." Talks derailed after Kelley asked for a 2 percent cut of the deal — or $80 million. "I immediately said, 'Whoa!'" Victor says. A normal lobbying fee for such a deal would be about $1 million, and her reported request showed a shocking lack of business acumen. "She wanted a counter-offer. We declined, and said do not make any more contacts on our behalf."
10. Paula Broadwell nearly joined the FBI
In 2006, Broadwell was an oath away from joining the federal agency that ended up making her a household name — and not in a good way. Broadwell had already worked with the FBI as an Army intelligence officer attached to the bureau's Joint Terrorism Task Force in Denver, and she'd passed a polygraph test, been offered a job at the FBI, and was apparently excited to join the bureau when she landed a fellowship at Harvard, a retired FBI agent tells The Daily Beast. Choosing Harvard seemed like a smart choice, until it led to her meeting Petraeus... and ended up with FBI agents combing through her house, leaving her career in tatters. The consensus among retired agents, says The Daily Beast's Michael Daly, is "that Broadwell might have made a great agent, maybe as good as Humphries," the FBI go-getter who brought her down.
Editor's note: This article, originally posted on Nov. 14, was last updated on Nov. 20.

Continue reading for free
We hope you're enjoying The Week's refreshingly open-minded journalism.
Subscribed to The Week? Register your account with the same email as your subscription.