10 things you need to know today: October 18, 2012
Obama and Romney spin the debate, feds foil an alleged terror bomb plot, and more in our roundup of the stories that are making news and driving opinion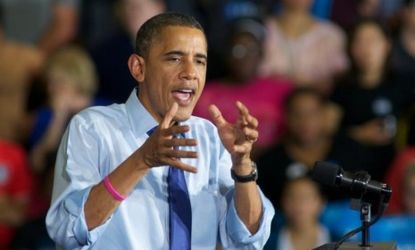 (Image credit: David Greedy/Getty Images)
1. OBAMA AND ROMNEY CAMPAIGNS SPIN THE DEBATE
President Obama and Mitt Romney have rushed into a spin war, each seeking to capitalize on their contentious second debate to woo women voters. Obama mocked Romney's unfortunately phrased "binders full of women" line, and chided the GOP nominee for not backing equal-pay legislation. Romney said Obama had "failed America's women" because many can't find jobs. Fact-checkers had a field day examining statements both made in the debate. On Thursday evening, though, the campaign will take on a more lighthearted tone, as Obama and Romney prepare to trade laughs at the 67th Al Smith Dinner, an annual Archdiocese of New York charity fundraiser. [NBC]
………………………………………………………………………………
Subscribe to The Week
Escape your echo chamber. Get the facts behind the news, plus analysis from multiple perspectives.
SUBSCRIBE & SAVE
Sign up for The Week's Free Newsletters
From our morning news briefing to a weekly Good News Newsletter, get the best of The Week delivered directly to your inbox.
From our morning news briefing to a weekly Good News Newsletter, get the best of The Week delivered directly to your inbox.
2. FEDS ARREST ALLEGED BOMB PLOTTER IN NEW YORK
The FBI has arrested a 21-year-old Bangladeshi national and accused him of parking a van packed with what he thought were explosives outside the Federal Reserve in New York City. Prosecutors say the man, Quazi Mohammad Rezwanul Ahsan Nafis, arrived in the U.S. in January on a student visa, aiming to stage a terrorist attack. He allegedly was caught in a sting operation after seeking help from a man who turned out to be an informant. FBI agents, working with New York police, supplied him with 1,000 pounds of fake explosives, kept him under surveillance, and arrested him when he allegedly tried to detonate the impotent bomb remotely. [New York Times]
………………………………………………………………………………
3. EX-SENATOR MCGOVERN NO LONGER RESPONSIVE
Relatives of former Sen. George McGovern say he's "no longer responsive" at a South Dakota hospice. His daughter, Ann McGovern, said he was "nearing the end," and appeared peaceful. The 90-year-old McGovern, a liberal Democrat who lost the 1972 presidential election to Richard Nixon in a landslide, appeared at the South Dakota Symphony Orchestra's opening night performance just over a week ago, but was admitted to hospice care on Monday with a variety of ailments that had worsened recently because of his advanced age. [Associated Press]
………………………………………………………………………………
4. CHINA'S ECONOMIC DATA SOOTHES GLOBAL FEARS
Stock markets surged around the world early Thursday after fresh Chinese data boosted optimism over the state of the global economy. China's industrial output improved slightly in September, and the country's gross domestic product grew by 7.4 percent in the third quarter, which marked the slowest pace since early 2009 but still met expectations. [Reuters]
………………………………………………………………………………
5. GREEKS STRIKE, AGAIN, OVER AUSTERITY
Greek workers went on a general strike for the second time in three weeks on Thursday, grounding flights, hampering public transportation, and shutting down public services, schools, hospitals, and shops in the capital, Athens. European leaders are heading to Brussels for a summit where they'll discuss Greece's five-year recession. Unions called the 24-hour protest to urge the government not to impose the next wave of wage and pension cuts required to secure a bailout aiming to rescue Greece from bankruptcy. [Associated Press]
………………………………………………………………………………
6. NEWSWEEK TO END ITS PRINT EDITION
After nearly 80 years in print, Newsweek says it's shutting down its print edition and going all digital at the end of the year. The news magazine has been struggling to retain readers and advertisers as media shift online, and the tough economy made the task harder. Newsweek and The Daily Beast website announced they were merging in 2010, and editor Tina Brown said the business had simply reached a "tipping point" where the most efficient and effective way to reach readers was by going all-digital. "We are transitioning Newsweek," she said, "not saying goodbye to it." [Los Angeles Times]
………………………………………………………………………………
7. WARNER BROS. WINS SUPERMAN CASE
Warner Bros., which owns DC Comics, has won a case against the heirs of Joe Shuster, the artist responsible for Superman, that will allow the company to retain all rights to the famous Man of Steel. The superhero's creators, Shuster and Jerry Siegel, had also fought for a bigger share of Superman's earnings, and Shuster's brother and sister wanted a share of the copyrights, but Warner argued, successfully, that they had surrendered their claim years ago by accepting increased annual pension payments from DC Comics. [BBC News]
………………………………………………………………………………
8. IRAN AND TURKEY JOIN CALLS FOR SYRIA PEACE
In a rare moment of agreement, Iran has joined Turkey in declaring support for a new cease-fire proposal in Syria. Lakhdar Brahimi, who replaced Kofi Annan as the United Nations-Arab League special envoy, is pushing a temporary halt to the fighting as an initial small step toward resolving the conflict. The 19 months of clashes between the Syrian government and the opposition have left more than 20,000 dead, and the fighting threatens to spill over the country's borders, drawing in Turkey and other neighbors, Brahimi warns. [New York Times]
………………………………………………………………………………
9. KUTCHER RAKES IT IN
Ashton Kutcher has become the highest paid TV actor, according to Forbes. Kutcher, who took over the lead role on CBS' Two and a Half Men vacated by the volatile Charlie Sheen last year, earned an estimated $24 million between May 2011 and May 2012. Sheen, who was No. 1 last year with $40 million, dropped off the list completely. [Forbes]
………………………………………………………………………………
10. WOMEN HOLD VIGIL FOR GIRL SHOT BY TALIBAN
Women are gathering in the U.K. on Thursday to hold a vigil for Malala Yousafzai, the 14-year-old Pakistani schoolgirl shot in the head by the Taliban this month. Malala was flown to the U.K. from Pakistan, and is being treated in a hospital in the city of Birmingham that specializes in caring for soldiers who have sustained battlefield injuries in Afghanistan. Taliban gunmen reportedly boarded a school bus and targeted Malala because she had campaigned for better education for girls and criticized the Islamist militant group. [Telegraph]

Continue reading for free
We hope you're enjoying The Week's refreshingly open-minded journalism.
Subscribed to The Week? Register your account with the same email as your subscription.