10 things you need to know today: September 28, 2012
Romney lowers debate expectations, Netanyahu draws "red line" for Iran, and more in our roundup of the stories that are making news and driving opinion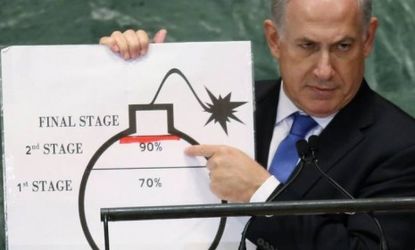 (Image credit: Mario Tama/Getty Images)
Sign up to our 10 Things You Need to Know Today newsletter
A free daily digest of the biggest news stories of the day - and the best features from our website
Thank you for signing up to TheWeek. You will receive a verification email shortly.
There was a problem. Please refresh the page and try again.
1. ROMNEY, OBAMA CAMPS LOWER DEBATE EXPECTATIONS
With five days left before the first presidential debate, the campaigns for Mitt Romney and President Obama are trying to lower expectations. Romney's senior adviser Beth Myers sent a memo to surrogates on Thursday, writing that President Obama will use his "ample rhetorical gifts" to attack Romney. She continued, "This will be the eighth one-on-one presidential debate of his political career. For Mitt Romney, it will be his first." Team Obama also tried to lower expectations by praising Romney as "quick, polished, and ready with a punchy attack." The debate will take place Oct. 3 at the University of Denver. [ABC News]
………………………………………………………………………………
Subscribe to The Week
Escape your echo chamber. Get the facts behind the news, plus analysis from multiple perspectives.
SUBSCRIBE & SAVE
Sign up for The Week's Free Newsletters
From our morning news briefing to a weekly Good News Newsletter, get the best of The Week delivered directly to your inbox.
From our morning news briefing to a weekly Good News Newsletter, get the best of The Week delivered directly to your inbox.
2. NETANYAHU DRAWS 'RED LINE' ON IRAN
Israeli Prime Minister Benjamin Netanyahu argued Thursday before the U.N. General Assembly that the world has until next summer, tops, to stop Iran before it can build a nuclear bomb. Netanyahu held up a cartoon-like bomb and literally drew a red line across what he said was a threshold Iran was approaching. The U.S., meanwhile, wants to give diplomacy and sanctions more time. [Associated Press]
………………………………………………………………………………
3. ATTACK ON LIBYA TIED TO AL QAEDA
It's official: The deadly attack on the U.S. consulate in Libya earlier this month involved militants tied to al Qaeda. U.S. intelligence operatives said two or three fighters from the terrorist group carried out the assault. But one official said the connection was "not so direct" that you could say the terrorist group planned and executed the entire attack. They also don't believe that the siege intentionally occurred on Sept. 11. An Obama administration official said that the timing of the attack was influenced by riots over an anti-Islam video. [Washington Post]
………………………………………………………………………………
4. MINNEAPOLIS OFFICE SHOOTING LEAVES FIVE DEAD
A gunman in Minneapolis opened fire inside a sign-making company, killing five people, including himself, and wounding four others, officials said Friday. Police would not identify the gunman or those who were killed or wounded at Accent Signage Systems. Heather Buckingham, a former employee who lives near the company, told a local television station that the gunman worked at Accent and had been laid off Thursday. [NBC News]
………………………………………………………………………………
5. JUDGE JAILS INNOCENCE OF MUSLIMS FILMMAKER
The filmmaker behind the anti-Islam video that catalyzed deadly protests across the globe has been jailed by a federal judge for violating his probation stemming from a 2010 check fraud conviction. Magistrate Judge Suzanne H. Segal ordered Nakoula Basseley Nakoula to be taken into custody in Los Angeles, citing a "lengthy pattern of deception." She added that he poses "some danger to the community." Nakoula, who could face up to three years behind bars, has a criminal rap sheet that also includes a narcotics conviction. [Los Angeles Times]
………………………………………………………………………………
6. AKIN: MY OPPONENT IS NOT 'LADYLIKE'
Struggling Missouri Senate candidate Todd Akin is coming under the microscope again, this time for calling Democratic opponent Claire McCaskill unladylike. The Republican, already criticized for his puzzling statement about "legitimate rape," made the latest controversial remarks following a debate between the two candidates. "I think we have a very clear path to victory, and apparently Claire McCaskill thinks we do, too, because she was very aggressive at the debate, which was quite different than it was when she ran against Jim Talent," Akin said. "She had a confidence and was much more ladylike (in 2006), but in the debate on Friday she came out swinging, and I think that's because she feels threatened," he added. [Kansas City Star]
………………………………………………………………………………
7. PLANE CRASH IN NEPAL LEAVES 19 DEAD
Nineteen people were killed after a plane, heading for the Everest region, burst into flames and crashed, officials said Friday. The aircraft started to fall shortly after taking off from the Nepalese capital of Katmandu. All 19 people on board, including three crew members, died. The cause of the crash is not immediately clear. The aircraft was being operated by Sita Air. [CNN]
………………………………………………………………………………
8. MARS ROVER FINDS EVIDENCE OF WATER
There's new hope for life on Mars. On Thursday, scientists revealed images that NASA's Curiosity rover took, showing what looks like an ancient gravel stream bed. One of the slabs appears to be made of gravel cemented together by water that once ran freely on the Red Planet. Scientist William Dietrich of the University of California-Berkeley said the water seemed to be moving about three feet every second, "with a depth somewhere between ankle and hip deep." [USA Today]
………………………………………………………………………………
9. SOROS GIVES $1 MILLION TO OBAMA SUPER PAC
Billionaire philanthropist George Soros is opening up his wallet and giving $1 million to a super PAC backing President Obama. This is Soros' first donation to Priorities USA Action, although he gave $2 million to two Democratic groups in May. Many rich Democrats, including Soros, have been wary of contributing money to super PACs, which can raise and spend unlimited funds to influence elections. [CBS News]
………………………………………………………………………………
10. SONS OF ANARCHY ACTOR DIES RUNNING FROM COPS
Officials believe Sons of Anarchy actor Johnny Lewis murdered his elderly landlord in Los Angeles before falling to his death as he tried to flee cops. Police said 81-year-old Katherine Davis died by "blunt head trauma and strangulation." It's not clear what caused the bloody rampage by the 28-year-old, but police say drugs may have been involved. Lewis' acting resume includes appearances on The O.C. and Criminal Minds. [Los Angeles Times]
Continue reading for free
We hope you're enjoying The Week's refreshingly open-minded journalism.
Subscribed to The Week? Register your account with the same email as your subscription.
Sign up to our 10 Things You Need to Know Today newsletter
A free daily digest of the biggest news stories of the day - and the best features from our website