10 things you need to know today: September 20, 2012
Mitt Romney touts the "100 percent," a Fast and Furious probe clears Eric Holder, and more in our roundup of the stories that are making news and driving opinion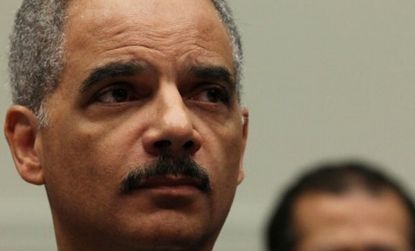 (Image credit: Getty)
1. MITT ROMNEY: MY CAMPAIGN IS FOR THE 100 PERCENT
Mitt Romney continued damage control in the wake of Mother Jones dropping a bombshell video in which Romney tells wealthy donors that 47 percent of Americans who pay no federal income taxes think they are "victims," and that he won't even bother trying to win them over. During a forum with Latino voters hosted by Univision, the White House hopeful insisted Wednesday night that his "campaign is about 100 percent of Americans" and about "helping people who need help." He used the phrase "100 percent" four times. [Washington Post]
………………………………………………………………………………
Subscribe to The Week
Escape your echo chamber. Get the facts behind the news, plus analysis from multiple perspectives.
SUBSCRIBE & SAVE
Sign up for The Week's Free Newsletters
From our morning news briefing to a weekly Good News Newsletter, get the best of The Week delivered directly to your inbox.
From our morning news briefing to a weekly Good News Newsletter, get the best of The Week delivered directly to your inbox.
2. FAST AND FURIOUS PROBE CLEARS HOLDER
The U.S. Justice Department's inspector general released a report Wednesday following a 19-month investigation into the Operation Fast and Furious scandal. It found no proof that the department's top leaders, including Attorney General Eric Holder, knew of the botched effort to trace the flow of thousands of guns to Mexico's drug cartel before it was made public in January 2011. Republicans have repeatedly argued that Holder was to blame. In the much-anticipated, 471-page report on the program started by President George W. Bush, 14 current federal employees were singled out and could face disciplinary action. [New York Times]
………………………………………………………………………………
3. FRANCE TO CLOSE EMBASSIES OVER CARTOONS
France will close its embassies and schools in at least 20 countries on Friday after a Parisian magazine, Charlie Hebdo, published cartoons mocking the Prophet Muhammad. The decision to run the cartoons comes amid bloody protests in the Muslim world after a filmmaker in the U.S. made an anti-Islam video painting Muhammad as a pedophile, a womanizer, and a fraud. The magazine is arguing it has a right to free speech. [Telegraph]
………………………………………………………………………………
4. OFFICIAL: ATTACK ON U.S CONSULATE WAS TERRORISM
A top U.S. counterterrorism official told Congress on Wednesday that the assault on the U.S. consulate in Benghazi last week, which left four Americans dead, was a "terrorist attack" with a possible al Qaeda connection. Whether perpetrators planned in advance to attack on Sept. 11 is still being probed, said Matthew Olsen, director of the National Counterterrorism Center. Democrats and Republicans have been disputing whether the siege was premeditated. [Reuters]
………………………………………………………………………………
5. GINSBURG: COURT TO HEAR GAY-MARRIAGE CASE
Supreme Court Justice Ruth Bader Ginsburg said Wednesday that the court will likely make a ruling on the Defense of Marriage Act — which defines marriage between a man and a woman — sometime next year. Ginsburg was asked by a student about the Constitution's equal-protection clause during an appearance at the University of Boulder Colorado, and if the Supreme Court would consider applying it to sexual orientation. The justice said she couldn't go into detail but said DOMA would "most likely" come before the court in 2013. [Associated Press]
………………………………………………………………………………
6. ARCTIC ICE SHRINKS TO NEW ALL-TIME LOW
The amount of sea ice in the Arctic Ocean has fallen to a new record low, the latest evidence that global warming is intensifying. The National Snow and Ice Data Center said the ice cap has melted to 1.32 million square miles as of Sept. 16. That's significantly less than the 1.58 million square miles recorded on Aug. 26. "We are now in uncharted territory," NSIDC director Mark Serreze said Wednesday. [AFP]
………………………………………………………………………………
7. STEVENS WORRIED HE WAS ON AL QAEDA HIT LIST
Christopher Stevens, the U.S. Ambassador to Libya who died during an attack on the consulate in Benghazi, said before his death that he was on an al Qaeda hit list. According to CNN, a "source familiar with his thinking" said Stevens worried about the growing threat of terrorist groups in Libya and mentioned he was on a "hit list." The report comes as American intelligence officials probe whether or not the attack was premeditated. [CNN]
………………………………………………………………………………
8. RICHEST AMERICANS' NET WORTH JUMPS 13 PERCENT
The rich are getting richer. The net worth of the wealthiest 400 Americans grew 13 percent in the past year to $1.7 trillion, according to Forbes magazine. The average net worth of a Forbes 400 member is a whopping $4.2 billion, up from $3.8 billion from the year before. The lowest net worth came in at $1.1 billion. The annual list is made up of familiar names, including Bill Gates, Warren Buffett, and the Koch brothers. [Forbes]
………………………………………………………………………………
9. CHICK-FIL-A TO STOP FUNDING ANTI-GAY GROUPS
Fast-food giant Chick-fil-A has promised to stop giving money to anti-gay groups and to not engage in political and social debates, according to a Chicago rights lobby. The about-face comes just two months after the company's president expressed his opposition to same-sex marriage, sparking demonstrations across the country. Chick-fil-A also repeated a stated policy to treat its employees equally. [Los Angeles Times]
………………………………………………………………………………
10. INNOCENCE OF MUSLIMS ACTRESS SUES
An actress in the controversial anti-Islam film Innocence of Muslims — which sparked deadly protests across the world — is suing filmmaker Nakoula Basseley Nakoula. Cindy Lee Garcia claims her voice was dubbed in the film and that she was unaware of the anti-Muslim content in it. Garcia also plans to seek an injunction Thursday against the 14-minute YouTube trailer and ask that it be taken down. YouTube has so far denied requests to remove the film. [Associated Press]

Continue reading for free
We hope you're enjoying The Week's refreshingly open-minded journalism.
Subscribed to The Week? Register your account with the same email as your subscription.