10 things you need to know today: September 19, 2012
Chicago teachers end their strike, a French magazine runs cartoons mocking Islam, and more in our roundup of the stories that are making news and driving opinion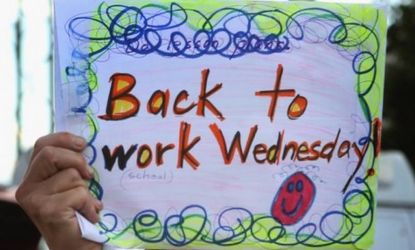 (Image credit: Scott Olson/Getty Images)
Sign up to our 10 Things You Need to Know Today newsletter
A free daily digest of the biggest news stories of the day - and the best features from our website
Thank you for signing up to TheWeek. You will receive a verification email shortly.
There was a problem. Please refresh the page and try again.
1. CHICAGO TEACHERS END STRIKE
It's back to school for the 350,000 kids in Chicago's school district. Teachers union delegates voted Tuesday night to suspend their strike after discussing a proposed deal. Union reps said the contract wasn't perfect but included enough concessions on teacher evaluations and rights for laid-off teachers. The union plans to vote on the contract in the coming weeks. Mayor Rahm Emanuel praised the decision that ended the seven-day strike, calling it an "honest compromise." [Chicago Tribune]
………………………………………………………………………………
Subscribe to The Week
Escape your echo chamber. Get the facts behind the news, plus analysis from multiple perspectives.
SUBSCRIBE & SAVE
Sign up for The Week's Free Newsletters
From our morning news briefing to a weekly Good News Newsletter, get the best of The Week delivered directly to your inbox.
From our morning news briefing to a weekly Good News Newsletter, get the best of The Week delivered directly to your inbox.
2. CROWD ATTACKS U.S. AMBASSADOR IN BEIJING
Anti-Japan protesters, expressing outrage over a territorial dispute, attacked a car carrying the U.S. ambassador to China in Beijing. About 50 demonstrators surrounded Ambassador Gary Locke's vehicle as he tried to enter the embassy on Tuesday. Locke was not hurt, and the protesters were eventually removed by Chinese security. The violence follows on the heels of attacks on U.S. embassies in Libya, Yemen, and Egypt. [Associated Press]
………………………………………………………………………………
3. FRENCH MAG RUNS MOHAMMED CARTOONS
French authorities are beefing up security at home and abroad after the satirical weekly Charlie Hebdo published cartoons mocking the Prophet Mohammed. The decision to run the cartoons comes amid bloody protests in the Muslim world after a filmmaker in the U.S. made an anti-Islam video painting Mohammed as a pedophile, a womanizer, and a fraud. The magazine's front cover depicts an Orthodox Jew pushing a turban-clad man in a wheelchair and saying "You mustn't mock" under the headline "Untouchable 2," a reference to a popular French film about a paralyzed wealthy white man and his black assistant. [Reuters]
………………………………………………………………………………
4. ROMNEY DEFENDS 47 PERCENT REMARK
Mitt Romney went into damage-control mode on Tuesday following the release of secretly recorded footage in which the Republican dismisses 47 percent of Americans as government-dependent "victims" who will vote for President Obama no matter what. The White House hopeful appeared on Fox News and insisted he wasn't writing off any group of voters and was merely offering his analysis of a divided electorate. He added that Democrats "believe you have to take from some and give to others." [New York Times]
………………………………………………………………………………
5. OBAMA SKEWERS ROMNEY ON LETTERMAN
President Obama made an appearance on Late Show With David Letterman on Tuesday night, and made his first remarks since recordings surfaced of Mitt Romney painting nearly half of the U.S. electorate as freeloaders. "There are not a lot of people out there who think they're victims," Obama told Letterman. "There are not a lot of people who think they're entitled to something... One of the things I've learned as president is you represent the entire country." Obama suggested that Romney was "writing off a big chunk" of the U.S. [Wall Street Journal]
………………………………………………………………………………
6. SYRIAN REBELS TAKE CONTROL OF BORDER CROSSING
Syrian rebels seized control of a border crossing with Turkey on Wednesday, tearing down the Syrian flag and sending a stream of ecstatic people into the neighboring country. It is not clear if the rebels, who want to overthrow Syrian President Bashar al-Assad, took control of the entire Tel Abyad border gate — which would help the rebels bring supplies into Syria — and it's possible Assad could send military reinforcements to retake the territory. [Associated Press]
………………………………………………………………………………
7. IPHONE 5 DELIVERY PUSHED BACK
If you want an iPhone 5, you're going to have to wait. Demand for the new Apple product has been so high that the company is estimating the phones won't ship for three to four weeks. Apple announced yesterday that it sold more than 2 million iPhone 5 units within the first 24 hours the product went on sale for pre-order, more than doubling the units of the iPhone 4S sold in the same time period last year. [CNET]
………………………………………………………………………………
8. BY 2030, 44 PERCENT OF AMERICANS WILL BE OBESE
America is fat and getting fatter. According to a new report by Trust for America's Health, every state will have rates of obesity above 44 percent by 2030. Mississippi was crowned the fattest state in America, and its obesity rate is expected to nearly double, from 35 percent to 67 percent, by 2030. The country's thinnest state is Colorado, where about one fifth of residents are obese. But by 2030, even the Rocky Mountain State's obesity rate is expected to balloon to 45 percent. [Associated Press]
………………………………………………………………………………
9. STEWART, O'REILLY TO SQUARE OFF
The Obama-Romney debates won't be the only big face-offs this October. Conservative Fox News host Bill O'Reilly will square off with Comedy Central's Jon Stewart for a special 90-minute debate about the 2012 presidential race. The event, "The Rumble in the Air-Conditioned Auditorium" will be streamed online from Washington, D.C.'s George Washington University on Oct. 6, just three days after the first presidential debate. [Associated Press]
………………………………………………………………………………
10. OBAMA: JAY-Z AND I ARE ALIKE
President Obama attended a glitzy fundraiser hosted by hip-hop power couple Jay-Z and Beyonce at the 40/40 club in New York City on Tuesday, where attendees forked over $40,000 a plate. Obama praised his hosts, saying "Beyonce could not be a better role model for my girls," and told Jay-Z, "We both have daughters, and our wives are more popular than we are." Obama also made a rare reference to being the first African-American president of the United States. "We've made history in the past and we're going to make history in the next seven weeks," he said. [Politico]
Continue reading for free
We hope you're enjoying The Week's refreshingly open-minded journalism.
Subscribed to The Week? Register your account with the same email as your subscription.
Sign up to our 10 Things You Need to Know Today newsletter
A free daily digest of the biggest news stories of the day - and the best features from our website