10 things you need to know today: August 25, 2012
Romney cracks a birther joke, Apple wins a major patent lawsuit, and more in our roundup of the stories that are making the news and driving opinion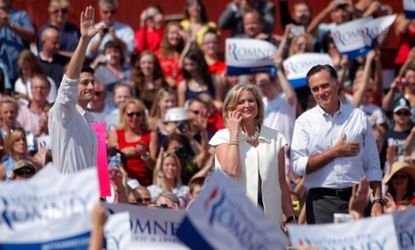 (Image credit: Bill Pugliano/Getty Images)
Sign up to our 10 Things You Need to Know Today newsletter
A free daily digest of the biggest news stories of the day - and the best features from our website
Thank you for signing up to TheWeek. You will receive a verification email shortly.
There was a problem. Please refresh the page and try again.
1. APPLE WINS PATENT LAWSUIT AGAINST SAMSUNG
On Friday, Apple won its closely watched patent case against Samsung, with a jury ordering Samsung to pay $1 billion in damages for copying Apple's products. In what has been described as the patent trial of the century, Apple charged that the South Korean company had copied design features of the iPhone to make its own popular line of smartphones, which use Google's Android operating system. The verdict is expected to reverberate throughout the tech world, solidifying Apple's ownership of a smartphone design that has become something of an industry standard. In a further blow to Samsung, the jury rejected a counter-suit that accused Apple of robbing Samsung's patents. [New York Times]
………………………………………………………………………………
Subscribe to The Week
Escape your echo chamber. Get the facts behind the news, plus analysis from multiple perspectives.
SUBSCRIBE & SAVE
Sign up for The Week's Free Newsletters
From our morning news briefing to a weekly Good News Newsletter, get the best of The Week delivered directly to your inbox.
From our morning news briefing to a weekly Good News Newsletter, get the best of The Week delivered directly to your inbox.
2. ROMNEY CRACKS BIRTHER JOKE
In his home state of Michigan on Friday, GOP presidential hopeful Mitt Romney delighted a crowd with a less-than-subtle reference to the discredited birther movement, which incorrectly insists that President Obama was not born in the United States. "Now I love being home," Romney said after introducing his wife, "in this place where Ann and I were raised, where both of us were born. Ann was born at Henry Ford Hospital. I was born at Harper Hospital. No one's ever asked to see my birth certificate — they know that this is the place where we were born and raised." The crowd cheered. [Talking Points Memo]
………………………………………………………………………………
3. PEER: ALLEGED AURORA SHOOTER MADE PAST THREATS
A new document released by the prosecution in the case against James Holmes, the man who allegedly shot and killed 12 people and wounded 58 others during a midnight screening of The Dark Knight Rises, shows that Holmes told a classmate in March that he wanted to kill people and that he would do so "when his life was over." The document also portrays Holmes as a Ph.D student frustrated with his cratering academic career — he failed an important exam in early June and was forced to withdraw from the school soon after. Prosecutors believe the details of Holmes' life are "extremely important" to the case, and have asked a judge to subpoena the school's records. [Reuters]
………………………………………………………………………………
4. TWO DIE IN SHOOTINGS NEAR EMPIRE STATE BUILDING
The perpetrator of Friday morning's deadly shooting near the Empire State Building was 58-year-old Jeffrey Johnson, a disgruntled former employee of Hazan Imports, according to New York City Mayor Michael Bloomberg and Police Commissioner Ray Kelly. Up until a year ago, when he was laid off, Johnson had worked at the company as a designer of women's accessories. Kelly said the gunman approached his former manager in front of the company's office building adjacent to the Empire State Building on Friday morning and shot the 41-year-old man in the head. The victim died at the scene. When Johnson was pursued by police, he turned his gun on them, and was then shot and killed by NYPD officers. Nine other people were wounded during the exchange of fire, some of whom may have accidentally been shot by police. [The New York Times]
………………………………………………………………………………
5. STOCKS SOAR ON STIMULUS HOPES
The Dow Jones Industrial Average on Friday rose 100.51 points, or 0.8 percent, to close at 13,157.97, marking its first three-digit gain in three weeks. Stocks were buoyed by hopes that the Federal Reserve would soon launch a new round of stimulus to boost the lackluster economy, after Fed Chairman Ben Bernanke, in a letter to Rep. Darrell Issa (R-Calif.), said there is still room in the economy for the central bank to inject more money. The minutes from the Fed's latest interest-rate meeting were released this week, which showed that many members of the Fed's policy-making committee were prepared to take more action soon if the economic recovery did not gain momentum. [The Wall Street Journal]
………………………………………………………………………………
6. SYRIAN REFUGEES FLOOD NEARBY COUNTRIES
The office of the United Nations High Commissioner for Refugees said on Friday that more than 200,000 Syrian refugees had registered in Iraq, Lebanon, Jordan, and Turkey, with 30,000 new arrivals tallied in the past week alone. The alarming new acceleration in the flow of refugees out of Syria comes as the Syrian military pounds several suspected rebel enclaves, including one in Damascus. [The New York Times]
………………………………………………………………………………
7. TEXAS OFFICIALS: BUG BITES DON'T WARRANT 911 CALL
As a West Nile outbreak threatens to become the worst ever in the United States, residents of Texas have been told not to call 911 to report bites from mosquitos, which carry the disease. Hundreds of cases of infections have been reported in Texas, as well as at least 11 deaths in north Texas. "We understand peoples' concerns regarding the West Nile Virus, but in the absence of any symptoms of West Nile, a simple mosquito bite is really not a reason for someone to call 911," said Matt Zavadsky, public affairs director for MedStar Emergency Medical Services, a provider of ambulance services in Fort Worth. [CBS DFW]
………………………………………………………………………………
8. TONY SCOTT'S SUICIDE NOTE LEAVES FEW CLUES
A suicide note that director Tony Scott left behind before jumping to his death from a Los Angeles bridge earlier this week provided no clues to a motive or a mention of health problems. A memorial service will be held for Scott, the younger brother of director Ridley Scott, on Saturday. Scott, whose own directorial credits include Top Gun, Man on Fire, and Enemy of the State, had just completed shooting a new movie called Out of the Furnace. [Los Angeles Times]
………………………………………………………………………………
9. STUDY TRACES ORIGIN OF INDO-EUROPEAN LANGUAGES
In a new report in the journal Science, an international research team says it has determined that Indo-European languages originated in Anatolia, a southwestern Asian peninsula that is now part of Turkey, between 8,000 and 9,500 years ago, and were carried, at least in part, by the spread of agriculture. The subject has long been debated, with other scholars still contending that Indo-European languages originated north of the Caspian and Black seas 6,000 years ago. To come to the latest conclusion, the researchers compared what are known as cognates, or words in different languages with the same origin. For instance, the English "mother" and the Spanish "madre" are cognates. [Christian Science Monitor]
………………………………………………………………………………
10. WHITE HOUSE COULD RELEASE BEER RECIPE
After a user of the website Reddit submitted a Freedom of Information Act request for the White House's Honey Ale beer recipe, and a subsequent petition was posted to the White House "We the People" website, press secretary Jay Carney tweeted that the White House would release the recipe if the number of signatures on the petition reached the required threshold of 25,000. The petition will be kept open until Sept. 17. [Huffington Post]
Continue reading for free
We hope you're enjoying The Week's refreshingly open-minded journalism.
Subscribed to The Week? Register your account with the same email as your subscription.
Sign up to our 10 Things You Need to Know Today newsletter
A free daily digest of the biggest news stories of the day - and the best features from our website