10 things you need to know today: August 15, 2012
Obama's immigration initiative takes effect, insurgents kill dozens of Afghan civilians, and more in our roundup of the stories that are making news and driving opinion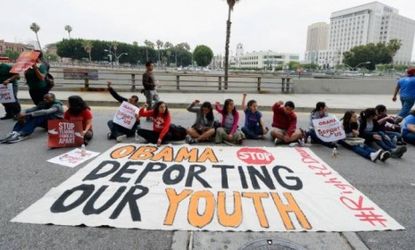 (Image credit: Kevork Djansezian/Getty Images)
1. IMMIGRATION OFFICES BRACE FOR A RUSH
Immigration authorities are expecting a flood of applications starting Wednesday, as 1.2 million young illegal immigrants who arrived in the U.S. as children become eligible to apply to stay and work here under an initiative put forth by President Obama. Advocacy groups plan celebrations to mark what they say is a humanitarian no-brainer, while Republican critics deride the move as a backdoor offer of amnesty and a naked ploy for Hispanic votes. Both sides say the government should expect an expensive mountain of paperwork. [Los Angeles Times]
………………………………………………………………………………
Subscribe to The Week
Escape your echo chamber. Get the facts behind the news, plus analysis from multiple perspectives.
SUBSCRIBE & SAVE
Sign up for The Week's Free Newsletters
From our morning news briefing to a weekly Good News Newsletter, get the best of The Week delivered directly to your inbox.
From our morning news briefing to a weekly Good News Newsletter, get the best of The Week delivered directly to your inbox.
2. AFGHAN SUICIDE ATTACKS KILL DOZENS
Forty-three Afghans were killed in a string of shootings and bombings across the country on Tuesday, as Muslims were preparing for the Eid al-Fitr holiday marking the end of Ramadan this weekend. It was the deadliest day for civilians this year, marking an escalation of a campaign by Taliban insurgents to destabilize Afghanistan as the U.S. and NATO prepare to withdraw most foreign troops and hand over security control to Afghans in 2014. President Hamid Karzai, traveling in Saudi Arabia, condemned the attacks, saying, "The terrorists are so desperate and abject that they kill our innocent Muslims in the holy month of Ramadan." [New York Times]
………………………………………………………………………………
3. BOMB EXPLODES NEAR U.N. HOTEL IN SYRIA
A bomb planted on a fuel truck exploded near a hotel used by United Nations monitors in Syria on Wednesday, wounding three people. Nobody from the U.N. was hurt. The Free Syrian Army reportedly claimed responsibility for the attack, saying its target was a meeting between military officers and members of the pro-government shabiha militia at a military installation next to the hotel. [VOA, Times of India]
………………………………………………………………………………
4. BRITISH BANK SETTLES IRAN CASE
Standard Chartered agreed to pay $340 million to settle charges by New York financial regulators that the British bank had conspired with Iran's government to launder billions of dollars in violation of U.S. sanctions on Tehran. The bank denied the specific charges, but the settlement includes two years of government monitoring of Standard Chartered's New York branches and a permanent internal auditor for its overseas transactions. [Associated Press]
………………………………………………………………………………
5. U.S. ACCUSES IRAN OF TRAINING SYRIAN MILITIA
Defense Secretary Leon Panetta is accusing Iran of training a militia to help Syrian President Bashar al-Assad fight off rebel forces. Syria's military, weary after 18 months of clashes, at first with protesters and now with a strengthening armed opposition, has been losing ground recently. At a Pentagon news conference on Tuesday, Panetta said Iran's support for Assad will only add to the killing and "bolster a regime that we think ultimately is going to come down." [Associated Press]
………………………………………………………………………………
6. WELCOME BACK, KOTTER'S HORSHACK DIES
Ron Palillo, the actor who played iconic TV nerd Arnold Horshack on the '70s sitcom Welcome Back, Kotter, died Tuesday of an apparent heart attack. He was 63. Decades after Kotter went off the air, Palillo said the role made it hard for him to land parts. "Everybody thought of me as Arnold Horshack," he said in a 1997 interview. "I resented Horshack for so many years." Palillo later had supporting roles on several TV series and plays, and wrote a musical. For the last three years, he taught drama at a Florida charter high school. [New York Times]
………………………………………………………………………………
7. GREECE ASKS FOR MORE TIME ON AUSTERITY
The Greek government plans to request a two-year extension on the austerity program aimed at shoring up its creditworthiness in exchange for bailout money. Greece, now in its fifth year of recession, has to come up with $14 billion in additional spending cuts by 2014, but now wants to spread the cuts over four years, to 2016, according to a document obtained by the Financial Times. The financial upheaval, including job losses, pension cuts, and elimination of government services, is taking a toll, as Greece and other countries across Europe report thousands of "economic suicides" over the last year. [Financial Times, Washington Post]
………………………………………………………………………………
8. MCMAHON GETS ANOTHER SHOT AT THE SENATE
Former professional wrestling executive Linda McMahon, who lost a U.S. Senate race against Democrat Richard Blumenthal in 2010, easily won Connecticut's Republican primary on Tuesday, winning the nomination to face Rep. Christopher S. Murphy, a Democrat, in the November election for the seat being vacated by Sen. Joseph Lieberman. McMahon painted her primary rival, former Rep. Christopher Shays, as a career politician who helped create the mess in Washington. Shays, who was outspent by nearly 12 to 1, said McMahon's millions "trumped the experience we bring to the table." [New York Times]
………………………………………………………………………………
9. CHELSEA CLINTON: I'D CONSIDER RUNNING FOR OFFICE
Former First Daughter Chelsea Clinton says in the September issue of Vogue that she isn't ruling out following in her father and mother's footsteps, and making a run for elected office. Before her mom, U.S. Secretary of State Hillary Clinton, made her bid for the Democratic presidential nomination, Chelsea Clinton says, she never imagined going into politics. "Her life is a testament to the principle that there are many ways to serve," the younger Clinton says. So now she, too, would consider taking the plunge if "it was something I felt called to do." [Politico, Vogue]
………………………………………………………………………………
10. JAPAN ARRESTS CHINESE ACTIVISTS
Tensions between Japan and China escalated on Wednesday, the 67th anniversary of the end of World War II, as Japan arrested five Chinese activists who landed on a South China Sea island claimed by both countries. The disputed chain of isles, known as the Senkaku in Japan and the Diaoyu in China, is uninhabited, but close to potentially useful gas deposits. [Reuters]

Continue reading for free
We hope you're enjoying The Week's refreshingly open-minded journalism.
Subscribed to The Week? Register your account with the same email as your subscription.