The Supreme Court's ruling on TV profanity: The fallout
The justices unanimously throw out fines for fleeting flashes of nudity and expletives on broadcast shows. Will an onslaught of flesh and foul language follow?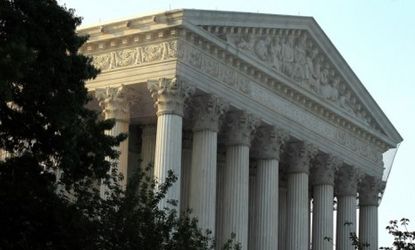 (Image credit: Alex Wong/Getty Images)
The Supreme Court on Thursday unanimously threw out fines and other penalties the Federal Communications Commission had imposed against Fox for airing isolated curse words during awards shows and ABC television stations for broadcasting a brief display of nudity during an episode of NYPD Blue. The justices said that the FCC's most recent policy did not adequately explain to networks that "a fleeting expletive or a brief shot of nudity could be actionably indecent." Does this mean viewers should brace for an avalanche of butts and F-bombs? Here, a brief guide:
What exactly did the court rule?
The justices simply said that the FCC violated due process because it hadn't warned the networks in advance that isolated instances of fleeting naughty words and nudity would be punished under the agency's rules against indecency on TV. Justice Anthony Kennedy, in a unanimous opinion, wrote that the FCC's indecency enforcement has been "vague." The court essentially told the FCC that if it wants to continue its effort to keep expletives and bare flesh off of public airwaves during hours when children are likely to be watching, it has to revise its rules to make them more rigid and clear.
Subscribe to The Week
Escape your echo chamber. Get the facts behind the news, plus analysis from multiple perspectives.
SUBSCRIBE & SAVE
Sign up for The Week's Free Newsletters
From our morning news briefing to a weekly Good News Newsletter, get the best of The Week delivered directly to your inbox.
From our morning news briefing to a weekly Good News Newsletter, get the best of The Week delivered directly to your inbox.
Why is the policy so confusing now?
For years, the FCC looked the other way when broadcasters let a single bad word slip during live telecasts. But after several celebrities, including Cher, Bono, and Nicole Ritchie, dropped F-bombs at awards shows in 2002 and 2003, the FCC decided its one-free-expletive rule wasn't tough enough. Then Janet Jackson sparked widespread outrage with her breast-revealing wardrobe malfunction during the 2004 Super Bowl halftime show on CBS. The FCC decided that even such a flash of flesh was too much. It hit CBS with a proposed $550,000 fine (a lower court has thrown it out) and started enforcing a zero-tolerance policy on indecency.
So the Supreme Court has handed the networks a victory, right?
Yes, but it's only a partial win. The networks wanted the court to say that it was unfair for the FCC to regulate decency on the airwaves at all. The last time the court ruled on the policy, broadcast TV was the only game in town. Now, they argue, viewers flip effortlessly from network shows to often far bawdier fare on satellite and cable TV, so it's unconstitutional to impose an indecency policy on the networks when everyone else has unfettered freedom of expression. So this ruling is "a victory for common sense and clear law," says Peter Suderman at Reason, "but less of a win for free speech."
What happens next?
You won't be seeing a sudden parade of cursing naked people on prime-time network shows, that's for sure. The FCC will continue to "carry out Congress' directive to protect young TV viewers," says the agency's chairman, Julius Genachowski. The FCC has a "green light" to punish the networks for any indecency it spots after it fully explains the new policy, says Tim Winter, president of the Parents Television Council. The Supreme Court had an opportunity to issue a broad ruling on the constitutionality of the FCC's indecency policy, says attorney Paul Smith, echoing the opinion of many First Amendment experts, but it "decided to punt." That means it's only a matter of time before the FCC's "vague and inconsistent" policies wind up back in court.
Sources: Associated Press, Cinema Blend, Hollywood Reporter, Reason

Continue reading for free
We hope you're enjoying The Week's refreshingly open-minded journalism.
Subscribed to The Week? Register your account with the same email as your subscription.