Highlights from the White House Correspondents' Dinner
President Obama and Jimmy Kimmel had dueling comedy routines at this weekend's gala for journalists, politicos, and A-list celebrities. Here's their best material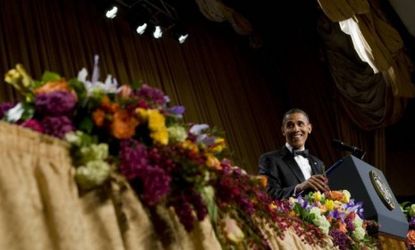 (Image credit: Kristoffer Tripplaar/CORBIS)
Sign up to our 10 Things You Need to Know Today newsletter
A free daily digest of the biggest news stories of the day - and the best features from our website
Thank you for signing up to TheWeek. You will receive a verification email shortly.
There was a problem. Please refresh the page and try again.
President Obama took his fourth turn as comedian-in-chief on Saturday night, sharing the stage with late-night host Jimmy Kimmel at the 98th annual White House Correspondents' Dinner. (Watch video highlights below) Obama and Kimmel roasted several of the journalists, celebrities, and politicians in the room — including the president himself — and a few who weren't present, most notably Obama's presumptive 2012 opponent, Mitt Romney. Here's a look at some of the evening's best zingers, quips, one-liners, and, yes, dog jokes:
OBAMA
Kimmel's jokes:
Subscribe to The Week
Escape your echo chamber. Get the facts behind the news, plus analysis from multiple perspectives.
SUBSCRIBE & SAVE
Sign up for The Week's Free Newsletters
From our morning news briefing to a weekly Good News Newsletter, get the best of The Week delivered directly to your inbox.
From our morning news briefing to a weekly Good News Newsletter, get the best of The Week delivered directly to your inbox.
"Mr. President, remember when the country rallied around you in hope of a better tomorrow? That was hilarious."
"If you told me when I was a kid I would be standing on a dais with President Barack Obama, I would have said, 'The president's name is Barack Obama?'"
"It's a thrill to be here with the president, a man who has done his best to guide us through some difficult times, and paid a heavy price for it. You know, there's a term for guys like President Obama — probably not two terms."
"I know you won't be able to laugh at my jokes about the Secret Service. Please cover your ears, if that's physically possible."
"They say diplomacy is a matter of carrot and sticks, and since Michelle Obama got to the White House — so is dinner."
"This is how you know the country's in bad shape. The president is starving. North Korea is sending him food aid."
"This is a land of liberty and justice for all. And it doesn't matter if you're black, like President Obama, or white, like President Obama, or red, like President Obama's agenda, or orange, like Speaker [John] Boehner."
Obama's jokes:
"Some have said I blame too many problems on my predecessor, but let's not forget that's a practice that was initiated by George W. Bush."
"In my first term, we passed health care reform. In my second term, I guess I'll pass it again."
WASHINGTON
Kimmel:
"If this had happened on President Clinton's watch, you can damn well bet those Secret Service agents would have been disciplined with a very serious high five."
Obama:
"Look at this party. We've got men in tuxes, women in gowns, fine wine, first-class entertainment. I was just relieved to learn this was not a GSA conference. Unbelievable, even the mind reader didn't know what they were thinking."
"Our chaperone for the evening is Jimmy Kimmel, who is perfect for the job since most of tonight's audience is in his key demographic — people who fall asleep during Nightline.'"
"Jimmy got his start years ago on The Man Show. In Washington, that's what we call a congressional hearing on contraception."
"Despite many obstacles, much has changed during my time in office. Four years ago, I was locked in a brutal primary battle with Hillary Clinton. Four years later, she won't stop drunk-texting me from Cartagena."
"I really do enjoy attending these dinners. In fact, I had a lot more material prepared, but I have to get the Secret Service home in time for their new curfew."
MITT ROMNEY AND GOP RIVALS
Kimmel:
"I talked to a guy who was a huge supporter of ObamaCare, and a guy who says it's a disaster that should be killed immediately, and it was interesting, because I'd never met Mitt Romney before."
"Mitt has trouble connecting with regular people. You can't have a beer with him, because he doesn't drink. You can't have a cup of coffee with him, because he can't have caffeine. You can't even play Monopoly with him because he keeps trying to put the dog on the car."
"Rick Santorum is out. I guess it wasn't Rick's year. Rick's year is 1954."
Obama:
"Now, I know at this point many of you were expecting me to go after my likely opponent: Newt Gingrich. Newt, there's still time, man."
"It's great to be here this evening in the vast, magnificent Hilton ballroom — or what Mitt Romney would call a little fixer-upper."
"Take Mitt Romney — he and I actually have a lot in common. We both think of our wives as our better halves, and polls show, to an alarmingly insulting extent, the American people agree. We also both have degrees from Harvard; I have one, he has two. What a snob."
"Recently his campaign criticized me for slow jamming the news with Jimmy Fallon. In fact, I understand Gov. Romney was so upset, he asked his staff if he could get some equal time on the Merv Griffin Show."
DOGS
Kimmel:
"Last week we learned that the president's favorite steaks are rib-eye and seeing-eye."
"When you go to a dog park, is it the same as when we look at a tank full of lobsters?"
Obama:
"I know everybody is predicting a nasty election, and thankfully, we've all agreed that families are off-limits. Dogs, however, are apparently fair game."
Sarah Palin guest-hosting the Today show "reminds me of an old saying — What's the difference between a hockey mom and a pit bull? A pit bull is delicious."
"My stepfather always told me, it's a boy-eats-dog world out there."
In a video parody of a super PAC: "America's dogs cannot afford four more years of Obama; that is 28 years for them."
THE PRESS
Kimmel:
"What a collection of people. Here in one room we have members of the media, politicians, corporate executives, advertisers, lobbyists, and celebrities. Everything that is wrong with America is here in this room tonight."
"What's black and white and read all over? Nothing anymore."
Obama:
"I'd be remiss if I didn't congratulate The Huffington Post on their Pulitzer Prize. You deserve it, Arianna. There's no one else out there linking to the kinds of hard-hitting journalism that HuffPo is linking to every single day."
"The White House Correspondents' Dinner is known as the prom of Washington, D.C. — a term coined by political reporters who clearly never had the chance to go to an actual prom."
Sources: AP, Christian Science Monitor, CNN, Harvard Crimson, The Hill, Los Angeles Times, Politico