The problem with Medicare
The skyrocketing cost of providing health care to senior citizens is helping to fuel the federal government's trillion-dollar deficits. Why is Medicare so expensive?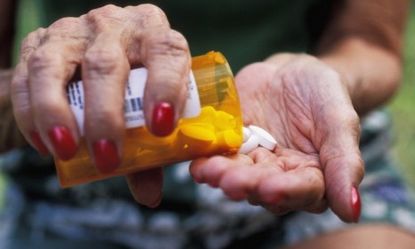 (Image credit: Mark A. Johnson/CORBIS)
How did Medicare originate?
It was a Democratic dream for decades. President Franklin Roosevelt first tried in 1934 to establish government-mandated, universal health insurance, but he never won the support of Republicans or the general public. In the 1950s, Democrats introduced a modified plan to provide health care solely for the elderly. President John Kennedy threw his weight behind that proposal in 1962, but his assassination stalled an attempt to pass a bill the following year. When President Lyndon Johnson finally got Medicare through, in 1965, he enrolled former President Harry Truman, then 81 years old, as its first beneficiary. Upon receiving his Medicare card at the bill's signing, Truman said no U.S. citizen "should ever be abandoned to the indignity of charity" or suffer "hopeless despair."
Was support widespread?
Subscribe to The Week
Escape your echo chamber. Get the facts behind the news, plus analysis from multiple perspectives.
SUBSCRIBE & SAVE
Sign up for The Week's Free Newsletters
From our morning news briefing to a weekly Good News Newsletter, get the best of The Week delivered directly to your inbox.
From our morning news briefing to a weekly Good News Newsletter, get the best of The Week delivered directly to your inbox.
Absolutely not. The health-care industry was aghast, and Republicans warned that "socialized medicine" would pave America's path to totalitarianism. Ronald Reagan, then a politically ambitious television actor, had predicted in a 1961 LP recorded for the American Medical Association that Medicare would doom Americans to spend their "sunset years" telling their children "what it once was like in America when men were free." In the end, though, some Republicans supported the 1965 bill in return for concessions that strengthened the roles of doctors and private insurance companies in the program.
What exactly does Medicare cover?
It pays for hospital care for those age 65 and over, and heavily subsidizes their doctors' services and drugs. But it is not free. Almost all seniors pay monthly premiums for some parts of Medicare, and many enroll in a supplemental insurance plan, Medigap, to help cover out-of-pocket costs. Currently, around one in eight Americans, or almost 47 million people, are enrolled in Medicare.
How much does it cost?
In 2010 the total bill came to $524 billion, or 15.2 percent of government spending. Only Social Security and national defense cost the taxpayer more. Costs are projected to grow at approximately 5.4 percent every year for the next decade, and to hit $1 trillion in the early 2020s. All American workers are required to pay 2.9 percent of their annual wages, salaries, and compensation in Medicare taxes, but these contributions cover less than half the program's cost. A 56-year-old couple today, with average earnings, will end up paying around $140,000 in Medicare taxes over their lifetimes, but can expect to receive about $430,000 in benefits.
Why is it so expensive?
Partly it's demographics: As baby boomers enter retirement and life expectancy increases, more seniors are drawing on Medicare benefits for ever-longer periods of time. And as medical care becomes more sophisticated, its costs rise: Heart patients once prescribed nitroglycerin pills, for instance, now get triple-bypass operations. But the Medicare system itself is partly to blame. Doctors and hospitals make more money the more often they see patients, prescribe expensive drugs, and perform elective procedures. So they do so, in the knowledge that Medicare will pick up the tab. On top of that, outright fraud and abuse costs Medicare $70 billion every year. Unscrupulous doctors know that because "so many claims are getting paid, there's a very good chance they're not going to get caught," said Medicare official Kim Brandt.
How does the president propose fixing Medicare?
The Affordable Care Act of 2010, known to its critics as Obamacare, starts out by cutting Medicare payments to private insurers and doctors and taxing high-income recipients. But it also aims to control costs. In some cases it would pay health-care providers an overall fee for managing specific medical conditions, rather than per-procedure fees that encourage overtreatment. The new law also establishes an Independent Payment Advisory Board, made up of experts who will monitor outcomes and authorize only the most cost-effective drugs and treatments.
And the Republicans?
Rep. Paul Ryan's plan, put forward as part of his 2012 budget proposal, would essentially replace Medicare with an annual government subsidy of up to $15,000 per person. Retirees would use their vouchers to buy one of several competing private insurance policies certified by Medicare. Because the subsidy would be limited and insurers unwilling to lose money, seniors could wind up paying far more out of their pockets—or make do with less medical care. Ryan exempts anyone now over 55 from the new program to make it more politically palatable.
What's the public's preference?
Polls show that roughly two thirds of Americans want Medicare kept just as it is; even seven out of 10 self-identified Tea Partiers oppose cuts. The status quo, however, is not an option. If Medicare spending keeps growing at the current rate, health-care costs will eat up nearly a third the U.S. economy by 2035. Unless we confront that reality, says Gregg Bloche, a physician and law professor at Georgetown University, "the costs of medical care will consume us."
The Swiss solution
Switzerland has proved that it's possible to successfully overhaul an entire country's health-care system. In 1996, the Swiss re-created their system as a public-private hybrid providing universal health care through a network of private insurers. The system provides what almost everyone agrees is high-quality care, at a cost of less than 11 percent of GDP—compared with 16 percent in the U.S. How does Switzerland do it? The country requires all its citizens to take out personal health insurance, cutting employers out of the picture. Insurers offer a range of programs, and are forbidden from excluding anyone. The government provides a health-care subsidy to help those with lower incomes buy a policy—about 40 percent of the population. But deductibles are far higher than in the U.S., providing a disincentive to pursuing unnecessary treatments. Medical fees are renegotiated every year between health-care providers and insurance firms, and must be approved by local governments. "Chronic-disease management is better here," Zurich physician Edouard Battegay told The New York Times. "If you don't treat hypertension, you treat strokes. Not treating patients is expensive."

Continue reading for free
We hope you're enjoying The Week's refreshingly open-minded journalism.
Subscribed to The Week? Register your account with the same email as your subscription.