'Don't ask, don't tell' repeal: The 4 key questions
The bid to end the controversial policy on gays in the military is back on track again — but these four factors could derail it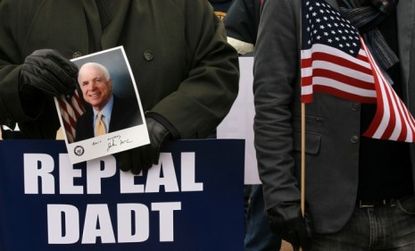 (Image credit: Getty)
Left for dead only a week ago, the effort to repeal the military's "Don't ask, don't tell" policy on gay service members now has a real shot at success. The House this week passed a stand-alone bill to start winding down DADT, and the Senate could start considering the bill on Saturday. Repeal has the backing of 77 percent of Americans, according to a new poll. Still, it isn't a sure thing. Here are the four key unknowns about the fate of this controversial policy:
1. Will Republicans Brown, Snowe, and/or Murkowski vote for repeal?
Democrats have 57 solid votes for repeal, plus Sen. Susan Collins (R-ME), who is sponsoring the bill along with Sen. Joe Lieberman (I-CT). That means at least two more Republicans have to sign on to reach the filibuster-proof 60-vote threshold. Sens. Scott Brown (R-MA), Olympia Snowe (R-ME), and Lisa Murkowski (R-AK) have all signaled their support for the stand-alone bill. None of them voted for it last week, when repeal was wrapped into a larger defense bill; will they follow through now?
Subscribe to The Week
Escape your echo chamber. Get the facts behind the news, plus analysis from multiple perspectives.
SUBSCRIBE & SAVE
Sign up for The Week's Free Newsletters
From our morning news briefing to a weekly Good News Newsletter, get the best of The Week delivered directly to your inbox.
From our morning news briefing to a weekly Good News Newsletter, get the best of The Week delivered directly to your inbox.
2. Can John McCain block it?
Sen. McCain (R-AZ) is the most vocal Senate opponent of repealing DADT. His daughter, commentator Meghan McCain, told MSNBC's Lawrence O'Donnell on Wednesday that her father "will filibuster probably." If repeal supporters can get 60 votes, a filibuster will fail, but McCain and fellow opponents could resort to other options, such as offering vote-delaying amendments or threatening to block President Obama's New START nukes treaty with Russia if DADT repeal passes. Lieberman says such tactics recall "an earlier day when people used to do things like that to stop civil rights laws from passing." But will McCain pull out all the stops? (Watch McCain express opposition to a DADT repeal)
3. Could Ron Wyden's cancer derail passage?
Sen. Wyden (D-OR) announced on Thursday that he will undergo surgery for prostate cancer starting Monday, and "will be missing votes tomorrow and possibly next week while I prepare and undergo this procedure." That threatens the already "paper-thin margins" needed to pass the DADT bill, says Brian Beutler in Talking Points Memo. Yes, 61 senators "claim" to be on board, but "a small handful of those 61 have caveats: They want tax and spending issues completely resolved before agreeing to vote for repeal." Will the loss of one "yes" vote doom the bill?
4. Will Harry Reid fight for the vote?
The biggest obstacle remaining for DADT repeal is time. If the Senate doesn't get it done in the lame-duck session, and probably before Christmas, the consensus is that the repeal effort will be dead for at least two years, because support for repeal will be weaker in the new Congress. Reid said late Thursday that the Senate would start voting on the bill on Saturday, after a procedural vote on the immigration-centered DREAM Act. An aide said that if the DREAM vote falls short, as expected, the final vote to end DADT could be on Sunday. But skeptics aren't sold. Reid vows there will be a vote, says Barbara Morrill in Daily Kos, "but we've heard that song before." Will Reid really make room in the crowded lame-duck session to repeal "Don't ask, don't tell"?

Continue reading for free
We hope you're enjoying The Week's refreshingly open-minded journalism.
Subscribed to The Week? Register your account with the same email as your subscription.