Christine O'Donnell's 'shocking' victory: The fallout
O'Donnell's win in Delaware is shaking the Republican Party nationwide — and spawning lots of awkward masturbation jokes. What else?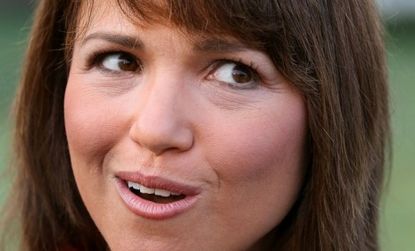 (Image credit: Getty)
Christine O'Donnell didn't just beat Rep. Mike Castle in Delaware's GOP Senate primary — as pundits have been pointing out more or less continuously since Tuesday evening, she beat the Republican "establishment," too. With the House and Senate up for grabs and leaders of both parties battling to gain traction with independent voters, how has O'Donnell's "shocking" upset affected the political big picture?
1. Democrats are now much more likely to hold onto the Senate
Had Castle prevailed over O'Donnell, says Nate Silver at FiveThirtyEight, the Republicans would have had about a 30 percent chance of winning 10 seats and gaining a majority in the Senate. But with O'Donnell as a heavy underdog to Democratic nominee Chris Coons, the calculus changes: The GOP now stands only about a 15 percent chance of doing so.
Subscribe to The Week
Escape your echo chamber. Get the facts behind the news, plus analysis from multiple perspectives.
SUBSCRIBE & SAVE
Sign up for The Week's Free Newsletters
From our morning news briefing to a weekly Good News Newsletter, get the best of The Week delivered directly to your inbox.
From our morning news briefing to a weekly Good News Newsletter, get the best of The Week delivered directly to your inbox.
2. The GOP's leadership is no longer in charge
Though "establishment" Republican have expressed concerns that O'Donnell is a lost cause politically, some Tea Party–aligned GOP lawmakers are pushing back at the idea that she's unelectable, and the Republican National Senatorial Committee — which initially suggested it would abandon the race — threw its support (and $42,000) behind her Wednesday. The GOP's "remarkable reversal" on financially backing O'Donnell, says Politico's Ben Smith, is "a vivid illustration that the base is in charge and has the leadership running scared."
3. Tea Partiers are opening up their wallets
The RNSC's $42,000 is just a drop in the bucket for O'Donnell, who says she raised more than $750,000 in the 24 hours after her win, mostly from small donors across the nation. Among her prominent financial backers are Rush Limbaugh — who urged his listeners to give generously to her campaign — and Mitt Romney, whose political action committee sent her $5,000.
4. Karl Rove is in hot water with the Right
Even as the TV networks were declaring O'Donnell the victor, Bush strategist emeritus Karl Rove was "whacking away at her" on Fox News, telling host Sean Hannity that O'Donnell's "checkered background," and the "nutty things she has been saying that just simply don't add up," made her unelectable. "This is not a race we're going to be able to win." (Watch Rove's comments.) Conservative bloggers shot back: "Rove came across as an effete sore loser," said Michelle Malkin at her blog, while blogger Dan Riehl suggested that Fox should "suspend" Rove and conservatives "proactively work to undermine Rove in whatever ways we can." O'Donnell backer Sarah Palin was more politic, telling Rove to "Buck up!"
5. Political talk shows are overrun with awkward masturbation references
As soon as O'Donnell won, liberal commentators dug up a 1996 clip from MTV's "Sex in the '90s" documentary in which O'Donnell, then a sexual-abstinence activist, outlined her opposition to masturbation. "The Bible says that lust in your heart is committing adultery," O'Donnell says. "So you can't masturbate without lust." Pundits and anchors made frequent, awkward references to it on election night. And, naturally, it presented prime fodder for the late-night talk shows:
Jay Leno: "Not only is she against politicians putting their hands in our pockets, she's against you putting your hands in your own pockets as well."
Jimmy Kimmel: "I'm not a political person... When our right to masturbate is threatened, that's where I draw the line. What goes on between me in my own bedroom, and car sometimes, is my business, not the government's."
"O'Donnell did catch one break," says Ryan Cormier in The Wilmington News Journal. "'Late Show with David Letterman' is dark this week."
6. The Bidens are (probably) "kicking themselves"
Though Democrats are generally happy about O'Donnell's long odds of winning the seat, Vice President Joe Biden and his son Beau Biden, Delaware's attorney general, are likely fielding mixed emotions. Joe Biden "badly wanted" Beau to "inherit" the Senate seat he left vacant when he was elected VP, says Steve Kornacki in Salon, but Beau got "cold feet" when Castle entered the race. Now one-time Democratic "sacrificial lamb" Chris Coons is expected to win, and at age 47, "he could be in the Senate for decades to come."

Continue reading for free
We hope you're enjoying The Week's refreshingly open-minded journalism.
Subscribed to The Week? Register your account with the same email as your subscription.