Kagan's confirmation hearing: What we learned
Elena Kagan flew through her Supreme Court confirmation hearing. It was drama-free but not (entirely) content-free...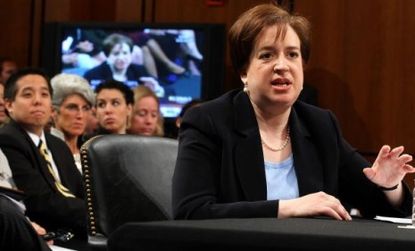 (Image credit: Getty)
Sign up to our 10 Things You Need to Know Today newsletter
A free daily digest of the biggest news stories of the day - and the best features from our website
Thank you for signing up to TheWeek. You will receive a verification email shortly.
There was a problem. Please refresh the page and try again.
There's some consensus that Solicitor General Elena Kagan did not live up to her own "Kagan Standard" for Supreme Court nominees — she "artfully dodged" many questions about her views on several key issues — but the three days of questioning by senators actually revealed quite a bit about the nominee. Here are eight of the most interesting things we learned about the woman who will almost certainly be our next Supreme Court justice:
1. She's not an "umpire," or a robot
Asked about Chief Justice John Roberts' famous confirmation quip that a Supreme Court jurist should act like an "umpire" who merely "calls balls and strikes," Kagan said the "metaphor" makes it sound like the "law is a kind of robotic enterprise." That is, she said, "especially not right at the Supreme Court level, where the hardest cases go." If she never does anything else, says Jim Newell in Gawker, Kagan deserves a medal for patiently explaining to "a group of senior national legislators" why the "Umpire Metaphor" is so asinine.
Subscribe to The Week
Escape your echo chamber. Get the facts behind the news, plus analysis from multiple perspectives.
SUBSCRIBE & SAVE
Sign up for The Week's Free Newsletters
From our morning news briefing to a weekly Good News Newsletter, get the best of The Week delivered directly to your inbox.
From our morning news briefing to a weekly Good News Newsletter, get the best of The Week delivered directly to your inbox.
2. She's not a strict constructionist
To the chagrin of conservatives, "Kagan made it clear that justices need not always bow to the intentions of the Constitution's authors," says The New York Times in an editorial. She said many of their "ideas need to be reinterpreted in light of later advancements," such as "search and seizure procedures" and libel versus free speech.
3. She won't rule out a federal "eat your vegetables" law
Sen. Tom Coburn (R-OK) asked Kagan if a law mandating that all Americans "eat three vegetables and three fruits every day" would "violate the Commerce Clause," and Kagan suggested that while such a law would be "dumb," she might defer to Congress. She's probably right, law-wise, says Slate's Dahlia Lithwick, but "Coburn scored a huge win for Fox News" by painting Kagan as a proponent of "some kind of forced-vegetablist nanny-state."
4. She subscribes to a "doctrine of humility"
In a glimpse at her purported judicial philosophy, Kagan said "the Supreme Court is a wondrous institution. But... it must also be a modest one — properly deferential to the decisions of the American people and their elected representatives." That's a welcome change from "Roberts and his precedent-trashing conservative quintet," says Nan Aron in The Huffington Post. Townhall's Ilya Shapiro disagrees, saying Kagan takes her "deference to the political branches" a little too far.
5. She may not believe people have a God-given right to gun ownership
Kagan offered Americans "no assurances that an individual's right to bear arms is a fundamental and inalienable right independent of the Constitution," warns the Heritage Foundation's Brian Walsh. Is it any wonder she "appeared baffled" at the suggestion, says Slate's Lithwick, that the right to own a handgun would be "a 'fundamental right' that was 'endowed by our creator'"?
6. She has a quick wit
"Much to the surprise of the Senate Judiciary Committee," says Stephanie Mencimer in Mother Jones, "Kagan has turned out to be very funny." Examples: To Sen. Arlen Specter's (D-PA) question on how televised hearings would affect the court, "It would mean I'd have to get my hair done more often, Sen. Specter." Where was she Christmas Day? asked Sen. Lindsey Graham (R-SC). Kagan: "Like all Jews, I was probably at a Chinese restaurant." (Watch a compilation of Kagan's funniest moments)
7. She won't take a stand on Vampire v. Werewolf
In one of the stranger questions of the hearings, Sen. Amy Klobuchar (D-MN) said she wanted to ask Kagan about her leanings regarding "the famous camp of Edward v. Jacob, or the vampire v. the werewolf," from the blockbuster "Twilight" book and movie franchise. "I wish you wouldn't," Kagan responded.
8. Oddly, she enjoys confirmation hearings
Her Senate interrogators may have been bored at times (see Sen. Al Franken (D-MN) sketching portraits), but Kagan evidently "loves this stuff," says Ann Gerhart in The Washington Post. Invited to say how trying the hearing was, Kagan replied enthusiasticallly that it's "been terrific" and "a great moment in my life."
Sources: CNN, New York Times, Townhall, Mother Jones, Slate, Heritage Foundation, Washington Post (2), Huffington Post, Gawker, Politico, Economist, CBS News, AP
Continue reading for free
We hope you're enjoying The Week's refreshingly open-minded journalism.
Subscribed to The Week? Register your account with the same email as your subscription.