Can Rand Paul revive conservative foreign policy?
For the first time in memory, a libertarian, noninterventionist conservative has triumphed over the GOP's hawkish mainstream. That's something every American should celebrate.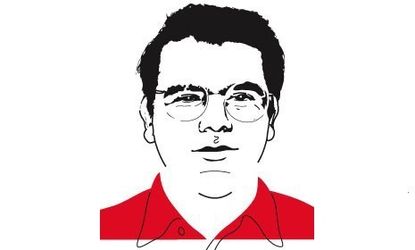 Sign up to our 10 Things You Need to Know Today newsletter
A free daily digest of the biggest news stories of the day - and the best features from our website
Thank you for signing up to TheWeek. You will receive a verification email shortly.
There was a problem. Please refresh the page and try again.
Rand Paul's victory on May 18 was a political triumph for a rare Republican candidate who supports a foreign policy of limits and restraint. Foreign policy did not decide the Republican Senate primary in Kentucky, which Rand won easily. But this is the first time in memory that a Republican champion of a non-interventionist, Jeffersonian approach to international alliances and foreign wars has won a significant victory. After a decade in which the Republican Party defined itself by its attachment to the Iraq war and to illegal detention, interrogation and surveillance policies, the resounding success of a strongly libertarian, antiwar candidate is an encouraging sign for the future of American conservatism.
That Kentucky Republicans -- angry over bailouts, government expansion and steep public debt -- were receptive to Paul's libertarian, small-government message is no surprise. But the GOP establishment was shocked to learn that Paul's foreign policy and national security positions were not deal-breakers. In his 2008 presidential run, Paul's father, Rep. Ron Paul of Texas, encountered deep hostility from Republican regulars when he criticized the war in Iraq and opposed Washington's hegemonic ambitions around the world. Just two years ago, it seemed unthinkable that Paul's admittedly radical constitutionalism and noninterventionist foreign policy could even gain a hearing in a Republican Party so strongly identified with the Bush administration. But betrayals of principle and failures of execution by that administration have made many on the right receptive to alternative views.
Paul's GOP primary opponent, Kentucky secretary of state Trey Grayson, made every effort to use Paul's foreign policy views against him. Nationally prominent hawks including former Vice President Dick Cheney and former New York Mayor Rudy Giuliani attacked Paul and sought to discredit him as "weak" and "soft" on national security. Whatever Americans may think about Paul's libertarian views on the size and scope of government, the hawks' failure to derail his campaign with national security fearmongering is something all Americans should celebrate.
Subscribe to The Week
Escape your echo chamber. Get the facts behind the news, plus analysis from multiple perspectives.
SUBSCRIBE & SAVE
Sign up for The Week's Free Newsletters
From our morning news briefing to a weekly Good News Newsletter, get the best of The Week delivered directly to your inbox.
From our morning news briefing to a weekly Good News Newsletter, get the best of The Week delivered directly to your inbox.
Paul is not as absolute as his father in criticizing U.S. power projection and anti-terrorist measures. But he remains a staunch opponent of the intrusive government powers typified by the Patriot Act and the invasion of Iraq, and he is generally skeptical of entangling and permanent alliances. On foreign policy and defense, Paul has said, "One of the enumerated powers is defense. So I believe that the defense of our country may be the primary enumerated power. Does that mean I believe in a blank check for the military? No. Does that mean I believe we have to have troops in 130 countries and 750 bases? No." If elected, Paul would arguably be the first senator since Robert Taft to represent the foreign policy tradition of the pre-war Old Right, while also projecting the antiwar spirit of the progressive Republican Sen. Robert LaFollette.
For most of the postwar period, Republican foreign policy thinking has been defined by a conservative internationalism that consistently advocates an overly ambitious American role in the world while pursuing those ambitions on the cheap. The Iraq war, especially its most disastrous phase, between late 2003 and mid-2008, was the product of a policy that envisioned sweeping regional transformation without having made any of the preparations necessary to realize that vision. Paul abhors the human losses and expense of unnecessary and prolonged conflicts, which is why he opposed invading Iraq and objects to an open-ended commitment in Afghanistan. While he remains supportive of ongoing military operations, Paul will be a reliable voice of caution and restraint in the U.S. Senate when the next war fever seizes the political class and the media.
This makes Paul an extremely unusual Republican -- and he is all the more important for being so rare. As skeptical of the transformative power of government abroad as his Tea Party backers are of its power at home, Paul is a refreshing exception to the conventional Republican attitudes on national security and war that predominate in the Tea Party. While nothing can be taken for granted so early in the general election campaign, a Rasmussen poll shows Paul leading his Democratic opponent Jack Conway 59–34. A Paul victory in November would be a seismic event in Republican foreign policy circles -- and a very welcome one at that.
Continue reading for free
We hope you're enjoying The Week's refreshingly open-minded journalism.
Subscribed to The Week? Register your account with the same email as your subscription.
Sign up to our 10 Things You Need to Know Today newsletter
A free daily digest of the biggest news stories of the day - and the best features from our website
Daniel Larison has a Ph.D. in history and is a contributing editor at The American Conservative. He also writes on the blog Eunomia.