The 6 most vicious political attack ads of 2010 (so far)
Porn peddler? Organ harvester? Conspiracy theorist? The mud slinging has already begun in this year's election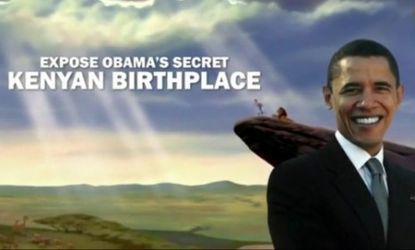 The 2010 election season is still young, but already political candidates across the country have shown a readiness to unleash vicious attack ads against their rivals. Here, 6 of the harshest:
1. A rival says Meg Whitman is smut merchant
In the weeks leading up to California's GOP gubernatorial primary, candidate Steve Poizner is running an ad accusing former eBay CEO Meg Whitman of promoting pornography. The charge stems from Whitman's business decision to create an "adult" section on eBay for porn and erotic toys. Whitman's campaign responds: "The only pornography in this race is the obscene act of watching a liberal like Steve Poizner try to pretend he's a conservative."
Subscribe to The Week
Escape your echo chamber. Get the facts behind the news, plus analysis from multiple perspectives.
SUBSCRIBE & SAVE
Sign up for The Week's Free Newsletters
From our morning news briefing to a weekly Good News Newsletter, get the best of The Week delivered directly to your inbox.
From our morning news briefing to a weekly Good News Newsletter, get the best of The Week delivered directly to your inbox.
2. An opponent accuses New Orleans' coroner of organ theft
In this grisly Frankenstein-themed spot, an electoral challenger accuses nine-term Orleans Parish coroner Dr. Frank Minyard of participating in an organ harvesting ring. The charge stems from a 1990s scandal in which several families sued Minyard for selling bits of bone and corneal tissue from loved ones without permission. "I think [this ad] is going to help me raise some money. I really do," says Minyard.
3. Sestak shows a cancer-stricken Specter
Rep. Joe Sestak has won the Democratic primary in Pennsylvania's senate race — but prior to his victory, Sen. Arlen Specter's camp complained bitterly about a Sestak ad that shows Specter suffering the ill-effects of chemotherapy. Sestak's use of the image — apparently intended to make the incumbent senator appear too old and sick to serve — was "truly reprehensible," said one Specter backer.
4. Carly Fiorina depicts Barbara Boxer as an evil blimp
This surreal eight-minute epic, the creation of GOP senate hopeful Carly Fiorina, fancifully portrays Sen. Barbara Boxer (D-CA) as a gargantuan "demon blimp" that demolishes the U.S. Capitol and then floats west to hector innocent Californians from the sky. A few months prior, Fiorina had gone on the offensive in the Republican primary with her equally odd "demon sheep" spot. "Perhaps only in America," says Peter Grier in Christian Science Monitor, "do attack ads double as horror movies."
5. John McCain pins a "Birther" tag on J.D. Hayworth
Facing a difficult primary challenge from the right, Sen. John McCain charging that his opponent, former congressman J.D. Hayworth, is a conspiracy theorist who believes Obama was "secretly" born in Kenya. The portrayal of Hayworth as delusional (and not very smart) amounts to an "atomic bomb of snark," says Allahpundit in Hot Air.
6. A conservative group mocks a candidate for believing in evolution
The Alabama-based True Republican PAC has taken a GOP gubernatorial candidate in that state to task for believing in evolution, suggesting that Darwinism is incompatible with conservatism. The candidate in question, Bradley Byrne, quickly issued a clarification, saying that he believes that "this world and everything in it is a masterpiece created by the hands of God."

Continue reading for free
We hope you're enjoying The Week's refreshingly open-minded journalism.
Subscribed to The Week? Register your account with the same email as your subscription.