Is the Tea Party 'disturbingly racist'?
Democrats have accused health-care protesters of pelting slurs — and spit — at black and gay lawmakers. But some commentators call the charges contrived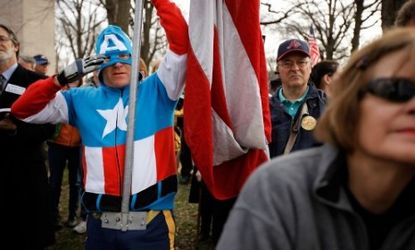 (Image credit: Getty)
Tea Party protesters on Capitol Hill allegedly spat on one black Democratic lawmaker and hurled slurs such as "faggot" at others in a final burst of rancor before the health-care vote. House Minority Leader John Boehner (R-OH) said the slurs were "reprehensible" but "isolated" excesses, while conservative bloggers claim the incidents were falsely reported, or even fabricated. For their part, Democrats seemed both shocked and weary; House Majority Whip James Clyburn (D-SC), reports Chattabox, said "that when power is taken away from the powerful to help the helpless, there is always strong opposition." Did the demonstrators push public debate to a new low — or did Democrats trump up the charges? (Watch a report about the Tea Party protest)
This isn't the first time tea partiers have revealed their racism: This kind of "ugliness" is par for the course for a party whose first national convention was rife with bigoted anti-immigrant rhetoric, says Sarah Libby in True/Slant. But the truly "appalling" thing was the way John Boehner and other Republicans brushed the racism aside, because the tea partiers were doing their dirty work in the fight against health reform.
"Tea Party's racist antics are anything but 'isolated'"
Subscribe to The Week
Escape your echo chamber. Get the facts behind the news, plus analysis from multiple perspectives.
SUBSCRIBE & SAVE
Sign up for The Week's Free Newsletters
From our morning news briefing to a weekly Good News Newsletter, get the best of The Week delivered directly to your inbox.
From our morning news briefing to a weekly Good News Newsletter, get the best of The Week delivered directly to your inbox.
Democrats are just doing what they do best — playing the race card: The mainstream media has decided these charges are true, says Wizbang, even though video from the scene does not confirm the charges. "Let's assume... that someone from the crowd yelled the "N" word and that someone spit at Lewis or Clyburn... who's to say that it wasn't a plant? Do you doubt for a minute that these leftist radicals would stoop to such a ploy?"
"Were racial slurs hurled at John Lewis and his entourage by Tea Party members?"
Sorry, but the Democrats aren't making this up: Journalists can confirm at least some of the charges, say Marin Cogan and Meredith Shiner in Politico. A reporter for Politico heard a protester call Rep. Barney Frank, an openly gay Democrat from Massachusetts, a "faggot." According to Frank, if anyone in Congress did anything wrong it was Republicans who goaded the protesters and fueled the "hysteria" in the hours before the vote.
"Barney Frank: 'Mass hysteria' on Capitol Hill"
The Tea Party doesn't need much goading: By now, it's obvious this movement is "disturbingly racist and reactionary, from its roots to its highest branches," says Joan Walsh in Salon. Tea Party leaders may say that isolated bullies — who've previously taunted a man with Parkinson's disease (watch video) or blamed Obama's election on illiterate voters — do not represent the party. Sorry, "such demurrals don't cut it any more."
...........................................
SEE THE WEEK'S LATEST COVERAGE OF THE HEALTH CARE BILL:
• Health care: Winners and losers
• Is health care the GOP's Waterloo?
• Is Obama now a "great" president?
• Watch The Week's exclusive video: Health care reform: Now the spin begins

Continue reading for free
We hope you're enjoying The Week's refreshingly open-minded journalism.
Subscribed to The Week? Register your account with the same email as your subscription.