Mitt Romney vs. Jeb Bush vs. Chris Christie
They'll all be vying for the same donors and voters. Who has the edge?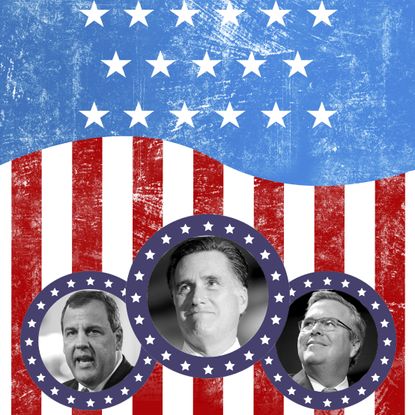 (Image credit: (Illustration by Lauren Hansen | Images courtesy Getty Images, iStock))
If Mitt Romney really does jump into the presidential race, he'll join a field already crowded with contemporaries who are talking to the same set of voters and the same donors as he is. Each of these guys — particularly Gov. Chris Christie (R-N.J.) and former Gov. Jeb Bush (R-Fla.) — has a theory of their case, a linear scenario that justifies their presidential flirtations.
Jeb Bush has the simplest case (though not the easiest). Get voters to forget/acknowledge/embrace his last name. Endure the primaries and stay above the fray as much as possible. Run as the responsible candidate in the primary and on a Middle Class™ renaissance in the general. The longer the race, the more formidable he becomes. Focus relentlessly on the governing failures of President Obama. (Immigration: Obama messed it up for everybody.) He can beat Hillary Clinton because the demographics are with him.
With more of his dad's maturity than his mother's moxie, Jeb Bush has waited his turn. On a national level, he has not yet truly exposed his political vulnerabilities to the incantations of movement conservatives. He hasn't really lost (or won) anything outside of Florida, and this bolsters his confidence that he can withstand their criticism. He thinks he can do as a presidential candidate what he did as a gubernatorial candidate, and what his brother did as a Texas gubernatorial candidate: put together a cross-cutting coalition to include upwardly mobile minorities (with more than a fair share of Latinos) and women who do not believe he's a scary conservative.
Subscribe to The Week
Escape your echo chamber. Get the facts behind the news, plus analysis from multiple perspectives.
SUBSCRIBE & SAVE
Sign up for The Week's Free Newsletters
From our morning news briefing to a weekly Good News Newsletter, get the best of The Week delivered directly to your inbox.
From our morning news briefing to a weekly Good News Newsletter, get the best of The Week delivered directly to your inbox.
Bush hopes that voters much prefer a real human with conservative instincts than a phony conservative with occasional flashes of human-ness. He will risk losing the primary to win the general election.
Common Core, he thinks, is an issue that will go away shortly after the first few primary states. On immigration, Bush believes, he will have to lead his party where it knows it needs to go, but so far hasn't been able to reach.
Bush is an economic conservative who can quickly suck up the GOP's Southern entrepreneurial money pod, steal a large portion of the party's New York-Wall Street cash haulers, and convince the party's wealthy Midwestern and California donors that his appeal to Latinos makes him viable in the general election.
Enormous sums of money will keep him viable when he inevitably dips in the polls after opponents score points off him at debates; he will play the long game, rather than the tactical one.
Jeb Bush is Mitt Romney with a heart, a Mitt Romney who doesn't shed his skin each time the environment changes. He can win the most viable national candidate race. He has the fewest edges, and the most obvious vulnerability (he's a Bush), so voters know exactly what to expect.
If establishment Republicans thought Chris Christie was viable as their nominee, they wouldn't have pressed so hard for Bush to get in. In a one-on-one race with Hillary Clinton, Bush focuses on the upper Midwest, and on ethnic whites without college degrees who want someone like them to fight for their interests.
Chris Christie's presidential run is based on the expectation that voters are fed up with government paralysis and with the somewhat effete and affected governing style of President Obama. The combative New Jersey governor is the most un-Obama like of any of the candidates, in that he's always described as the "combative New Jersey governor." So long as he doesn't get caught in the bully trap, voters will feed off his energy.
His theory of the case counts on Jeb Bush's belly fire being doused early, and on Bush's donors quickly viewing Christie as the second best alternative. Unlike Bush, Christie will visit the rest of the candidates in their chicken coop and crack eggshells when he needs to. He can't hang back; he needs to be viable, in the mix, and always doing something. Back in 2012, the GOP tried to get Christie to run because they thought Romney was too flawed. Christie is Romney with an edge, without an obvious incentive to pander. And perhaps he can win New Jersey, too.
Mitt Romney might have been elected president. He was close to being president. He's been there. He knows how to run; he knows how to survive a GOP primary, and he's human now, dammit. He'll take the start of an economy recovery and kick it into high gear; he'll fix the problems with ObamaCare. He's got more conservative cred than he did when he first ran. And he'll win the general, not with any tricks or extra charm, but simply because voters won't want to elect Democrats to power anymore.
Chris Christie, Romney will argue, is scandal-plagued and too mean; Jeb Bush is a Bush who won't survive the primaries.
We'll see if it works.

Continue reading for free
We hope you're enjoying The Week's refreshingly open-minded journalism.
Subscribed to The Week? Register your account with the same email as your subscription.