Rand Paul's path to the nomination
Guns, libertarians, and authenticity are the keys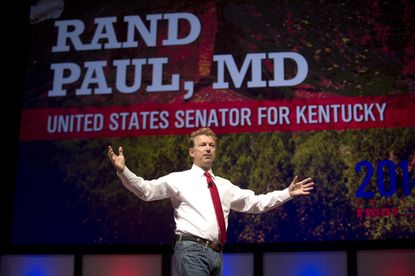 (Image credit: (Bob Daemmrich/Corbis))
Where his Republican rivals draw attention to themselves with a tuba or a trumpet, Rand Paul puffs his Highland bagpipe. This analogy has little to do with his support for medical marijuana: Paul's sound is so different, it's compelling.
As his probable presidential campaign moves forward, don't lump him in with the conventionally conservative gadflies — former Gov. Mike Huckabee, Sen. Ted Cruz, or former Sen. Rick Santorum. The major activists and donors who chase those candidates are Paul skeptics.
But he's not a governor (or former governor) with executive experience and a reputation for governing, like Jeb Bush, Mitt Romney, or Chris Christie. And aside from iconoclastic libertarian millionaires, the party's moneyed interests don't think Paul can win, don't like his unorthodox economic views, and won't give them their money. The party's national security poobahs think he's dangerous.
Subscribe to The Week
Escape your echo chamber. Get the facts behind the news, plus analysis from multiple perspectives.
SUBSCRIBE & SAVE
Sign up for The Week's Free Newsletters
From our morning news briefing to a weekly Good News Newsletter, get the best of The Week delivered directly to your inbox.
From our morning news briefing to a weekly Good News Newsletter, get the best of The Week delivered directly to your inbox.
His uniqueness is his major asset and largest liability. He's easily the most authentic-seeming Republican out there, with his direct challenges to party leaders on issues (and not just on tactics, which is what Ted Cruz does).
Paul could very well be the candidate who is left standing after the other two groups engage in ritual fratricide. (He could win New Hampshire this way.) The media appreciates his attention to racial inequality, his refreshing candor about his fellow candidates, and even his policy inconsistencies, which he's not terribly concerned about resolving.
Or he could be a mere flavor of the month, buoyed by an early win or two in the primaries but never able to replicate the experience in later contests. He might never grow his base of support. His floor might be his ceiling.
So Paul has to work hard to discredit the other candidates. He has to convince Republicans who share his views on foreign policy — and many of them do — that he is electable, that he's sincere andresponsible. He will be the race's biggest bombthrower because he stands to benefit most from the carnage.
Here's where marijuana comes in. Well, not pot, really. But guns, freedom, get government off my back; with those mantras, he will appeal to western conservatives and rural Republicans who aren't activists. He won't get the NRA's sole endorsement, but he might be able to get its members to campaign for him. And in smaller states, there might be enough libertarians on college campuses for him to pulse up his support at caucuses and conventions.
National Journal says he's like a door-to-door salesman. And that's right. Paul is not a natural fit for the party. His challenge is to remain distinctive at the same time he's establishing a comfort level with other Republicans.
That's why he's still figuring out whether he wants to run as something else — a Reagan conservative, a Tea Partier, an insurgent — or as Rand Paul, a canvas of sorts onto which Republicans can paint in the gaps.
Winning the nomination won't be easy for Paul, but he has a theory to prosecute, and it's not a bad one.

Continue reading for free
We hope you're enjoying The Week's refreshingly open-minded journalism.
Subscribed to The Week? Register your account with the same email as your subscription.