The sick leave plan that Democrats needed in November
Why Obama's sick leave proposal is too little, too late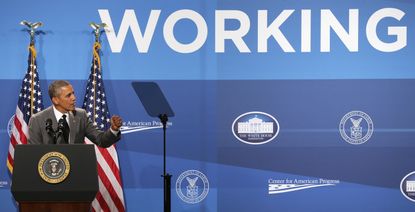 (Image credit: (Chip Somodevilla/Getty Images))
American voters sent a loud signal this November, and it seems it was finally heard in Washington.
No, I'm not referring to the Republicans who won the majority of contested races for Congress, but to another wave. Voters from coast to coast also wholeheartedly embraced worker-friendly ballot initiatives, like raising the minimum wage, and, in Massachusetts and a handful of cities from New Jersey to California, requiring businesses to give workers some paid time off when they or a family member is ill.
Now, President Obama is announcing a push for a national paid sick time law. As part of a campaign leading up to the State of the Union address on January 20, he's backing the Healthy Families Act, introduced in the House last session by Democratic Rep. Rosa DeLauro of Connecticut, which was the first U.S. state to pass a paid sick days bill, and in the Senate by now-retired Sen. Tom Harkin (D-Iowa). The bill would require employers who have over 15 employees to allow workers to earn up to seven paid sick days per year.
Subscribe to The Week
Escape your echo chamber. Get the facts behind the news, plus analysis from multiple perspectives.
SUBSCRIBE & SAVE
Sign up for The Week's Free Newsletters
From our morning news briefing to a weekly Good News Newsletter, get the best of The Week delivered directly to your inbox.
From our morning news briefing to a weekly Good News Newsletter, get the best of The Week delivered directly to your inbox.
It's about time.
The rest of the developed world already requires that workers receive some paid sick leave. And yet, according to White House advisor Valerie Jarrett Jarrett, 43 million American private sector workers have no access to paid sick time at all. And the U.S. remains the only developed country that does not offer paid parental leave.
Obama is also scheduled to announce an executive action that will grant federal employees six weeks of paid family leave when a new child arrives, building on the Clinton-era federal Family and Medical Leave Act, which guarantees 12 weeks of unpaid leave. (Sen. Kirsten Gillibrand (D-N.Y.) and Rep. DeLauro went further by introducing a federal bill in 2013 that would support paid family or medical leave for all workers for up to three months — it is unclear if the president will endorse this plan.) Obama will also budget $2.2 billion to reimburse states that initiate paid leave programs.
The move to the mainstream for paid sick time legislation took years of local battles. New York City's paid sick time law took three years of activism and back-room bargaining before the City Council Speaker would agree to bring the bill up for a vote.
"When we started knocking on doors to organize for paid sick days legislation, we found out that virtually everyone understood it and signed on immediately. People with paid sick days and without, workers and business owners alike. The only people who were slower to catch on were elected officials," says Dan Cantor, national director of the Working Families Party, which has organized for paid sick leave in Connecticut, New York, and elsewhere.
According to Ellen Bravo, director of the family policy advocacy group Family Values @ Work and longtime labor organizer, there are now three states and 15 cities that have paid sick time laws — two of those states and nine of those cities came just last year. We can safely call it a trend.
And yet Obama's announcement win is bittersweet, since the incoming Congress is unlikely to pass anything that gives workers more benefits. (In fact, several Republican members of Congress would like to eliminate the minimum wage and even the weekend.) Obama's executive order on family leave for federal employees will have an effect immediately, but a push from the president for a bill that won't pass feels uncomfortably like too little, too late.
Obama's willingness to call for sweeping actions after the last midterm election of his presidency makes them feel anything but bold. Particularly when it comes to something as widely popular as paid sick days, it feels more like the president is jumping on a bandwagon as it rolls on by.
Of course, that's the role activists are meant to play, to bring new ideas into the conversation and push elected officials to act on them — it's the role they played in Connecticut and New York City and California, protesting, testifying, winning over legislators one by one. But it is hard to celebrate a victory when working parents from Texas to Illinois still have to go to work sick, serving food and caring for hospital patients while they have the flu.
Perhaps if Democrats had been willing to stand behind policies that help working people before the election, they wouldn't be in the spot they're in now. Support for paid sick days helped Bill de Blasio defeat former City Council Speaker Christine Quinn to become mayor of New York City — Quinn's holding up a sick day vote for years to appease big business donors became the issue that sunk her with voters. And according to a 2013 poll, 69 percent of Republicans think paid sick days are a good idea.
Cantor notes, "Democrats who opposed paid sick days found there was a steep political price to pay. There are a lot more fast food workers than fast food executives out there. Still, it's an uphill battle, as the executives write bigger campaign checks."
Perhaps if more Democrats had supported this issue earlier, we'd actually be celebrating the passage of a paid sick days law instead of the announcement that the president supports it.

Continue reading for free
We hope you're enjoying The Week's refreshingly open-minded journalism.
Subscribed to The Week? Register your account with the same email as your subscription.