3 lessons Hillary Clinton could learn from Iraq and Syria — but probably won't
The facts on the ground point to a saner foreign policy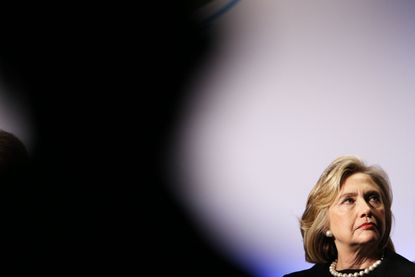 (Image credit: (Spencer Platt/Getty Images))
The various brush-fire conflicts that broke out over the past year in the Middle East with the rise of the Islamic State have somewhat fallen off the media radar. But they are still going strong, and recent developments provide useful lessons for future presidential candidates, including Hillary Clinton — but only if they choose to accept them.
On the CIA program of arming "moderate" rebels in the Syrian civil war, the verdict is in: It's a total mess, as many suspected it would be. The CIA made a complete hash of what amounted to a weapons bazaar. Remarkably, an agency better known for its recklessness was actually overly worried the weapons would end up in the wrong hands. It was so cagey about handing them out that even loyal fighters barely got any weapons or ammunition, and others deserted to the enemy in frustration:
Of course, one could argue this represents a failure of timidity. But there is every reason to think that being more cavalier would have also failed: At least one trusted commander and his group were overrun and their equipment seized by the local al Qaeda affiliate.
Subscribe to The Week
Escape your echo chamber. Get the facts behind the news, plus analysis from multiple perspectives.
SUBSCRIBE & SAVE
Sign up for The Week's Free Newsletters
From our morning news briefing to a weekly Good News Newsletter, get the best of The Week delivered directly to your inbox.
From our morning news briefing to a weekly Good News Newsletter, get the best of The Week delivered directly to your inbox.
Viewed in the context of the disaster of training the Iraqi army, the conclusion here is that there are limits to American power. The U.S. cannot simply conjure up forces that meet its needs, and there is no reason to think our rattletrap institutions are capable of navigating the politics of a highly complex and rapidly changing civil war. This is a particularly useful lesson for those who, like Clinton, are more than willing to plunge U.S. resources into internal conflicts. See: Libya.
The second big story is of Kurdish forces managing to hold off the Islamic State (also known as ISIS or ISIL) during a months-long siege of Kobane, a small town in northern Syria. The Kurdish victory, partly enabled by American air support, is a drastic defeat for the Islamic State. Though it doesn't have much strategic value, Kobane became a symbolic fight for both sides, and the Kurdish victory punctured the air of invincibility surrounding the Islamic State. Mohammed A Salih has the goods:
The difference between the Kurds and the Syrian rebels is that the Kurds are already organized. They have a good working relationship with the U.S. And their goals are clear and realistic. In that situation, the U.S. can help achieve something. It can't impose democracy at gunpoint, but it can help allies who are in a tight spot.
Finally, if we want to do more than pay lip service to the ostensible humanitarian values always invoked to support U.S. military action, it is utter madness to let the U.N. Refugee Agency go short of a single nickel. There are an estimated 12.2 million people in need of humanitarian assistance in Syria itself, including 7.6 million internally displaced persons. Outside of Syria, there are 3.8 million refugees, projected to increase to 4.3 million by December.
The agency's plan for 2015 is only 54 percent funded as of last month. And though the U.S. ended up contributing over $300 million last year, as usual more than any other nation, it would still be easy to cover any gaps. The war against the Islamic State has already cost roughly $1.8 billion. A third of that, combined with pressure on allies (particularly France), would likely make up the shortfall.
If we're going to casually spend billions on a risky war, making sure refugees aren't starving ought to be a top priority. It's the kind of long-term effort that, while it likely won't get much attention, will improve America's reputation among millions of desperate people, in addition to the moral priority of preventing destitution and starvation.
Will Hillary Clinton be persuaded by such arguments? I doubt it. She has already demonstrated many times that she's made the wrong conclusions about Syria and Iraq. But the facts on the ground suggest a smarter, less aggressive, more humane foreign policy is the best one.

Continue reading for free
We hope you're enjoying The Week's refreshingly open-minded journalism.
Subscribed to The Week? Register your account with the same email as your subscription.