The GOP's 2016 field will be historically young. That won't make it any cooler.
Why would a bunch of awkward, regressive 40-somethings appeal to millennial voters?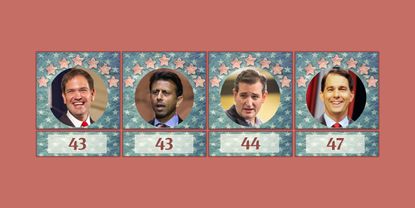 (Image credit: (Illustration by Lauren Hansen | Images courtesy Getty Images, iStock))
Sign up to our 10 Things You Need to Know Today newsletter
A free daily digest of the biggest news stories of the day - and the best features from our website
Thank you for signing up to TheWeek. You will receive a verification email shortly.
There was a problem. Please refresh the page and try again.
When I say the words "Republican Party," you probably don't think of youth. Young people's lack of enthusiasm for the GOP — Democrats enjoy a wide advantage in party affiliation among Americans under 40 — is one of the party's most profound challenges for the future. But in 2016, voters might well be faced with a choice between an older Democratic candidate and a strikingly young Republican one.
Hillary Clinton, age 67, seems the all-but certain Democratic nominee. But look at the Republican field. With Mitt Romney's departure, the only top-tier (or even second-tier) candidates over the age of 60 are Jeb Bush (61) and Rick Perry (64). Competing against them will be a bunch of politicians in their 40s, like Scott Walker (47), Marco Rubio (43), Bobby Jindal (43) and Ted Cruz (44). Chris Christie and Rand Paul are relatively mature at 52.
A younger Republican facing an older Democrat would be unusual, to say the least. Only twice in the last half-century — in 1968 and 2004 — has the Republican nominee for president been younger than the Democratic nominee, and both times it was only by a bit (Hubert Humphrey was two years older than Richard Nixon, and John Kerry is three years older than George W. Bush). In many recent elections, the much younger Democrat has successfully portrayed his Republican opponent as out of date, out of touch, and maybe even losing a step. Barack Obama ran an ad mocking John McCain (25 years his senior) for not knowing how to use a computer or send email. Twelve years earlier Bill Clinton (23 years younger than Bob Dole) was careful on the age issue but still managed to twist the knife; when it came up in one of their debates, Clinton said, "I don't think Senator Dole is too old to be president. It's the age of his ideas that I question."
Subscribe to The Week
Escape your echo chamber. Get the facts behind the news, plus analysis from multiple perspectives.
SUBSCRIBE & SAVE
Sign up for The Week's Free Newsletters
From our morning news briefing to a weekly Good News Newsletter, get the best of The Week delivered directly to your inbox.
From our morning news briefing to a weekly Good News Newsletter, get the best of The Week delivered directly to your inbox.
The youth of the current GOP field is a sign of how power has been diffused within their party in recent years. Though the party establishment is still real and still matters (it did a pretty good job of torpedoing Romney's run before it started), the days when the GOP nomination automatically went to whoever's "turn" it was are probably over. That candidate was usually someone who had done their time and worked their way up, a process that takes many years. But today, a first-term Republican senator can not only imagine himself as president, but actually try to make it happen. Barack Obama's 2008 experience no doubt provided a lesson to people like Rubio or Paul: Let the pundits say you aren't ready and haven't been in office long enough, but if you seize your opportunity and you've got the skills, you can get the nomination.
But would a young candidate like Rubio or Walker facing off against Hillary Clinton allow the GOP to make significant inroads with young voters? Is it enough just to present an unwrinkled face? Probably not.
If we think back to elections like 2008 and 1992, the advantage of youth was a matter of more than chronology. Bill Clinton donned a pair of Ray-Bans and played sax on The Arsenio Hall Show, a venue his opponents wouldn't deign to visit. Obama in particular embodied today's younger people, both as they are and as they'd like to see themselves — he was biracial, from a big city, cosmopolitan, and blasé about having done drugs when he was younger. Unlike Clinton, who said he tried pot but didn't inhale, Obama said, "I inhaled frequently. That was the point." Young people were enthralled, and Obama won voters under 30 by 34 points. And both ran in the midst of economic downturns, when the idea of a generational change seemed particularly timely.
The biggest problem the Republican candidate will have with younger voters, though, is the rest of his party. Every candidate carries with them all their allies, and the simple truth is that the image of the GOP as the party of old white people — an image earned over the course of decades — is going to be awfully difficult to escape. Issues will be a problem too, because party stances on topics like same-sex marriage make it difficult for Republicans to present themselves as the party of the future. Even as the party struggles to evolve, the older voters that are still its base anchor it to "traditional" values and an outlook tethered to the past. When Republicans laud the alleged moral superiority of rural small towns, many young voters hear a description of a place they've never been or a place they're dying to escape.
The interplay of the candidate and his party will play out differently depending on who that candidate is, of course. Rand Paul's mix of economic conservatism and (relative) social moderation is more in tune with Millennials than the positions of many of his opponents. On the other hand, Marco Rubio likes to ham-handedly quote hip-hop lyrics in speeches, which I suppose could appeal to…someone or other. But you can bet they're going to try. If one of the 40- or 50-somethings becomes the nominee, he'll surely accuse Hillary Clinton of having "old, tired ideas." Rubio calls her policy positions "20th century relics," and everyone knows what he's really saying.
Recent Republican efforts to reach out to the young have been underwhelming (remember the Brooklyn hipster Republican ads?), but a presidential race in which their candidate is a decade or two younger than the Democratic nominee would at least give younger voters something new to look at. It just probably won't be enough to win them over.
Continue reading for free
We hope you're enjoying The Week's refreshingly open-minded journalism.
Subscribed to The Week? Register your account with the same email as your subscription.
Sign up to our 10 Things You Need to Know Today newsletter
A free daily digest of the biggest news stories of the day - and the best features from our website
Paul Waldman is a senior writer with The American Prospect magazine and a blogger for The Washington Post. His writing has appeared in dozens of newspapers, magazines, and web sites, and he is the author or co-author of four books on media and politics.