America's invisible, intangible, interminable war
Our wars continue not so much against the will of the people, but with a people willfully oblivious to our foreign entanglements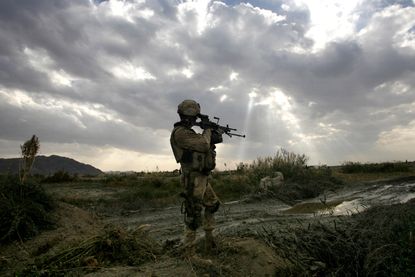 (Image credit: (REUTERS/Goran Tomasevic))
Sign up to our 10 Things You Need to Know Today newsletter
A free daily digest of the biggest news stories of the day - and the best features from our website
Thank you for signing up to TheWeek. You will receive a verification email shortly.
There was a problem. Please refresh the page and try again.
For centuries, weavers in the Near East have created intricately designed rugs featuring the motifs of daily life: flowers, animals, architectural patterns — and, today, drones. Yes, that's right. In careful detail, some Afghan artisans now incorporate images of American drone warfare into their work, a visual representation of the distant propeller buzz from above that is a "constant reminder of imminent death."
Here in the States, we have no such reminders. While drone strikes are life-changing, ideology-altering events for those who experience them directly, they are very, very far away from us. Here, war is distant and endless and easily forgotten and maybe not technically happening, depending on who you ask.
Officially, of course, the wars in Iraq and Afghanistan have run their course. Victory (Round 2) was announced in Iraq in 2011, and America's longest-running war allegedly finished up this past December. Yet as thousands of troops and tens of thousands of contractors remain active in these countries — not to mention varying degrees of U.S. military engagement in Ukraine, Yemen, Pakistan, and elsewhere — it is nonsensical at best to act as if America is not at war.
Subscribe to The Week
Escape your echo chamber. Get the facts behind the news, plus analysis from multiple perspectives.
SUBSCRIBE & SAVE
Sign up for The Week's Free Newsletters
From our morning news briefing to a weekly Good News Newsletter, get the best of The Week delivered directly to your inbox.
From our morning news briefing to a weekly Good News Newsletter, get the best of The Week delivered directly to your inbox.
But too often that is exactly what we pretend, our disconnect enabled by a variety of political, technological, and cultural factors. As Trevor Timm writes at The Guardian, "This is the new reality of war: As long as the White House doesn't admit the United States is at war, we're all supposed to pretend as if that's true."
The political disconnect is hardly created by the president alone. For many members of Congress, it is politically attractive to affect irresponsibility and ask for ignorance in foreign policy. "A lot of people would like to stay on the sideline and say, 'Just bomb the place and tell us about it later,'" explained former Georgia Rep. Jack Kingston. "We can denounce it if it goes bad, and praise it if it goes well and ask what took [the president] so long."
Washington's silence is compounded by technological developments that move the act of warfare farther and farther from the average citizen. Innovations like drone warfare mean we are not only fairly unlikely to know someone personally fighting the war(s), but even if we do, they may have never physically experienced the battlefield.
Further technological advances may make the theater of war feel farther still. The British, Israeli, and Norwegian militaries already employ missiles that can select targets and launch themselves without any human involvement; and American military contractors are working on similar products. Though Pentagon policy forbids weapons that can pick their own kills, it is difficult to imagine the largest military in the world foregoing this sort of technology if it is widely adopted by our allies and rivals.
Culturally, too, America's wars are more distant than ever. The anti-war left has all but disappeared since our wars are more attractively helmed by President Obama instead of George W. Bush, despite little substantive policy difference. And as for the rest of us — a tiny minority of military members and their families aside — foreign policy is barely on the radar. Just two percent of Americans in 2014 considered war in general, terrorism, or national security the most important issue facing the country. Instead, more tangible concerns like politicians, the economy, and unemployment topped the list.
This is not to suggest that these domestic issues are unimportant, or that I'd like to see a return of institutions (like rations and the draft) that made us more deeply feel the negative effects of war. But it is to say that our disconnect doesn't make America's foreign entanglements any less real or damaging. It simply means our government has managed to bomb and occupy an entire subcontinent in the most unobtrusive way possible.
In 1796, in his Letters on a Regicide Peace, British philosopher Edmund Burke wrote, "I venture to say no war can be long carried on against the will of the people…There must be zeal…Without this, no government, certainly not our government, is capable of a great war."
Today, such an argument is wishful thinking at best. Though there is mercifully no zeal for our wars, there is also so little attention paid to our Milford Man foreign policy that war continues apace, regardless of public opinion. These wars are invisible, intangible, interminable.
So while drones appear on rugs in Afghanistan and bombs radicalize new enemies throughout the Middle East, Americans seem content to fool themselves that war is over. And so continues our national game of make-believe peace.
Continue reading for free
We hope you're enjoying The Week's refreshingly open-minded journalism.
Subscribed to The Week? Register your account with the same email as your subscription.
Sign up to our 10 Things You Need to Know Today newsletter
A free daily digest of the biggest news stories of the day - and the best features from our website
Bonnie Kristian was a deputy editor and acting editor-in-chief of TheWeek.com. She is a columnist at Christianity Today and author of Untrustworthy: The Knowledge Crisis Breaking Our Brains, Polluting Our Politics, and Corrupting Christian Community (forthcoming 2022) and A Flexible Faith: Rethinking What It Means to Follow Jesus Today (2018). Her writing has also appeared at Time Magazine, CNN, USA Today, Newsweek, the Los Angeles Times, and The American Conservative, among other outlets.